NYC Kids' Classes: Free Demo and Trial Classes for Fall 2015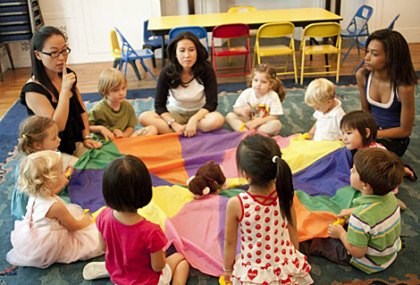 Back-to-school season isn't just about returning to the classroom. It's also a time we look to enroll our kids in extracurricular activities, and whether you're looking for athletics, arts or academic classes, after-school or on the weekends, New York City offers an overwhelming number of options. The real challenge isn't finding a class, it's finding the right program for your child.
One of the best ways to do that is with a free trial or demo class. Throughout September (and sometimes beyond), many popular NYC children's programs offer no-cost sessions so kids and parents can decide firsthand which classes are worth their time and money. We've rounded up FREE trial classes for a variety of children's programs. Click on the titles for additional details about each class.
You can find even more programs in the Mommy Poppins Classes Guide and our Class Directory, which allows you to sort listings by age, interest and neighborhood.
Academic Classes
China Institute — Various locations
Open house: times vary
The China Institute will welcome all families to celebrate and learn more about Chinese culture at several open houses this fall. Expect food sampling, Kung Fu demonstrations and crafts. Open houses will run on Language open house on Saturday, September 12 10:30am-3pm at Financial District location; registration is encouraged but not necessary. A free language demo for kids will also be offered at its Upper East Side location on Saturday, September 19. Call 212-744-8181 or email vshi@chinainstitute.org to register. Or, try a kite-making and poetry workshop in Battery Park City on Saturday, October 3, 1-2pm; call 212-744-8181 or email to register mbuening@chinainstitute.org. Visit the website for class info.
Club Pixel: A Pixel Academy Pop-Up — Upper East Side
Open house: September 7-11, 2:30-5pm 
The popular Cobble Hill tech spot opened a Manhattan pop-up location for the fall and is letting newcomers stop by the first week of school to see the new space and ask questions about upcoming offerings. No reservations necessary.
HudsonWay Immersion School — Upper West Side
Open house: October 2 at 9am; October 20 at 6:30pm
They say languages are easier to learn when you're younger! This uptown Mandarin and Spanish immersion program offers preschool and grade-school after-school care, as well as enrichment classes like chess and cooking. Visit its open house this fall for more information. RSVP by visiting the website or calling 202-787-8088.
Power Tutoring and Playdates — Locations vary
Free trial class: September and October weekends
This in-home program provides private and group preschooler instruction that relies on drums and other musical and multi-sensory experiences to teach kids everything from numbers and colors to social skills. Call 212-321-0976 or email powertutornyc@gmail.com for a trial class.
Athletic Classes
92nd Street Y — Upper East Side
Free trial class: September 26, 1-5pm
Test out a number of classes from this popular uptown family spot at the May Center Youth Sports Swim 'n Gym Program Sampler in late September. Offerings on hand will include gymnastics, swimming, gaga games, pee wee tennis and basketball skills and drills. Visit the website for more information.
Advantage Quickstart Tennis — Various Manhattan locations
Open house: times vary
Tennis lessons start as young as 4 years old at this Manhattan tennis program, which emphasizes kid-friendly expert instruction tailored as kids perfect their serve (or hand and eye coordination!). The first class is always free for new students, but visiting an open house this fall is another way to learn more.
Open houses take place at the following locations: Roosevelt Island Sports Park Gym on September 17 and 22; Manhattan Plaza Racquet Club on September 18 and 21; Columbia Prep School on September 19 and 20; Hunter College on September 20; and the United Nations International School on September 27. For more information, call 646-884-9649; email pfontana@advantagetennis.com or visit the website.
Parent & Me Classes
Music Together — Citywide
Free trial class: times vary
Parent and child can enjoy making music, singing and dancing in these group classes that cater to babies on up to big kids. Free trial classes are available throughout NYC. Visit the website to find a location near you.
Performing Arts Classes
Ballet Hispanico — Upper West Side
Free trial class: times vary
Explore the richness of Latino culture through dance at Ballet Hispanico, offering classes for kids from 2 to teens. Call 212-362-6710 or email info@ballethispanico.org to register. Visit the website for class info.
TLB Music — Upper East Side
Free trial class: times vary
Expose kids to a wide range of music genres, including classical and folk instruments at this music studio that offers classes for kids from 4 months to 6 years old. Call 212-744-0404, email tlb@tlbmusic.com or visit its website to reserve your spot.
Find out about other enriching programs in our Classes Guide.
Photo courtesy of the China Institute.