Free Comic Book Day in NYC and Two Free Bronx Comic Cons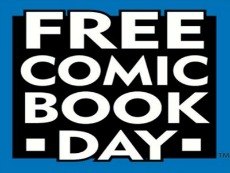 We love comic books and comic cons almost as much as we love freebies. Put the two together and we're giddier than Iron Man with a new gadget (or girl).
This Saturday, May 4 is the annual Free Comic Book Day when shops across the country give away certain issues at no cost. We've got the scoop on how to find a participating comic shop near you, as well as details on two free comic cons in the Bronx this month, including the annual Kids Comic Con.
Free Comic Book Day – Citywide
The first Saturday in May is always Free Comic Book Day. Select stores across the country participate in this annual promotion, including many shops right here in New York City. Families can drop in and pick up predetermined titles (sorry, you can't demand X-Men No. 1, etc.), including issues appropriate for children. You can search for a participating store near you on the website. Go early! Shops usually run out of free comics long before closing time. Also it's usually just one free issue per person.
While tickets for the massive New York Comic Con at the Jacob Javits Center every October are quite expensive and sell out months in advance, the Big Apple hosts a number of other, more modest comic cons throughout the year, including two in the Bronx this May. Best of all, both of these comic cons are FREE.
Bronx Heroes Comic Book Convention – Fordham
Bronx Library Center, 310 East Kingsbridge Road near Briggs Avenue
Saturday, May 4 noon-6pm; Sunday, May 5 1-5pm
FREE
This fifth annual con is admittedly pretty small and focuses on indie titles. In other words, you won't find Spidey or Batman here. However, if you've got a tween who loves comics it's worth checking out, especially since admission is free. In addition to vendors, there will be panel discussions, pro signings and live entertainment like Flamenco music and dance performances (no, we don't understand how that fits, either).
Kids Comic Con – University Heights
Bronx Community College, Colsten Hall, 181st Street and University Avenue
Saturday, May 11 10am-6pm
FREE
Founded by children's author and comic book writer Alex Simmons, KCC is NYC's only comic con specifically aimed at children. Best for grade schoolers, the con is heavy on titles like Archie, Lou! and major superheroes. Attendees can meet artists and authors working in the industry, including reps from Archie, Sesame Street, Marvel, DC and the Jim Henson Company. There will also be creating comics workshops, drawing demos, cosplayers and portfolio reviews.
Find out about other great things to do with kids this season in our Spring Fun Guide.