Joining a NYC Food Coop: Shopping Locally and Investing in Your Community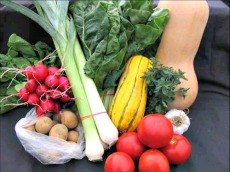 I don't like grocery shopping—it's one of my least favorite chores. I usually leave the supermarket feeling like I've spent too much money and questioning the quality of my purchases. While I've been slowly making the move to organic food, the prices at big-chain organic retailers can be dizzying plus I'd really like to shop locally. So I started looking into alternative options.
In the past, we've written about joining a CSA (Community Supported Agriculture groups), shopping at the city's greenmarkets and even growing your own indoor vegetable garden. But you can also consider joining a local food cooperative. There are a number of food coops in New York City (and not just the famous one in Park Slope, either). While currently all food coops are located in Manhattan and Brooklyn, there are efforts to start additional ones in other boroughs. We've got the scoop on how to find and join a NYC food coop, and how your family and your community can benefit.
If you're not familiar with food coops, they are member-owned and operated grocery stores. Members buy shares and volunteer in the cooperative and get to vote on what food to stock, where the food comes from and other vital issues. The goal is to put the control back in the hands of the consumer. Coops are nonprofit and strive to keep overhead as low as possible while keeping shelves stocked with locally sourced and often organic food. Coops also offer a sense of community. In addition to working side by side with your neighbors, many coops host cooking and nutrition classes and other educational programs and workshops for all ages, yes even kids.
Most food coops have similar membership rules. Joining usually requires a fee (around $100 to $200 annually) and an orientation. In most cases, members are required to work a minimum number of hours, either in the store or doing committee work. Volunteering is essential as it helps keep overhead low, which keeps the cost of food down. Some coops allow the general public to shop there, but members receive discounts and other perks.
Joining a coop doesn't just help you put healthier food on the table for your family, it teaches kids about the locavore movement. While there are several food coops in NYC, most are located in Brooklyn, with only one in Manhattan. Though not yet up and running, there are efforts to open food coops in Queens, Staten Island and Prospect Lefferts Gardens, Brooklyn. (There are also some coops that function more like CSAs, like the Bay Ridge Food Coop—you can't just drop in and buy what you need on any day.) As for my home borough of the Bronx, sadly the South Bronx Food Coop closed its doors in 2010. However, there is an interesting food-coop inspired initiative: The Veggie Mobile Market, a traveling greenmarket in an old school bus that runs on vegetable oil. The owner hopes it will eventually lead to a full food market complete with cooking classes, and other educational workshops and activities.
A list of current New York City food coops is below. Be sure to check the individual websites for additional details or to apply for membership.
4th Street Food Coop – Greenwich Village
58 East 4th Street between the Bowery and Second Avenue
Anyone can shop at Manhattan's only food coop but members enjoy discounts. There are five levels of membership including working and nonworking options. Working members save more money.
Flatbush Food Coop – Flatbush
1415 Cortelyou Road near Malborough Road
The general public can shop here but members receive discounts and other perks. Membership fee is based on number of adults in the household.
Park Slope Food Coop – Park Slope
782 Union Street between Sixth and Seventh Avenues
NYC's most famous (and controversial) food coop only allows members to shop. In addition to paying a fee, members are required to work a minimum of two hours and 45 minutes every four weeks.
Bushwick Food Cooperative – Bushwick
2 Porter Avenue at Flushing Avenue
Members must work a minimum of four hours every four weeks and pay a lifetime membership fee of just $50. Members get discounts.
Greene Hill Food Coop – Clinton Hill
18 Putnam Avenue between Downing Street and Grand Avenue
Every adult member of your household must become a member and work a minimum of two hours every four weeks.