Tribeca Film Festival for NYC Kids: Tribeca Family Street Fair & Other Free Fun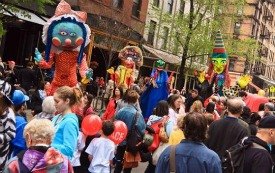 One of NYC's best known spring events, the Tribeca Film Festival, is set to take over downtown Wednesday, April 16 to Sunday, April 27, and as always there are lots of awesome FREE activities for families. The main kids' event, the Tribeca Family Festival Street Fair, takes place on Saturday, April 26. While Mommy Poppins won't have a booth like we did a few years back, many of us plan on attending with our families. Yes it's always crowded but it's also packed with surprises, great things to do and cool entertainment.
In addition to the Family Festival Street Fair, there's Tribeca/ESPN Sports Day, a series of outdoor "drive-in" movies (including our almost namesake, Mommy Poppins), an indoor screening of The Wizard of Oz and other family fun, all 100% FREE.
Tribeca Drive-In
Waterfront Plaza at Brookfield Place, 200 Vesey Street near West Street
FREE
Pre-screening activities begin at 6pm. Movies begin at 8:15pm. Arrive early to snag seats, and bring blankets and jackets! It's not summer yet.
Mary Poppins
Thursday, April 17
The original super-nanny whips an unhappy family into shape in this magical Disney movie musical that made Julie Andrews a star. Before the screening, families can enjoy Disney-themed trivia contests, a "Supercalifragilisticexpialidocious" spelling bee, face painting, food trucks and a kite show. Expect everyone to sing along!
Splash
Friday, April 18
Rated PG and best for tweens and up, this romcom about a New Yorker who falls for a mermaid masquerading as human is reminiscent of The Little Mermaid but with lots of grown-up humor. Tom Hanks is adorkable and Daryl Hannah is gorgeous, as is New York City, shot in all its '80s glory. Before the movie, enjoy a screening of the Coney Island Mermaid Parade doc Tails of Glory, face painting and food trucks.
Next Goal Wins
Saturday, April 19
Catch the world premiere of this doc about the American Samoan national soccer team, known as "the worst team in the world," as the players train against all odds to complete in the World Cup. Before the movie, enjoy live Samoan drummers, virtual soccer drills, face painting and food trucks.
Tribeca Family Festival Street Fair
Saturday, April 26 10am-6pm
Greenwich Street between Chambers and Hubert Streets
FREE
The main family event of the film fest features block after block of fun, including bouncy houses, games, face painting, arts and crafts, contests and a soft play area at Duane Street specifically for toddlers. There's also tons of entertainment, like performances by Broadway shows such as Wicked, Rock of Ages and After Midnight, stilt walkers, magicians and popular kiddie bands. New this year: The Tribeca Studios Backlot, an interactive movie set where families can get a gander at how film and TV shows are shot on location in New York City. Plus, a brand-new G4C Arcade featuring popular video games, live-action games run by the folks behind the annual Come Out & Play Festival, and other strategic fun. You can easily spend the entire day here.
Tribeca/ESPN Sports Day
Saturday, April 26 10am-6pm
North Moore Street between Greenwich and West Streets
FREE
Same date and time, this one-block offshoot of the main Street Fair offers interactive sports-related games, demos and activities, and appearances by local teams, athletes, mascots and sports personalities. This year, Super Soccer Stars and Downtown Giants Youth Football will host clinics for kids, SPiN New York will run Ping Pong games, the City Parks Foundation will have a custom-made putting green, plus there will be giveaways and a visit from Mr. Met.
The Wizard of Oz
Saturday, April 26 at 11am
Tribeca Performing Arts Center, 199 Chambers Street near West Street
FREE
Catch a no-cost screening of this 75-year-old family classic about Dorothy's adventures in the wonderful world of Oz. Although admission is FREE, tickets will be distributed on a first-come, first-served basis a half hour before showtime.
Downtown Youth Behind the Camera
Sunday, April 27 at 3:30pm
SVA Theatre, 333 West 23rd Street between Eighth and Ninth Avenues
FREE
Watch young NYC filmmakers show off their short flicks at this screening at the School of Visual Arts.
Tribeca Online Film Festival
FREE
Wednesday, April 16-Sunday, April 27
The fest will offer select movies online, which saves parents the cost of a sitter. The list of titles will be available later in April. Also here's something fun for children: Tribeca Kids Access, an online channel where 10- to 14-year-olds from downtown schools report on all the happenings at the Film Fest from their unique point of view.
For more information about any of these events, visit tribecafilm.com. You can also follow the fest on Twitter.
There are lots of other fun festivals and fairs going on around town. Check out our roundup of Spring Festivals or browse our Event Calendar.