Free Outdoor Kids' Summer Music Concert Series in New York City Parks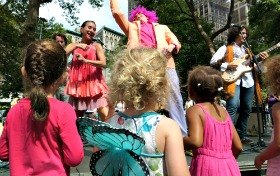 While lots of New York City's fantastic summer performance series are kid appropriate, children know when an event isn't aimed directly at them. So while we totally encourage you to bring your preschoolers to hear the New York Philharmonic and the Metropolitan Opera perform in Central Park, make sure you take them to a few outdoor concerts just for them, too.
Happily, that's easy to do in this town. NYC's kiddie music scene is as hot as ever this summer with top family bands playing annual series like Mad. Sq. Kids and SummerStage Family Days. We've got the scoop on the coolest under(play)ground FREE music series in New York City's parks, playgrounds and plazas this season. So grab a blanket, score a good spot and enjoy the tunes, weather permitting. You can find even more family fun in our jam-packed Summer Guide.
Word for Word Kids – Midtown West
Saturdays, June 6-August 22 at noon
FREE
While this series in Bryant Park leans more toward lit (the kickoff event stars Ms. Frizzle & The Magic School Bus), it features magic, theater and music, too. See the complete lineup. Afterward, go for a spin on the carousel.
Pier Kids – Brooklyn Heights
Sundays, June 21-August 9 11am-1pm
FREE
Brooklyn Bridge Park's Pier 1 performance series is a mash-up of theater, kid lit, science and music. See the complete lineup. In addition to the main event, every session includes crafts, an outdoor pop-up reading room and art activities run by Private Picassos.
Washington Market Park Summer Concert Series – Tribeca
Thursdays, June 18 and 25 at 5:30pm

FREE
The Tribeca tot spot hosts a pair of local family bands: country-bluegrass outfit Astrograss on June 18 and DJ Kai Song on June 25.
Mad. Sq. Kids' Concert Series – Madison Square Park
Thursdays, May 28-July 30 at 10:30am
FREE
One of NYC's best known kids' concert series celebrates its 13th anniversary this year, and as usual the lineup is packed with some of the best family rock bands around. See the complete lineup. After the show, hit the park's popular playground for active fun and art projects, and then eat at one of the area's delicious kid-friendly restaurants—there are a lot of other choices besides Shake Shack.
Summer in the Square – Kids in the Square – Union Square Park
Thursdays, June 18-August 13; yoga at 10am, performances at 11am
FREE
Warm up with a yoga storytime session courtesy of Karma Kids Yoga. Afterward, enjoy a variety of live family entertainment, including some of NYC's top-notch kindie bands like Rolie Polie Guacamole (June 26), Shira & Friends (July 3), Mike Messer of the Dirty Sock Funtime Band (July 10), Hot Peas 'N Butter (July 17), Karen K and the Jitterbugs (July 24), Joanie Leeds (July 31) and Suzi Shelton (August 7). Peruse the complete lineup on the website. Spend the rest of the afternoon in the awesome Union Square Playground. If you're still around at 5pm, you can enjoy free dance or Zumba lessons and other heart-pumping activities.
Hip Tot Family Days – Prospect Park & South Slope
Sundays, June 14, July 12, August 9 and September 13 at 11am
FREE
The NYC parents behind the Hip Tot Music Fest mount a series of no-cost concerts at the LeFrak Center at Lakeside in Prospect Park. See the complete lineup. After the concert, enjoy storytime, and arts and crafts.
Central Park Family Performance Festival – Upper West Side
Sundays, June 21-September 6 at noon
FREE
Head to Peter Jay Sharp Children's Glade for an eclectic lineup of dance, theater, storytelling and, occasionally, music. Shows are usually interactive and include nature-themed crafts. See the complete lineup.
Albee Square Summer Concerts for Kids – Downtown Brooklyn
Thursdays, May 7, June 4, July 2, August 6, September 3 at 10am
FREE
The Fulton Mall's public plaza hosts family-friendly performances throughout the summer, including kids' concerts on the first Thursday of every month. See the complete lineup.
SummerStage Family Days – Citywide 

Various dates and locations.
FREE
While much of SummerStage is technically for adults, the citywide fest sponsors Family Days in every borough. All of these events feature circus workshops, face painting and Disney giveaways in addition to the performers listed. See the complete lineup.
Music In the Grove: Kids – Fort Greene Park
Wednesdays, June 24-August 5 at 10am
FREE
Head to this lovely Brooklyn green space for gigs by beloved local bands. See the complete lineup. Afterward, discover all Fort Greene Park has to offer.
SummerStage Kids – Citywide
Sunday, July 7-Wednesday, August 19
FREE
In addition to the Family Days, SummerStage also offers an awesome lineup of kids' entertainment at various city parks throughout the season. See the complete lineup.
Summer Sandbox Music Series in Carl Schurz Park – Upper East Side
Tuesdays July 7, 14, 21 and 28 at 4pm
FREE
The lovely Upper East Side green space hosts four alfresco concerts for tots.
Summer on the Hudson: Children's Performance Series – Riverside Park South
Thursdays, July 2-30 10:30-11:30am
FREE
While the Summer on the Hudson arts and culture festival is filled with offerings for all ages, its Thursday morning Children's Performance Series at Pier I at 70th Street is aimed specifically at young kids. See the complete lineup.
There are also many one-off concerts throughout the summer, so be sure to check our Event Calendar to see who's playing. For more seasonal happenings, check out our Summer Fun Guide.