NYC Cheap Christmas Tree Buyers' Guide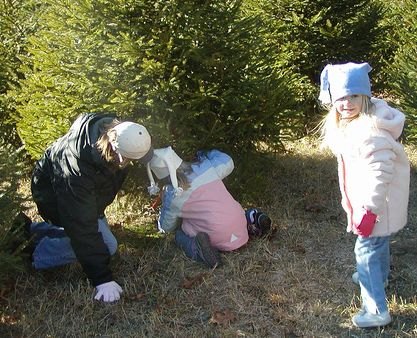 It's that time of year when Christmas tree stalls start popping up on street corners all over NYC.  The kids love stopping to ooh and aah at the gorgeous, giant trees and walking past them smells fabulous. Even for a Grinch like me it's hard to resist the lure of those beautiful trees, despite the fact that I can feel my wallet having a seizure.
Even though I am ambivalent about the tree, I feel I can't really deprive my kids of this special rite of the Holiday season. And if I'm going to get a tree I want it to be the biggest, most beautiful Christmas tree I can get—and cheap, of course. So here's the sum learnings of my years on where to buy a Cheap Christmas Tree in New York City:
Buy on Christmas Eve
Growing up, this was my family's favorite strategy for getting a cheap tree. On Christmas Eve you go out to the guy on the corner and offer him 20 or 25 bucks for whatever scraggly mess he's got left over. Sometimes you hit the jackpot. Sometimes, not so much. I did get a guy one year who refused to come down on his prices and that made me think that maybe I needed a new strategy.
Cut Your Own at The Tree Farm
Was it Norman Rockwell or A Christmas Story that romanticized driving out to the country with your family to cut your own tree? Either way cutting your own tree can be a fun family outing and can save you some bucks on the tree.
Prices will vary at tree farms. Some charge a flat price for any tree, others charge by the foot. Some charge a premium for going on a weekend. You'll probably pay somewhere between $25 and $80 for your tree but you should be able to find a nice tree at the lower end of the price spectrum.
There are some fantastic places to cut your own Christmas Trees in nearby Long Island and New Jersey. You can even make a fun day of it—some farms offer activities such as carriage rides, Santa photos, roasting marshmallows over an open fire and even holiday shopping.
Mail-Order Christmas Trees
Going to the farm is fun, but not so convenient. For the ultimate in convenience, try ordering your tree on the internet. I did this last year and was pleased. The tree was cut on a farm in New Hampshire and arrived two days later, fresh at my door. Who wants a tree that's been hanging out on a street corner anyway?
Besides having a fresh tree delivered right to your door, the great thing about mail-order Christmas trees is they come in a box, which you can keep on until the tree is up in the stand by just opening the bottom to set it up. This way you reduce the mess from needles and sap getting all over the place.
A mail order tree is best if you want a 7-foot tall Christmas tree. They can't ship larger trees without enormous oversize charges and smaller trees don't seem as worth it. It will cost you about $75 including shipping for a 7-foot tree, which is pretty inexpensive, if you factor in the convenience of having your tree delivered. It's best to order early because a lot of farms sell out and you want to avoid paying rush charges. I found good prices at The Rock Estate, but you can google "mail-order Christmas tree" and you'll find plenty more.
Christmas Tree Delivery Service in NYC
A post from a reader led us to the most luxurious tree service, ever.
"I have my Christmas Trees delivered to my home. It was the greatest tree ever! 12 ft Balsam Fir. www.Greenpointtrees.com is located in parts of Brooklyn and Queens and will deliver to Manhattan for free what a great service."
Green Point Trees will deliver your tree, set it up and even decorate it for you if you'd like. Service like this doesn't come cheap: decoration runs an additional $45 plus $100 per foot. They can also take away your undecorated tree (if you purchased it from them) for another $5 bucks a foot. If you want just a tree, they will deliver a fir from Canada or North Carolina for $80 - $90. They have locations in Brooklyn and Queens, and service the entire city.
 
Do Some Good with your Christmas Tree
Consider buying a tree from NYC Boy Scout Troop One. While these trees are not necessarily cheap, they are not overly expensive and they support the troop. Buying one of their beautiful Fraser firs helps fund their monthly camping trips and summer camp. Troop One can be found Saturdays and Sundays on the Upper East Side and their trees range from $65 to $95. You can also order online and they'll deliver your tree for no extra charge.
Saturdays and Sundays through December 21, 2014 at:
The corner of 56th & First
The corner of 72nd & First
The corner of 79th & Third
The Mythical $20 Christmas Tree
Does this still exist or has it gone the way of the Dodo? Alas, it seems like the cheapest trees are closer to $25 or $30. But still a pretty good deal if you can find one! One location that's usually a safe bet is the corner of 49th and 9th. Readers have confirmed the availability of $25 trees at this stand. If anyone finds a great deal, please share it with us in the comments section!
Check out our Holiday Guide for lots of other ways to celebrate the season in NYC and find great gift ideas in our NYC Shopping Local Gift Guide.
This post originally published in December, 2009.
photo credit: slapjack