The Best Museums for Kids in Northern New Jersey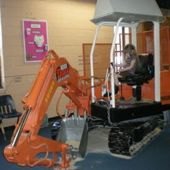 We've rounded up the greatest places for you to land with your kids in New Jersey.  These museums all guarentee an exhausted, satisfied, and thrilled kid.  And you may find yourself driving home with a smile on your face too.  You can all check out the IMAX theater, see the inflatable planetarium, do a science experiment, see the the mini zoo...let us reassure you that you will all be entertained all day.  As you drive home, they may even fall asleep, and you can put the radio on your station.  Bliss.  Thank you New Jersey.  You don't get enough credit.
Liberty Science Center  Jersey City, NJ
The newly renovated Liberty Science Center has enough to keep the kids busy for hours with its IMAX theater, 3D movies, many exhibits, and live demonstrations.  For kids under 5 there is the I Explore Exhibit with a ball launch, live turtles and snakes kids can watch through glass, a rice table, and more interactive exhibits.  Liberty Science Center has plenty of interesting special programs that you can sign up for, for example right now there is an inflatable planetarium to introduce young children to the sun, moon and stars. For older kids there is an outdoor obstacle course in good weather and even an option to camp in overnight!  The Liberty Science Center is open 7 days a week.  Admission is $15.75 - $24.50 per adult and $11.50 to $18.50 depending if you only want admission or want admission plus all the movie options.  Additional fees apply for special programs.
The New Jersey Children's Museum  Paramus, NJ
This is the ultimate indoor playground for kids.  They can spend hours digging in a sandbox, climbing on the real fire truck, playing on a real helicopter, there are dollhouses, a grocery store, a veterinarian's office with xrays and medical equipment, a dance studio, a castle, a pizzaria, a dinosaur cave, etc.  Aside from all the exhibits, there are various programs scheduled every day including shadow puppet shows, fairy tale plays, storytime, open art, and structured crafts.  Finally, the museum does has special events that are free with admission, but require pre-registration and can be found on their website.  The NJ Children's Museum is open every day of the week starting at 10am and admission is $10 per person (babies under 1 are free).
Imagine That  Florham Park, NJ
Imagine That Discovery Museum for Children is 16,000 square feet of play and discovery areas.  Kids can spend hours playing on a pirate ship, with a race car track, playing in the doctor and dentists office, or making a racket in the music room.  There is also a craft room and puppet theater where kids can both put on productions and watch shows performed by staff.  The museum is open 7 days a week.  Admission for kids one year old and up is $9.95 and admission for adults is $7.95.
The Newark Museum Newark, NJ
The Newark Museum will surprise you in what it has to offer for kids.  Most popular is its "mini zoo" which is one room with frogs, monkeys, snakes, fish, and other live animals behind glass.  Kids will also love the planetarium where they can gawk and learn about stars.  There are other exhibits of interest about money, fire safety, and bugs.  In addition, the museum has outstanding educational programs offered mostly on the weekends with special kid tours incorporating games and activities (ex. playing rookie-firefighter and climbing a real fire truck), hands on art activities (ex. draw like an Egyptian), hands on science experiments (ex. exploring bugs), storytimes, and even concerts.  The Newark Museum is closed Mondays and Tuesdays.  Admission is $10 per adult, $6 per child.  The planetarium is $3 per adult and $2 per child.
The Morris Museum Morris, NJ
The Morris Museum is best known for its large collection of musical dolls and machines.  If you have a child who likes to press buttons or listen in a phone receiver, you can easily spend an hour in this exhibit listening to all the musical tunes produced by the various machines.  But this isn't the only kid-friendly exhibit.  Touch all you want in the rock and stone exhibit and kids will like looking at the various stuffed animals and skeltons on display.  There is even a small dinosaur exhibit in the museum's basement.  Finally, for a small extra fee there are almost daily educational programs focusing on everything from crafts to science to special themes.  The museum is closed Mondays and Tuesdays.  Admission is $10 per adult and $7 per child.  Special programs are $3-$12 per child depending on the program.
The Monmouth Museum  Monmouth, NJ
The Monmouth Museum has a special children's wing just dedicated to exhibits of interest to young visitors.  For kids under 6 there is the WonderWing with a pirate ship, treehouse, lighthouse and tiki theater. 
The Becker Children's Wing for kids ages 7 and up has changing exhibits (ex. right now it has one on Galileo and the solar system).  The Monmouth Museum is closed Mondays and the childen's wing may be closed mornings for school groups so calling ahead is advised.  Admission is $7 per person plus an extra $1 for the planetarium show.
Find more must-see museums and hot spots in our Culture Guide.