Maternity Stores: Where to Buy Nursing Bras and Breastfeeding Supplies in New York City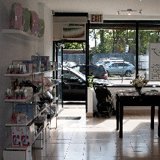 Considering the size of New York City and the strong bias toward breastfeeding, one would think there would be a lot more resources for nursing moms. In fact there aren't that many stores and it can be hard to find breastfeeding supplies. The other snag to purchasing nursing bras and supplies is that you really can't do it before you give birth; your breasts are going to get much bigger than you realize, so you have no idea what size bra you are going to need. You should plan on making a trip to buy nursing bras as one of your early outings with baby soon after it's born.
Lots of places sell nursing bras, but a bra that fits well in order to support your already overburdened chest and back and help you feel like a human being again should be sought out. I think going to a store where they do a bra fitting is worth the investment (the fitting is free as long as you buy a bra, but the bras might cost a bit more than if you buy them online or from a discount store.) Remember, you may have to go back at least once while you are nursing and then again after you stop (yes, your breasts will probably not be the same as they were pre-pregnancy).
Breast pumps, nursing tops, cover-ups, slings and other breastfeeding supplies are other things you will want to get after you have your baby and you start to figure out your routine and what's comfortable for you and your baby. Here are some places in New York City that sell nursing bras and breastfeeding supplies:
Upper Breast Side
135 West 70th Street, suite 1L
(between Broadway and Columbus)
New York, NY 10023
212 873-2653
The Upper Breast Side is the only store I know of in Manhattan that is dedicated to breastfeeding. They sell nursing bras and clothing as well as rent hospital grade breast pumps and anything else you need for breastfeeding. In the store, they will demonstrate how to use the breast pumps and even allow you to try them out to find the one most comfortable for you. The store has limited hours and some people have complained that the owner is kind of aggressive and bossy, but try not to let her style intimidate you.
Boing Boing
204 6th Ave. (at Union St)
Brooklyn, NY 11217
718-398-0251
Boing Boing in Park Slope, Brooklyn is a community centered store that sells items for expectant and new mothers focusing on organic and non-toxic materials, including nursing bras, baby carriers, books and also rents breast pumps. The store also helps new mothers meet each other with lists of area moms expecting around the same time. The owner is a lactation consultant and hosts a breastfeeding support group in the store as well. People travel from all over the city for the great selection, prices and helpful service.
Stork Store
This store has closed
Williamsburg, Brooklyn 11222
718 360-1732
Similarly, The Stork Store is another communal store that sells earth friendly toys, nursing bras and supplies, and baby gear. The owner is a doula and lactation consultant and the store has workshops and classes for moms and babies and moms to be. 
Bump 
464 Bergen St. (5th and Flatbush)
Park Slope Brooklyn 11217
718 636-1960
If you're looking for fashionable maternity clothing, nursing bras and garments in a friendly and fun atmosphere, Bump Brooklyn is the place. Started by two Brooklyn moms, they also invite customers to evenings in the store to meet lactation consultants, doulas, nutritionists, and other experts. 
The Town Shop
Broadway at 81st St
212 787–2762
The Town Shop only sells bras and is so famous for being expert bra fitters that people say they can size you up by eye with accuracy. The mission of the store is to help women find well-fitting bras that make them look and feel terrific. The women that work there are polite and discreet and will make you feel comfortable. They have every type of bra, in every size from AA to JJ. Pricey, but many feel it's worth it.
If you really want to do it yourself, BrasNYC has directions for doing a bra self-fitting and sells Bravado nursing bras online. They will also convert any bra into a nursing bra for a fee.
For more posts like this check out our New York City Pregnancy and Baby Guide.