Maple Sugaring Day Trips Near New York City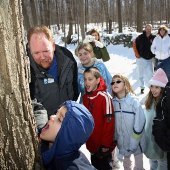 In the mood for a sweet getaway with the kids? New York City is but a short hop from some of the Northeast's finest maple sugaring centers, where tree sap is transformed into the breakfast syrup we all love.
Day trips to sugaring events in the metropolitan area and beyond offer parents and kids the chance to see how sap is collected, cooked and stored. We've rounded up some of our favorites, easily accessed from the city (most just an hour away by car), and added a few more just in case you're in the mood to travel.
You can find more getaway ideas in our NYC Family Travel Guide.
New York 
Sugaring Sundays – Ossining, Westchester County
Teatown Lake Reservation, 1600 Spring Valley Road
Sundays, March 1, 8 and 15 at 1, 2 and 3pm
$5
Approximately 1 hour by car from midtown Manhattan
Educators at this maple tree-filled nature center will demonstrate the entire sugaring process in Warren's sugar house. If you want to taste the sweet stuff, visit during the spot's annual Pancake Breakfast on Saturday, March 21 and dig into a bountiful morning meal for $15 for adults, $7 for children under age 12.
Sugarfest 2014 – Mount Kisco, Westchester County
Westmoreland Sanctuary Nature Center and Wildlife Preserve, 260 Chestnut Ridge Road
Saturday, March 14-Sunday, March 15 at 9:30am and 11:30am
$12 for adults, $7 for children ages 3-5, FREE for children under 3
Approximately 1 hour by car from midtown Manhattan
This beautiful 640-acre preserve celebrates the sweet season with a feast of homemade pancakes dripping with maple syrup, followed by a look at the evolution of the sugaring process. Reservations required.
Maple Sugar Tours – Cornwall, Orange County
Hudson Highlands Nature Museum, Outdoor Discovery Center, 120 Muser Drive
Saturdays and Sundays, February 28, March 1, 7-8, 14-15 and 21-22; tours start every half hour between 10:30am-3pm.
$10 for adults, $7 for children ages 3-11
Approximately 1 hour and 10 minutes by car from midtown Manhattan
Throughout the month, families can enjoy an hour-long walk through the forest while learning about the maple sugaring process (and sampling the sweet stuff, of course). Go on opening day for extra fun like crafts, games, Native American storytelling and seasonal snacks around a campfire. New this year are Adapted Maple Sugar Tours for patrons with disabilities or families with small children. This tour offers the same educational experience as the traditional tour, but stays closer to the main museum. Tours will run at 11am, 1pm and 3pm. Tip from a reader: Hit the nearby Shops at Jones Farm afterward for doughnuts.
Maple Sugar Open House – Claryville, Sullivan County
Frost Valley YMCA, 2000 Frost Valley Road
Saturdays and Sundays, March 21-22 and 28-39; tours start every half hour between 10am-4pm
FREE
Approximately 2 hours and 30 minutes by car from midtown Manhattan
The Y will offer guided tours of its maple sugar works along with seasonal activities.
Maple Sugaring Classes – Commack, Long Island
Hoyt Farm Nature Center, 200 New Highway
Sundays, February 22, March 1 and 8 1:30-3pm
$3 per person, $8 per family
Approximately 1 hour by car from midtown Manhattan
Although this Long Island farm is usually only accessible to Smithtown residents, these classes are open to all. DIYers can learn how to tap their own backyard trees, what equipment to buy, which trees to tap and special tapping techniques used by Native Americans and early American settlers.
Maple Sugaring Day – East Setauket, Long Island
Benner's Farm, 56 Gnarled Hollow Road
Saturday, February 21 noon-4pm
$8 for adults, $6 for children
Approximately 1 hour and 30 minutes by car from midtown Manhattan
Drop by to observe the various stages of the sugaring process, including how to tap trees and collect the sap. Warm up by a roaring fire as you watch the sap being boiled down to sugar. Pancakes topped with homemade syrup will be served and maple candy will be available for purchase.
Find out about more maple sugaring outings on Long Island and in Westchester.
New Jersey
Maple Sugaring – Tenafly
Tenafly Nature Center, 313 Hudson Avenue
Sundays, February 15, 22, March 1, 8 and 15; visit the website for hours
$10 for ages 2 and up
Approximately 30 minutes by car from midtown Manhattan
Enjoy hands-on maple sugaring demos at this 400-acre nature preserve. Families can check the buckets on the tapped trees, boil down the sap and more. Also, on Sunday, March 22, the center holds its annual pancake breakfast at 10:30am for $15 per person, preregistration required.
Find out about more maple sugaring outings in New Jersey.
 
Connecticut
Maple Sugar Weekend – Stamford
Stamford Museum & Nature Center, 39 Scofieldtown Road
Saturday, March 7-Sunday, March 8 11am-3pm
$10 admission for ages 4 and up
Approximately 1 hour by car from midtown Manhattan
See the sugar house in action at this sweet fest. There will also be lots of tasty treats and a pancake breakfast on Sunday, March 8 for an additional $6. Other activities include maple-themed crafts, a scavenger hunt and face painting. The museum also has a host of other kid attractions, including farm animals, an otter pond and a playground.
Annual Hebron Maple Festival – Hebron
Saturday, March 14-Sunday, March 15 10am-4pm
Free admission but there are fees for certain activities
Approximately 2 hours and 15 minutes by car from midtown Manhattan
The entire town throws a big bash to celebrate syrup. Families can visit local sugar houses and nosh on fried dough and pancakes covered in maple syrup. Other fun includes scavenger hunts, museum tours, live animals and music.
Find out about more maple sugaring outings in Connecticut.
Maple Sugaring Open House Weekends
Many maple syrup spots hold FREE weekend open houses at this time of year. Visitors will find maple trees fitted with collection hoses or tapped with spouts and buckets, and the sweet smell of boiling sap fills the air. Maple snacks are often available like seasonal specialty sugar on snow: hot syrup straight from the vats, poured into bowls of chopped ice. As the syrup cools, it transforms into a rubbery, chewy maple candy. There are also other tasty maple morsels to try—doughnuts and cotton candy are two of my family's favorites. Other activities often include hikes, wagon rides and sleigh riding.
New York State Maple Sugar Producers
New York State has plenty of participating sugar houses. Families can search by zip code and pick places closest to home in Westchester, Putnam and Duchess Counties. This year, the state's open house weekends are Saturdays and Sundays, March 21-22 and 28-39
Massachusetts Maple Sugar Producers
Massachusetts sugar houses will be hosting Maple Weekend are usually open on weekends throughout the month, selling syrup and maple snacks, and sometimes even hosting pancake breakfasts. Call ahead and confirm when they're accepting visitors.
Connecticut Maple Sugar Producers
While Connecticut has its fair share of sugar houses, there's no specific open house weekend. Call ahead to find out when to visit.
Vermont's Open House Weekend
Although Vermont is too far for a day trip, you can't talk about maple syrup without writing about the state. Many people (including me) won't pour anything but Vermont gold on their pancakes. This year, the state's open house weekend is March 28-29 and makes for a great multiday getaway.
New England Maple Museum
Route 7, Pittsford, Vermont
Families can explore the centuries-old history of maple sugaring at this quirky museum, and also taste the real Vermont sweet stuff.
Find out about other wonderful day and weekend trips in our Family Travel Guide.
This post was originally published in February 2009.