Film Festivals for Kids: BAMkids, New York International Children's Film Festival & Ongoing Family Movie Series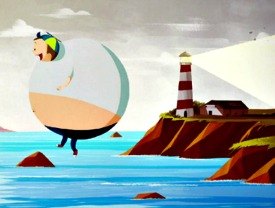 With no end to the cold in sight, going to the movies is very tempting, but the big-budget family film options... not so much. They're expensive (especially those 3D releases), and winter is the traditional dumping ground for duds. Luckily, you don't have to resort to the regular box office choices in New York City. The upcoming BAMkids Film Festival and New York International Children's Film Festival showcase international and offbeat shorts and features, while Film Forum Jr. screens cool classics every Sunday morning. Plus, the ticket prices are a lot less—most are under $15 per person.
Here are ten cinema series where you and your kids can rediscover the magic of movies. Don't forget to check out our post about where to see free and cheap kids' movies, too.
Annual Film Festivals for Kids
BAMkids Film Festival – Fort Greene
BAM Rose Cinemas, Peter Jay Sharp Building at 30 Lafayette Avenue at Ashland Place
Saturday, February 7-Sunday, February 8. Visit the website for a complete schedule.
$14 for adults, $10 for children under age 13
First the first time, BAM is partnering with other movie fests like TIFF Kids International and Animation Block Party to showcase more than 70 exceptional shorts (and two features) from around the world, including the Oscar-nominated Dam Keeper. Screenings are organized by age and there will also be fun hands-on activities in the BAMcafe upstairs, like animation workshops, magic shows, face painting and balloon twisting. Note: Tickets are on sale now and tend to sell out so buying in advance is a must.
New York International Children's Film Festival – Manhattan
Various locations and times. Visit the website for a complete list.
Friday, February 27-Sunday, March 22
$13-$16 depending on the screening; save $2 per ticket with the discount code MOPO15
NYC's biggest family film fest, the NYICFF spans four weekends, five Manhattan venues and features hundreds of amazing films from every corner of the globe. Programs are organized by age, with offerings for preschoolers through teens, and everyone gets ballots to help select the festival winners. Plus there are often pre- or post-show Q&As with the artists, and other special events. Tickets go on sale Wednesday, January 28 and screenings often sell out fast. So be sure to check the schedule and buy your tickets right away. You can also sign up for e-mail alerts to keep up on everything going on at the fest. Most movies are $13, but tickets for 3D films are $16 and a handful of special screenings cost extra. Save $2 per ticket with the discount code MOPO15. Full festival passes are also be available.
When you buy tickets to a NYICFF screening, you can also give back to local schools. Just choose an institution from the drop-down list and the fest will donate a portion of the sale to the parents' association. Around 120 NYC schools are participating in the program this year.
The NYICFF also offers school-age kids the opportunity to get behind the camera and make their own films with its popular filmmaking camps during school breaks. Participants learn how to make live-action, stop-motion or traditional animated films. These also fill up quickly so booking as early as possible is recommended.
kidsfilmfest – Williamsburg
Saturday, May 30
Location to be determined
$12 for adults, free for children under age 12
Part of the Brooklyn Film Festival, this one-day only mini fest features G-rated live-action, animated and documentary shorts. There are also post-screening Q&As and film workshops.
There's also the annual KidCinemaFest Film Festival in Washington Heights every fall. Details for 2015 aren't yet determined so check the website later this year for an update.
Ongoing Film Series for Kids
Film Forum Jr.: Classics For Kids and Their Families – Greenwich Village
Film Forum, 209 West Houston Street between Varick Street and Sixth Avenue
Sundays at 11am. Visit the website for a complete schedule.
$7.50
The lauded indie theater screens family classics new and old every Sunday morning September through June. Most of the matinees sell out and it's no wonder. The lineup is an eclectic mix of oldies, from Technicolor musicals like An American in Paris to silent comedies by Buster Keaton to newer favorites such as Matilda and Back to the Future. Bonus: Every feature is preceded by shorts and some have post-movie interactive activities. Be sure to browse the entire schedule. There are a lot of gems in there.
Museum of the Moving Image – Astoria
36-01 35 Avenue between 36th and 37th Streets
Schedule varies. Visit the website for a complete schedule.
Free with admission: $12 for adults, $9 for students, $6 for children ages 3-12
True to its name, the Museum of the Moving Image regularly shows films in its state-of-the-art 267-seat theater. While not all of the offerings are appropriate for kids, you can filter the calendar to list only family-friendly screenings. In honor of its soon-to-open Jim Henson gallery, the museum hosts monthly Muppet screenings along with other kids' classics like The Red Balloon. Most screenings are free with museum admission and seating is first come, first served. Bonus: Old serials are shown in the Red Grooms' installation Tut's Fever, which is meant to evoke an old movie palace.
BAMkids Movie Matinees – Fort Greene
BAM Rose Cinemas, Peter Jay Sharp Building at 30 Lafayette Avenue at Ashland Place
Schedule varies. Visit the website for a complete schedule.
$10 for adults, $7 for children under 13
BAM's aforementioned annual family film fest isn't the only time to catch kid-friendly screenings at its lovely theater. From fall through spring, the culture spot screens children's classics on the big screen on select Sunday afternoons. Upcoming films include Charlie Chapin's The Circus, The 5,000 Fingers of Dr. T written by Dr. Seuss and the beloved movie musical The King and I.
Li'l Film Buffs at Videology – Williamsburg
308 Bedford Avenue at South 1st Street
First Saturday of every month at 1pm
FREE
Every first Saturday of the month, this hipster bar and screening room welcomes families for no-cost screenings of the flicks we parents grew up with, like The Princess Bride and the original Willy Wonka and the Chocolate Factory. Come an hour early at noon to catch classic cartoons before the feature.
Nitehawk Cinema – Williamsburg
136 Metropolitan Avenue between Berry Street and Wythe Avenue
Schedule varies. Visit the website for a complete schedule.
$11 for adults, $9 for children ages 6-11 plus cost of food
Opened in 2011, Nitehawk is NYC's first cinema/restaurant, so you can chow down while watching first-run indies and revivals. While the spot doesn't have a specific family series, it designates certain weekend matinee screenings as Lil' Hawk Friendly, which means they're appropriate for children ages 6 and up. Although there are no upcoming offerings at this time, there should be some in the spring.
Grand Sunday Brunch at the Tribeca Grand Hotel – Tribeca
2 Sixth Avenue between White and Walker Streets
Sundays 11am-4pm
Free with brunch: $29 for adults, $15 for children
We discovered this fabulous meal and movie deal when we posted about hotel brunches for families. At this swanky hotel, enjoy a buffet brunch, a 1920s-style jazz band and kids' movies shown in a luxe screening room. Granted, the draw here is the entire experience, not the flicks, but they're a great bonus.
Looking for free family flicks? Check out our post about free movies for kids in NYC. You can find additional seasonal activities in our Winter Fun Guide.
Image courtesy of BAMkids Film Festival