Cool NYC Restaurants for Kids with Food Allergies or Vegetarians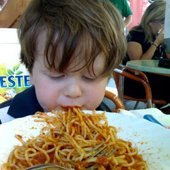 It can be hard eating out when your child's on a restricted diet: You struggle to find a place that serves what he can eat, or you find one and he won't eat what they serve. But you won't have those problems at these places, which are convenient and kid-friendly. We've rounded up a handful of restaurants which serve meals that all kids will like and can eat even if they are vegan, vegetarian or have food allergies. Plus, they're all cool and fun for New York kids.
Teany Café
90 Rivington Street
New York, NY 10002
212-475-9190
If you need some cool cred, consider this hipster health food haunt, owned by rock star Moby. Kids will probably want to try the pasties ($11), which are cheese-, onion- and potato-filled concoctions the menu describes as being like "Hot Pockets, but better." Savor a sweet meal ending with vegan cookies and cupcakes ($3), or the wheat- and gluten-free four-berry cheesecake ($5). Even the drinks, like soy-milk egg cream ($3.50) and vegan hot chocolate ($3), are healthy. Leave your credit card at home, though, as Teany only accepts cash.
Spring Street Natural Restaurant
62 Spring Street
New York, NY 10012
212-966-0290
Spring Street Natural makes its meals with minimally-processed whole foods. Specialties include the almond-veggie-cheddar burger ($9.75) and the mozzarella, spinach and mushroom pizza ($10). For adults, there's the stuffed acorn squash ($15), organic rice and vegetable dinner ($12.50), some meat options, and a full range of cocktails. They deliver to parts of lower Manhattan, with a minimum order of $12.
The Creek and the Cave
10-93 Jackson Avenue
Long Island City, Queens 11101
718-706-8783
The Creek and the Cave is a Mexican restaurant featuring live comedy and music. Although not 100% vegetarian, they do have salads, a tofu fajita burrito ($7.95) and taco al carbon ($3 each). Whole-wheat tortillas and brown rice are always available at no extra charge, and they have a very friendly substitutions policy. In addition to delivering in Long Island City, they also will travel to Greenpoint, Brooklyn (not a place many takeout places will go to). Another bonus: They're close to the P.S. 1 Contemporary Art Center.
Better Burger NYC
561 Third Avenue at 37th Street, 212-949-7528
178 Eighth Avenue at 19th Street, 212-989-6688
587 Ninth Avenue at 42nd Street, 212-629-6622
This fast food mini-chain offers veggie burgers, turkey burgers, soy burgers, chicken burgers, and yes, good old fashioned hamburgers, made with meat that's antibiotic-, filler- and hormone-free. The burgers (which can be topped with soy American cheese for $1.25 extra) range in price from $5.99-$8.59 depending on size, and air-baked fries are available at a reasonable $2.75. Better Burger also makes turkey and soy hot dogs ($3.95).
Caserta Vecchia
221 Smith Street
Brooklyn, NY 11201
718-624-7549
Though Italian food is not always healthy, Caserta Vecchia aims to make it that way, with their Vegetariana Pizza ($11.50). Not a pizza fan? Try other veggie options, like meat-free pastas, salads, or the Risotto al Funghi Porcini ($14). If you're concerned about how good all this healthy food can taste, keep in mind that this place was rated by Citysearch as one of the top Italian restaurants in all of New York City.
American Girl Café
609 Fifth Avenue at 49th Street
New York, NY 10017
877-247-5223
You probably weren't expecting to see this bastion of conformity on the list, but actually, the American Girl Café serves with the allergic child in mind: When you make your reservation, you can request that food be made without gluten, dairy, meat, or nuts. (They may not always be able to help you, but they will try their best.) American Girl offers brunch, lunch, dinner, and tea service, and they really do make the experience amazing for little girls. Not bad for $20 per person. This is also a fun place to have a birthday party.