Can Fast Food Be Part of A Healthy Pregnancy Diet?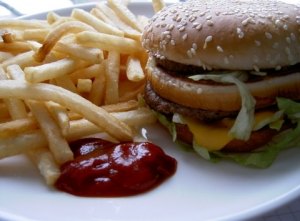 You're pregnant, nauseous, working on a deadline, and oh-yeah, trying to cut back on food costs in the middle of a recession. You know that you're supposed to be eating really healthy right now, but lack of time and energy, and the need to save cash have been pushing you towards some not-so-healthy food sources lately. Plus, hangover food seems to be the only thing that calms your morning sickness. All is not lost! Our guest poster, Frances Largeman-Roth, and author of the  new book, Feed the Belly: The Pregnant Mom's Healthy Eating Guide, will show you how you can actually eat on the run without breaking too many nutrition rules. Hey, these are tips that we can all use, whether we're pregnant or not. Thanks, Frances!
It's always healthiest to make your own food. That way you're in charge of how much fat, sodium, and preservatives are involved. But there are some healthier picks at the chain restaurants. Here's the skinny on avoiding the fat (and other bad stuff) at the top fast food chains, what to order and what to avoid, for a healthier diet during pregnancy:
1. Downsize: Fast food is probably the only arena where this word is still welcome. As tempting as all the deals are right now, never go for the up-sell. You don't need the biggie fries or drink—even if they seem like a good deal. Stick with the small. And hey, to satisfy an occasional salty craving, a small McDonald's fry is a virtual calorie bargain at TK calories.
2. Skip the sauce: Most fast food places offer salads these days, but the croutons and the dressing can turn your greens into a sodium nightmare. Drop the croutons and only use half of the dressing to keep those veggies on the virtuous side.
3. Know your numbers: New Yorkers are lucky in the sense that all fast food chains must post the calorie info for every menu item, but it's often not the whole story. The 450 calories in Au Bon Pain's Egg and Cheddar Salsa Verde Sandwich aren't too steep for an expectant mamma (you need 300 extra calories a day in the second and third trimesters), but the 12 grams of saturated fat and 1080 milligrams (about ½ of your limit for the whole day) of sodium aren't doing you any favors, and unfortunately, those amounts won't be listed on the menu board. But nearly all fast food places list their nutrition info online these days, and much to their credit, Au Bon Pain has nutrition kiosks in many of their locations. And they also offer better options like a regular old egg on a bagel, which has only 360 calories, 1 grams of saturated fat, and a reasonable 780 mg of sodium.
4. Go halfsies: If you're craving a Big Mac or a colossal sandwich on focaccia, go for it. But to cut down on the sodium impact, lose half the bread. I don't have anything against carbs; it's just that bread (and anything bread-like) that has any flavor is loaded up with sodium. Skip half of it and you'll considerably lower how much salt you're getting, with the added bonus of shaving off a few hundred empty calories.
SMARTER GRAB AND GOS
McDonald's:
Egg McMuffin (order it without the Canadian-style bacon and the liquid margarine and you'll save on sodium and fat):
300 calories, 12 g fat (5 g saturated), 260 mg cholesterol, 820 mg sodium, 18g protein, 160 mg calcium, 2 mg iron
Fruit 'n' Yogurt Parfait with Granola
160 calories, 2 g fat (1 g saturated), 5 mg cholesterol, 85 mg cholesterol, 4 g protein, 130 mg calcium
Wendy's:
Grilled Chicken Go Wrap
260 calories, 11 g fat (3.5 g saturated), 45 mg cholesterol, 760 mg cholesterol, 17 g protein
Burger King:
Whopper Junior without mayo (BK does offer veggie burgers, but they're actually higher in calories and sodium, which is a bummer)
290 calories, 12 g fat (4.5 saturated, 0.5 trans), 35 mg cholesterol, 500 mg sodium, 2 g fiber, 16 g protein, 3.6 mg iron
Chipotle:
Go for a burrito bowl instead of a regular burrito and you'll cut 330 calories right off the bat. Load up on the fajita veggies, lean meat and beans, and then top with either the sour cream or cheese.
Starbucks and Jamba Juice:
Both of these chains have gone back to basics and are offering oatmeal for breakfast. A package from a box is going to be much cheaper, but if you ran out of the house with nothing more than your purse, hit up one of these places for some nutritious, whole grain oats, and you can feel good about what you're feeding your belly with.
For more information on pregnancy nutrition, plus yummy recipes, check out www.feedthebellybook.com.