Birth Place Alternatives: Where to Have Your Baby in New York City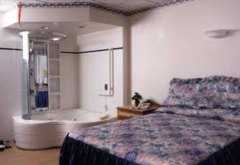 Determining where and with whom you give birth are very personal decisions. Arming yourself with facts helps you make the right choices for your family. Your birthing location has a big impact on your experience, and affects everything from your level of comfort to the availability of necessary medical intervention.
There are three birthing options in NYC. Most women choose to go to a hospital, but birthing centers and home births are available alternatives. Read on for details about all three choices. For more information about the history of birth in the U.S. and how that impacts your choices, see Ricki Lake's excellent documentary The Business of Being Born. 
Hospitals
Happily, New York City is home to some of the finest doctors and hospitals. Hospital births give you access to state-of-the-art medical facilities and contingencies for every possible outcome. Many hospitals also have NICU wards for babies that need intensive care after birth. Hospitals are an obvious choice for high-risk pregnancies. Although a traditional hospital birth can be perfectly wonderful, we think it's important our readers take a close look at area hospitals because many (especially the private ones) have very high Cesarean rates. Why is that important? Because where you give birth can dramatically influence your birth experience. For example, if you give birth at a hospital with a high Cesarean rate, you're more likely to end up receiving other interventions as well. Likewise, if the hospital doesn't encourage breastfeeding, you're less likely to get the support you may want and need. Another interesting fact about area hospitals is that none of them share site-specific information on delivery procedures (see the scathing report here), so it's up to you to do your research. 
The New York State Department of Heath and Choices in Childbirth, a nonprofit which promotes transparency and encourages mothers to share their experiences, are good places to start your research. Another great resource is The Birth Survey, which lets women who've given birth over the past three years give feedback on doctors, midwives, hospitals, birthing centers and home-birth services.
Birthing Centers
We think birthing centers are a great place to labor and deliver your baby for so many reasons. Mostly we love them because the space and the personnel encourage women to do it their own way. If you want to hide out in the bathroom to face your pain, have contractions in the tub to ease them, or simply walk around, you can. You need to meet certain medical criteria to be eligible for a birthing center.
Birthing centers should provide you with specific information on their procedures. (Is there an age limit? Is there a time limit for how long you can be in labor without "progressing" before being transferred? How are emergencies handled?). Birthing centers don't offer epidurals, so know that before going in. If you do opt for a birthing center, expect to leave within a day or so after delivery. Since policies can change, please double check, but most birthing centers require you to use their own affiliated doctors and midwives.
The Birthing Center at Roosevelt Hospital – Midtown West
This center boasts full-size beds, Jacuzzis, hidden medical instruments and generous rooms. Babies stay with you after birth, so it's very breastfeeding friendly. Mostly midwives attend here, but some doctors do, too. Since it's located within the hospital, there's a quick turnaround time if an emergency arises. Tours are crowded but helpful. Call the Parent/Family Education Program at 212-523-6222.
The Brooklyn Birthing Center – Midwood
The only freestanding birthing center in the NYC metro area is also the only local facility to offer a water birth option. The Brooklyn Midwifery Group, based on the lower level of the building, sees all clients for prenatal and postpartum visits in addition to attending deliveries in the birthing suites upstairs. If an emergency arises or a client feels more comfortable delivering in a hospital setting, the staff has privileges at Maimonides Medical Center. The center also offers tours as well as childbirth education, breastfeeding and newborn care classes. Call 718-376-6655 for more info.
Bronx-Lebanon Birthing Spa/Labor and Delivery Unit – Grand Concourse
We found the website a bit confusing, so call 718-518-1800 for the prenatal clinic to ask questions or to make an appointment. Only people seen by the staff are eligible. We asked around and it seems like no one is quite sure if this birthing spa is really a birthing center, or just rooms with Jacuzzis. If you're looking for a birthing center, be sure to ask questions such as are mothers separated from their babies post-delivery? Can the whole family stay in the recovery room? Etc.
Unfortunately it looks like the former Morris Heights Women's Health and Birthing Pavilion in the Bronx is now simply a Women's Health Pavilion and no longer offers birthing services. It does, however, offer prenatal care, gynecological care, postpartum services and breastfeeding assistance.
Home Births
At a home birth, a midwife attends and stays with you throughout the whole experience, and will bring all the medical tools necessary for a low-risk pregnancy. Obviously, women who choose to deliver at home take on more responsibility (to stay healthy, and to learn about childbirth and the role of necessary medical interventions, etc.). So this option takes a high level of commitment. However, a home birth means you have the freedom to labor and birth as you wish.
Home births should be attended by a certified nurse-midwife and done within close proximity to a local hospital that will be able and willing to take you in case of emergency. To find a midwife, begin by calling midwifery practices for recommendations, and also ask around. You can also check out the website nyhomebirth.com.