Strawberry Fields: 4 Strawberry Picking Farms on Long Island (and a Couple of Festivals)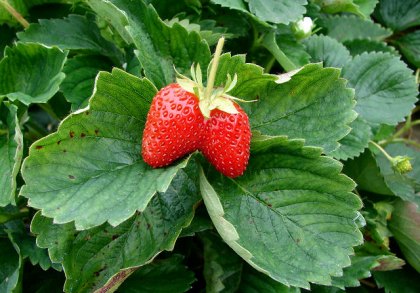 The East End of Long Island is ripe with places where you can pick your own strawberries. Deciding where to go can be a challenge, so we've handpicked a few of our favorites. Harvesting your own fruit is not only fun, it connects you to where your food comes from and supports locals farmers. It also allows you to experience food at its freshest, right off the vine. This is especially important for Long Island strawberries, which are sweeter and more delicate than most grocery-store varieties, and tend to have a shorter shelf life. Be sure to call ahead or check the farms' websites to confirm that the fields are open and the strawberries are ripe.
For more places where you can pick your own fruit and vegetables in the tri-state area, check out our Farm Guide.
Pick-Your-Own
Lewin Farms
812 Sound Avenue, Wading River
631-929-4327
The westernmost farm on our list, Lewin Farms was the first-ever pick-your-own farm on Long Island and has been around for four generations. The farm has its very own stand with more than 20 varieties of fresh fruits and vegetables. While you're there, stop by the corn stand for some of the sweetest corn around! Hours for pick-your-own strawberries are 9am-4:30pm. Call ahead for availability and days that the fields are open.
Patty's Berries and Bunches
410 Sound Avenue, Mattituck
631-298-4679
Pick your own will begin in June. Strawberries are sold by the quart also. There is a minimum charge of one quart per person who enters the field. Pick your own is open seven days a week from 9am-5:30pm. Patty DiViello is the daughter of farmers Edward and May Harbes.
After picking at Patty's, you may want to venture over to
Harbes Family Farms and Vineyards
 across the street (715 Sound Avenue; 631- 298-0800). The farmyard offers a barnyard, farmer's market, and a country cafe. Attractions include a bouncy house, a pedal cart racetrack, goat mountain goat, shetland ponies, bunnyville, and new this year, Charlotte's Web.
Organic Pick-Your-Own
Garden of Eve Organic Farm
4558 Sound Avenue, Riverhead
631-722-8777
According to Eve, the owner, the Garden's particular variety of strawberries tend to ripen early, and this year they expect to be open mid-May. In addition to the strawberry picking, young visitors can play in their playground, pet a bunny or chicken, and visit a working bee hive. Classes are offered here year-round for preschoolers through adults.
Golden Earthworm Organic Farm
652 Peconic Bay Boulevard, Jamesport
631-722-3302
Pick-your-own strawberries are available on Fridays and Saturdays beginning Memorial Day weekend. You may also purchase farm produce and baked goods.
Strawberry Festivals
Nassau County Strawberry Festival
Jerusalem Avenue and Newbridge Road, Bellmore
May 28th, 6-10pm
May 29th, 6-11pm
May 30st 12-11pm
May 31st 12-6pm
There will be rides, live bands and live acts as well as tons of strawberry products on sale, such as strawberry shortcake, strawberry cheesecake, chocolate covered strawberries and strawberry daiquiris. There will also be a pie eating contests with prizes. Carnival rides and games will be provided by Blue Sky Amusements and pay one price bracelets will be available. 
60th Annual Mattituck Lion's Club Strawberry Festival
1175 Rte. 48, Mattituck
631-298-2222
June 18-21
At the peak of the strawberry season, this annual festival serves up strawberry shortcake, strawberries dipped in chocolate and strawberries just about any way you can imagine. The festival also offers midway rides, live music and more than 100 arts-and-crafts vendors. To top it all off, all the proceeds will benefit local nonprofits on the North Fork.
Strawberry Fair at Benner's Farm
56 Gnarled Hollow Road, East Setauket
651-689-8172
June 6-7, 12pm-4pm
Adults $7; children under 12 and seniors, $6.
The Benners will do the picking for you so you can indulge in strawberry shortcake (homemade by Mrs. Benner), strawberry ice cream (kids can take a hand in making this), strawberry jam and strawberries dipped in chocolate. While on the farm, kids will have a chance to hold baby chicks, ducks and bunnies, feed the lambs and goats, and visit a tremendous sow, Honey.