15 Best Places to Get Scientific with Kids in NYC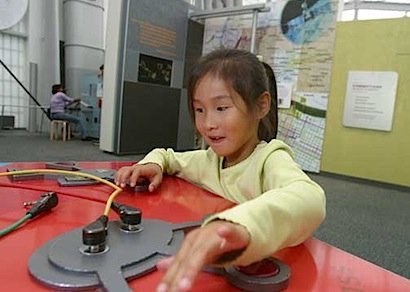 The bankers and the artists may get all the press, but NYC is a great city for science too. There are many wondrous places in New York where kids can soak up, explore and create scientific knowledge for themselves. From science museums, programs, shops and more, we've rounded up the best places for kids to get scientific in New York City.
Find more great geeky ideas in our Tech & Science Guide.
Museums
Liberty Science Center
The Liberty Science Center in Jersey City is really a world class institution. After a $109 million renovation and expansion, they reopened in 2007 bigger and better than ever. From the nation's largest IMAX Dome Theater to the new iExplore toddler and preschool exploratorium to permanent exhibits, like the 12,800 square foot interactive Skyscraper! exhibit and several rotating exhibits, there is way too much to explore in one day. One of the unique things about the Liberty Science Center is the high number of programs, demonstrations and workshops that you can participate in while you are there.
NY Hall of Science
Another great science museum for kids is the NY Hall of Science in Queens, a science and technology center with over 400 hands-on activities. Talk to any kid who's been there and you'll hear that the highlight is the outdoor science playground where kids can learn about and explore the principles of physics through their own play. And now they host the amazing Maker Faire, read all about it in Maker Faire New York: Hyper-Creative Fun for Kids at the New York Hall of Science.
American Museum of Natural History
Of course you've been to the Museum of Natural History before, but don't forget that there's a lot more to this museum than dinosaur bones and the whale room. The Discovery Room offers an interactive entry to explore the museum exhibits and a behind the scenes glimpse at the science involved. Space shows in the Hayden Planetarium immerse kids in the most current science of space. And the IMAX theater takes children on entertaining and enthralling scientific voyages. Make your trip even more exciting by using their Explorer App, details in our post, AMNH Explorer App: A Whole New Way to See the Museum of Natural History.
Sony Wonder Technology Lab
Free and right in Midtown Manhattan, The Sony Wonder Technology Lab is as entertaining as learning about technology should be. They just reopened the top two floors with new exhibits so now there are four floors of high-tech, interactive exhibits let kids make music, animation, learn about video game and film technology, robots and nanotechnology. The Sony Wonder Lab also offers programs, parties and free movies for kids. Read our first person review: Sony Wonder Technology Lab: Visiting the Free High-Tech Museum with Young NYC Kids.
Science Barge
On the completely opposite end of the spectrum, the Science Barge in nearby Yonkers gives children the ability to learn hands-on how technology can help us have less of an impact on the earth and live more sustainably. The Science Barge is a sustainable urban farm powered by wind, solar, and biofuels and irrigated by rainwater and purified river water. It is completely off the grid, creates no carbon emissions, no net water consumption and no waste stream. Families can tour the barge and participate in programs geared to teach them more about the technologies involved.
Bodies, The Exhibition
Unfortunately this exhibit was severely damaged during Hurricane Sandy. It is supposed to reopen at some point but currently there is no timeline.
There has been a bit of controversy about this exhibit over the origin of the actual bodies used, but I felt I had to include it because it is there and is, in fact, a pretty amazing opportunity to see up close the real the inner workings of the human body. For young children this may be too gruesome, but for older children, they can learn about the bones, muscles, and organs that make up the amazing human body.
Programs
Staten Island Museum Junior Science Club
In addition to a small natural sciences exhibit, The Staten Island Museum offers a Junior Science Club that meets the third Saturday of every month for children ages 8-13. Children do hands-on experiments and projects for an in-depth study of a different topic each session.
Mad Science
Mad Science offers fun after-school programs, parties, vacation and summer camps for kids where they can participate in their own hands-on experiments and learn about everything from rockets to the science of toys.
Science Teacher Sarah
Science Teacher Sarah has a unique program that takes children on field trips on one day and on the next day they bring the learning home with work on related lab experiments and projects in their science center complete with animals that the children can handle and care for. Sign up for after school programs, vacation and summer day camps with a flexible come when you want schedule.
RoboFun and Brooklyn Robot Foundry
Kids can learn about robotics, design and make their own robots at these two different robot-centric programs. RoboFun offers after-school programs, parties and camps for kids. We cover our first hand experience with RoboFun in RoboFun: Robot-Making and Computer Camps and Classes for Little Smarties. Meanwhile Brooklyn Robot Foundry offers more of the same as kids make robots from recycled materials in classes, camps and even drop-in sessions.
Stores
Evolution
This natural history and science emporium in Soho sells bones, fossils, mounted insects and other unique artifacts, but even if you aren't in the market for a human skeleton or a trilobite fossil, kids will be fascinated exploring the shop, which is packed to the gills with curiosities.
The Scholastic Store
Sadly, the Scholastic Store closed in January 2015
 
Other fun stuff
World Science Festival
Spring 2008 was the first World Science Festival in NYC, a multi-day event that included a great street fair with tons of fun hands-on science activities for families. Check the website for updates on this year's events, as there are limited listings currently.
Science & the City
Science & the City is the website of the New York Academy of Sciences and is a great resource for finding out about many different science-related events, talks and other goings-on.
Cool Science Camps
Check out our article on cool science camps.
Reader Recommendation:
One savvy reader recommended Carmelo The Science Fellow, saying, "my 5 year old did his after-school classes last year and loved them (on Atlantic Ave and Smith Street in Bklyn). He is the type of silly teacher that every kid loves.". Carmelo offers a Science Playgroup, classes, parties, and camp at the Cosmic Cove in Brooklyn.
This article is part of a series of posts about Science for Kids. The other articles are:
Five Best Science Web Sites for Kids
Holiday Gift Ideas: The Best Science Kits for Preschoolers
Find more great activities like this in our Tech & Science Guide.
Find more NYC birthday party ideas in our Party Guide.
This post was originally published in 2009.