If You Have Kids, You Need A Will: Our Giveaway Can Help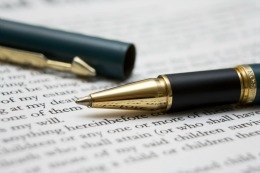 From those first anxious weeks of infancy to the first day of kindergarten and beyond, it seems like there's no end to things for parents to worry about. With all that worrying about our kids, it's easy to forget to take care of the things that will really protect our families should the worst occur. Making sure you have a will is one of them.
You may think that estate planning is only for the rich, but a will protects more than just wealth. If you are a parent, having a will should be a priority. Laura Fischer is a lawyer working in Manhattan and Brooklyn who specializes in helping families create wills, so you can stop worrying and just get it done. I asked her to share important information about why every parent should have a will and what specifically to put in it. Plus, she is giving away a free Family Estate Planning Package (valued at $1,000) to one lucky reader. Read on to find out more and get this chore off your to-do list.
Why is it important for families to have wills in place?
I recently read a short piece in the Times about a woman who unexpected lost her husband in a biking accident. With humbling honesty, she shared how difficult it was to be present in grieving his loss due to her anxiety about him not having a will, as well as her lack of clarity on their finances. In my experience, most people who have not attended to their final will and estate plan carry around a fraction of that kind of anxiety all the time, especially after they have children. That is why I love my job so much: I get to help people unload that stress in an easy, inexpensive process that leaves them feeling more at peace.
What can happen if you don't have a will?
A last will is a critical document that tells the court how you want your assets distributed if something should happen to you. If you don't have a will in place, state law determines how your assets are distributed, which can create logistical complications. More importantly, a will designates the person or people you want to raise your children should something happen to you and your spouse. If you do not have a will and something were to happen to you, your children would be attended to of course, but it might surprise you how many different ideas there would be in your family about how to raise them. In creating your last will, not only do you have a chance to make these decisions yourself, you can also think through specifics, compile your finances and make sure that your estate will not be hit with estate taxes (and if so, take steps to prevent it).
What things do people need to think about when preparing a will?
It is an important time to discuss and make decisions about all of the difficult questions that need to be answered, most of all whom you would choose to raise your children in your absence. It is also a wonderful time to record in a non-legal document any guidance you can offer regarding raising your children, and to collect all your financial information in one place. You may also want to decide whether to buy life insurance, and if so how much. Life insurance can save a forced sale of a home, in case you want your children to continue living there. All of these things can all be planned and included in the drafting of the will.
How do people get a will made?
Certainly a do-it-yourself will is better than no will, and most of them are fine if they are tailored to the law of the state in which you reside. The two major problems are the execution (or signing) and the inclusion of problematic language. Many people spend $65-$250 on a kit only to find that the intake doesn't get done, or that the will is never properly signed. Worse still, you may go through the whole process and think your will is complete, when in fact it has not been done properly. Generally, it is easier to have a attorney handle the matter completely, or at least review your will and conduct the signing.
What do your services include?
The basic documents for a simple estate plan include a final will along with your power of attorney, healthcare proxy and living will. The process of getting your documents done is easy and relatively inexpensive. I can also prepare all kinds of trusts and do all related court proceedings (probate, administration, contests, etc.)
What is the process?
There is an initial free consultation wherein a brief intake is done, and all of your critical decisions are discussed and your questions addressed. If you are ready to move forward, I then prepare drafts for your review. We will discuss any and all questions you may have after reading your documents, and I will make any changes. Once your documents express your wishes, we will set up the signing, which can be done at one of my offices (in Manhattan or Fort Greene, Brooklyn) or your home. The final step is signing.
How much does preparing a will cost?
The standard package described above costs $1,000 for the family. Trusts can vary, but generally cost a flat rate that we agree to.
Laura Fischer provides legal services to families in NYC, specializing in wills and trusts. To contact her, visit laurafischerlaw.com or call 917-501-3411.
Enter to win a Family Estate Planning Package including Last Wills, Healthcare Proxies with Living Wills, and Powers of Attorneys for both parents (value $1,000) below.
This post is sponsored by Laura Fischer, Esq. The information provided in this article does not constitute legal advice and is not intended by either Laura Fischer or Mommy Poppins to do so. (ATTORNEY ADVERTISING)
Tags: