Prospect Park and the Brooklyn Botanic Garden in Winter: Things to Do with Kids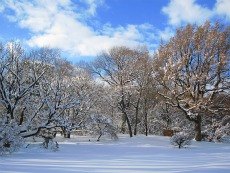 In summer, Prospect Park and the Brooklyn Botanic Garden are super-popular destinations, with glorious flora and fauna, and lots of free or inexpensive programming for families. But they don't go into hibernation during the winter.
The cool months are actually a great time to visit: You'll find fewer crowds, lower fees (the Garden offers free admission on weekdays through March 11) and plenty of kid-friendly activities and attractions, many of which are inside where it's warm. From indoor exhibits at the Garden and the Park's Audubon Center to outdoor nature walks, here's why you should bundle up the family and hit these green spots in winter.
Brooklyn Botanic Garden
900 Washington Avenue at Crown Street
Tuesday-Friday 8am-4:30pm; Saturday-Sunday 10am-4:30pm
FREE Tuesday-Friday and Saturday 10am-noon; $10 for adults, $5 for students, free for children under age 12 Saturday noon-4:30pm and Sunday 10am-4:30pm.
Indoor Fun at the BBG
The BBG's Conservatory transports you to much warmer climates, with its Aquatic House and Orchid Collection, Bonsai Museum, and Desert, Tropical and Warm Temperate Pavilions. Even on NYC's dreariest days (like say the entire month of February), a visit here is sure to raise your spirits and wow your eyes. No strollers are allowed in these areas, so your kids must be walking or in a sling. Small hands need to monitored as you're able to get up close and personal with a host of wonderful and weird flora, including cacti, banana plants and delicate exotic flowers. The nearby Terrace Cafe is a good spot to stop for lunch or a mid-exploration snack.
The BBG's current indoor exhibit is Terrarium, a collection of synthetic works by Jae Hi Ahn and plant displays by Jennifer Williams. Kids can marvel at Williams' glass-encased mini-gardens, while Ahn's nature-inspired creations are reminiscent of delicate jewelry. It's on view through Sunday, February 26.
The Garden has two stores: the Gift Shop, which sells household items and jewelry, and the Garden Shop, which has an extensive kids' area in addition to all things horticultural. My daughter loves going here. She's particularly fond of the shop's large selection of Wild Republic plush birds that, when squeezed, tweet realistic calls, and all of the animal-themed children's books.
Although you'll have to wait until spring to see it, we do want to mention the much-anticipated 20,000-square-foot Visitor Center, which is scheduled to open in May. In addition to moving the often-congested main entrance to a larger location, it will feature an area where visitors can learn about the Garden's current events and exhibits, a wall-mounted digital map and interactive exhibits. Perhaps most impressive of all will be its living roof: A leaf-shaped ceiling that will boast more than 40,000 seasonal plants. And of course, the building itself has been certified "green."
Outdoor Fun at the BBG
If you're up for braving the cold, the BBG offers the free monthly Chase the Winter Blues Away Guided Tour. The tour this Sunday, February 5 celebrates Lunar New Year in the Japanese Hill-and-Pond Garden. The tour on Sunday, March 4 will spotlight Early-Spring Flowers. No reservations required. Meet in front of the current Visitor Center at 1pm.
Kids' winter classes in the Children's Garden, including a few inexpensive harvesting and cooking classes are already in session. But if you're interested, it's worth calling to see if any spots are still available. If you like to plan ahead, registration for spring classes begins next Monday, February 6.
Of course you don't need a class or a special tour to enjoy the Garden, especially with the insanely mild winter we're having. Relax in the tranquil Japanese Hill-and-Pond Garden or stroll down the Cherry Esplanade. Before you go, check out the Garden's handy Plants in Bloom page so you'll know what's flowering.
Indoor Fun in Prospect Park
Many of the park's winter activities take place around the Audubon Center, a picturesque, Venetian-inspired boathouse located on the lake just inside the Lincoln Road/Ocean Avenue entrance. The Center teaches visitors about local wildlife preservation via various exhibits, including a few with live animals. The building also houses the popular Songbird Cafe. The Center's been closed for a bit of a winter break, but it reopens this Saturday, February 4 and will be open on winter weekends and holidays noon-4pm.
Upcoming events of interest to families include weekly introduction to bird watching and arts and nature crafts sessions. If you have teens, they can enjoy free recording time in the park's state-of-the-art Beat Cave Studio in exchange for putting in a few volunteer hours. Find the complete schedule on the website. All programs are FREE.
The Prospect Park Zoo features indoor and outdoor exhibits, and is home to more than 80 animal species. The Discovery Center, open Sundays 11am to 3pm, is a comfy spot to read animal-themed books or play games like match the animal poop with its owner. Informative Keeper Chats also take place on weekends. Plus there are daily sea lion feedings outside and animal encounters inside the theater. The ever-popular and well-stocked Barn & Garden is also a big attraction. Open 365 days per year. $8 for adults, $5 children ages 3-12, free for kids under 3.
At the 18th-century Lefferts Historic House families can wander through period rooms and a working garden. Like the Audubon Center, the House has been closed for winter break but reopens this Saturday, February 4 and stays open on winter weekends and holidays noon-4pm. Weekend tours and Handiwork: Tasks and Crafts from the Past sessions bring the retro era to vivid life. Lefferts' annual Winter Festival coincides with midwinter break. From Saturday, February 18-Sunday, February 26 between 1 and 3pm, families can drop in to play old-school games, no batteries required. All programs are FREE.
Although the Prospect Park Tennis Center is an outdoor sports complex in summer, it transforms into an indoor center in winter thanks to a giant inflatable bubble. Rentals are available by the hour, and professional tennis coaches conduct lessons for adults and children if you feel like splurging. Visit the website for prices and other details.
Outdoor Fun in Prospect Park
Prospect Park is home to seven playgrounds, including the beautifully renovated Vanderbilt Playground, the Ezra Jack Keats-themed Imagination Playground and the musical Harmony Playground.
The perimeter of the Park serves as a three-mile running, walking, cycling and scootering track. If you prefer to explore the Park on horseback, hit nearby Kensington Stables, which is open year-round.
Unfortunately, there is no ice-skating in Prospect Park this season. Wollman Rink is closed due to the construction of the Lakeside Center, scheduled to open in January 2013. Once completed, the complex will contain a year-round ice rink, children's water play area, and extended acreage for the lake and parkland.

Photo: Brooklyn Botanic Garden by Rebecca Bullene