What to do with Leftover Halloween Candy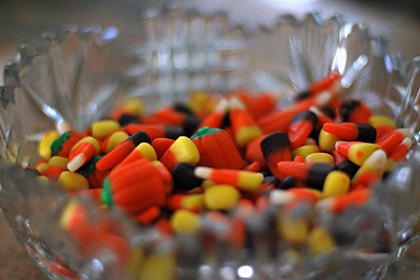 After Halloween last year, I was astonished at the amount of candy my kids got, especially when I counted up the total calories. It really made me think twice and we ended up taking five pounds of candy and selling it to the dentist the week after Halloween. This year we found a healthier alternative to giving away candy for Halloween and it seems like there are lots of people feeling the same way because I keep reading about all kinds of things to do with your leftover Halloween candy besides eat it, from donating it to soldiers in Afghanistan to using it to make a gingerbread house. Read on for some of the best ideas of what to do with all that leftover Halloween candy.
Sign up for our FREE newsletters to get posts like this delivered to your inbox.
Donate it: There are lots of charities that will take your extra Halloween candy whether you'd rather give it to a soldier or children or the hungry. We've got an entire post dedicated to ways to donate your candy.
Reuse it: I love this idea of repurposing Halloween candy to make your holiday gingerbread house from ParentHacks.
Get Crafty With It: If you want to take the repurposing a step further Alphamom has some beautiful ideas for making things like an advent calendar, a harvest tree or a turkey pinata with leftover Halloween candy.
Trade It: Lots of people seem to like the idea of just convincing their kids to trade the candy for a new toy or book, whether you call it the Halloween or Candy Fairy or the Switch Witch as AChildGrowsinBrooklyn does.
Photo credit: Flikr, Fred Rockwood.
Sign up for our FREE newsletters to get posts like this delivered to your inbox.
This post originally published in November 2009.