News: Child's Play at JFK, Life After Kids, Recyclable Nursery, Cool Kids Books, Quick Oscar Recap, More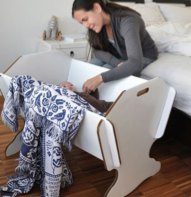 How good does that warm air feel? Though we were dreaming of springtime fun, we still had time to monitor the news articles you might have missed. Find out more about the air traffic control fiasco at JFK, a cool blog about children's books, a 100% recyclable nursery, and why you shouldn' google your child's symptoms. Also, get a glimpse of life after kids and a quick Oscar roundup.
Air Traffic Control Not Child's Play: An air traffic controller brought his kids to work at JFK Airport during winter break and thought it would be a good idea to let them try out what dad does for a living. The result: EPIC FAIL. It's cute to listen to the kids giving directions to pilots, until you realize that they're responsible for hundreds of lives. The controller and his superior were reprimanded. This is why cops don't bring their kids to beat duty.
Cool Books for Kids: The Curious Pages is a blog that recommends "inappropriate books for kids". Whatever that means, you'll find lots of cool, unusual children's book from the artsy and obscure to the absurd. Happy reading.
Cardboard Nursery: Check out this cool 100% recyclable nursery room made out of cardboard.
Don't Google It: The NY Times Motherlode blog explores the dangers of googling our children's symptoms and driving ourselves crazy with the potential ailments we find. I like one commenter who proposes a no googling after 8pm rule to prevent late night neurotics.
Life After Kids – For all those parents who dream of the day they can give up the dirty diapers to pursue their life goals, read up on Maddie Corman's profile in the New York Times this week. The mother of three had nearly given up on her dream of performing on Broadway before landing an audition in a major production.
Oscar Fever – As expected, "The Hurt Locker" and "Avatar" won big. Know who didn't win big? The home-viewing audience. When will producers learn that people don't want to watch a four-hour awards show?
Tags: