Top NJ Gymnastics and Cheer Facilities: Tumble, Twist, Dance and Shout!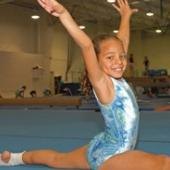 If your couch regularly turns into a trampoline, curbs become balance beams, and chairs become vaults, get your kid into gymnastics!  Whether or not your child continues on to the Olympics or moves into another sport, gymnastics builds confidence, burns copious amounts of energy, and provides skills that translate across the spectrum of sporting activities.  We've rounded up a range of great New Jersey gymnastics studios and academies for you to consider–check 'em out, then get your kids cartwheeling! (NOTE: Enrollment in gymnastics may actually increase amount of flips, jumps and spins executed in your home!)

Words of Wisdom from Moms Who've Been There:
Most studios offer a free trial class, allowing your child to confirm desire to enroll, and you to feel comfortable with the instructor's approach and level of safety practiced, as well as instructor to student ratio.
Still not sure? Ask when the next home meet (we're now nearing the end of the competitive season) or cheer competition (year-round) will take place, and plan to attend.
If you feel your child's ability exceeds that of the children in the class in which they're placed, ask to have your child tested for alternate placement.
Most locations offer short or long term summer camp programs, in case you'd like to trial in that manner.
Be prepared to sit on the bleachers a LOT: gymnastics and cheer take place year-round, with competitions on weekends.
The three major gymnastics organizations you'll hear about are United States Association of Independent Gymnastic Clubs (USAIGC), USA Gymnastics (USAG) and Jersey Optional Gymnastics Association (JOGA).  A gym's membership in these basically determines the meets they compete in, the rules by which they're judged, and the commitment to the sport.  If your child prefers a less competitive environment, look for a JOGA participant. If your tumbler's chomping at the bit to fully commit to the sport and take their skills to the elite level, USAIGC and USAG clubs are for you.
The Little Gym (Randolph, Wayne, Fairfield, Livingston, Montclair, Waldwick, Bridgewater, Cranford, Hasbrouck Heights, Englewood, Jersey City)
Although a 30-yr. old chain with 300 locations in 21 countries and programs built on formal research,  these gyms feel like cozy, colorful bastions of bounce and happiness!  Their strictly non-competitive classes cover ages 4 months-12 yrs, but their true specialty lies in the little ones.  As an entry level option, their combination of kid-geared music, instruments, toys, bubbles, and unbelievably cheery staff can't be beat. But believe me, even the tiniest children will be turning somersaults (with help and guidance, of course!) and swinging on bars.  Additional offerings include karate, sports skills development, cheer and dance.
Westy's Gym (Franklin)
Fans of Westy's Gym praise it for it's combination of low-key approach, but high-level of training.  Fun and competition receive equal weight at this 8,800 sq. ft, climate-controlled facility with a 40 ft. tumble track, foam pit, tarzan swing, in-ground equipment (safer for your kids), 2 sets of bars, rings, balance beams, mini-rock wall, inflatable bounce house and more!  They also offer a special needs-specific class and cheer-tumbling coaching. Bragging rights go to Westy's for having the youngest gymnast (at 5 yrs. old) to compete in the USAIGC Copper Division.  Classes for 2 yrs+.
Randolph Gymnastics Academy (Randolph)
If your little one thrives under gentle, yet firm, discipline, Randolph Gymnastics Academy offers it in spades! A whopping 13,000 sq. ft.   Randolph Gymnastics provides a 13,000 sq. ft. fully equipped, state-of-the-art, olympic quality training facility, replete with a spring floor, 3 in-ground trampolines, a 50 ft. in-ground power tumble track, foam pit, bars, beams, vault, rings, high bar, parallel bars and a pommel horse.  The vast amount of space and equipment allows this gym to run multiple classes/levels simultaneously, which means form class choices for you, and a wonderful opportunity for the younger children to gaze in amazement at the feats performed by their older comrades–both gymnasts and cheerleaders.  Membership in both the USAG and the USAIGC means more opportunities for competition–and in fact, their Bronze Team won the 2010 East Coast Team Cup! Classes for preschool+.  
Somerset County YMCA (Basking Ridge)
This newly expanded facility offers a complete recreational gymnastics program in a brand-spankin' new space with a spring floor, Tumble Trak, trampoline, balance beams, parallel bars, vault and much more. Safety comes first at this USAG-trained studio that offers beginner to advanced classes for children of all levels. A recreational approach is employed here, and the existence of the program within a YMCA means kids can precede or follow their work-out with other YMCA offerings including swimming, arts, basketball and more; and parents can partake in a workout if timed right with the class---no bleacher butt for you!

Precision Gymnastics (Bayville)
Keep your eyes on the Olympic Gold medal as you enter this 15,000 square foot, climate controlled USAG training center.  Serious gymnasts work the 3 (!) spring floors, vault with spring runway, 2 in-ground trampolines, multiple sets of uneven bars, 30' tumble trampoline with an overhead spotting rig, 2 foam pits, multiple beams, pommel horse. Parents rejoice: a pro-shop stocked with gymnastics gear, drinks and snacks saves you from your child complaining that (once again) you forgot to pack their leotard, granola bar, Gatorade, etc.; and a large waiting area with viewing windows allows you to keep an eye on your kid while working your laptop. Director Barbara Etting brings 20 years competitive and recreational coaching experience as well as certified judging experience to her trainees, which range from beginner to advanced level, and who boast a bunch of state medals year after year. Classes for toddlers+.
TopFlight Gymnastics & Cheerleading (Millington)
Another highly competitive USAG facility with Junior Olympic Teams (the highest level of gymnastic competition in the country), TopFlight's top, invitation-only teams train between 2-5 days/week and require perseverance and dedication to the sport. However, they also offer the less competitive JOGA program as well for 9-18 yr. olds. Better yet, they've just moved to a massive new 19,000 sq. ft. facility replete with multiple class observation rooms; a special team room with couches and computers with closed circuit monitoring; a study hall room with multiple computers ( a quiet place to do homework–no more textbook juggling on the lap in the car); a sibling room with a toddler play area,  a gamers spot, and a television; a coffee / juice/ snack bar (for those early morning meets); multiple foam pits, a channel bar, 2 sets of uneven bars, multiple single rails, 3 vaulting runways, rings, and tons of pre-school equipment.  Classes for 3-18 yrs.

The Gymnastics and Cheerleading Academy (Cherry Hill, Voorhees)
"One, two, tell me who are you, THE BEARS!" Marsha Brady thought she rocked the squad, but the cheer teams here put her to shame!  Tumbling and gymnastics programs start at 2 yrs. old involving basics, then add colorful parachutes, ribbons, balloons, and bean bags.  At 5 yrs., kids can join the cheer-tumble program which includes spring floor, trampolines, tumble track and a variety of mats. The All-Star Cheerleading Team at Voorhees starts at age 5 and continues through high school. Additionally, the Cherry Hill location trains USAG teams for the USA Gymnastics Junior Olympics, and many graduating gymnasts continue to compete in college on scholarships. The Cherry Hill location offers a JOGA team program as well.
United States Gymnastics Development Center (Englewood, Mahwah)
Former Olympic athletes and coaches train your budding Olympian at this facility which boasts a trampoline, mini-tramp, moon walk, a unique "Rubber Band" safety system, and the two largest loose foam pits in Bergen County.  The eight students per instructor limit allows for maximum individual attention, resulting in the boys and girls team collectively capturing over 100 State, Regional, and National titles.  Another unique offering is the Parent Association–a kind of PTA for gymnastics parents which allows for community, commiseration and car pooling. Classes for 18 months+.
Action Gymnastics (Howell)
This 8,000 sq. ft air-conditioned JOGA and USAG facility also offers a well-pedigreed coaching staff, including Steve Thorn, who started doing gymnastics at 3 yrs of age and competed from 5 yrs-21yrs. (always a plus); and Maia Karamfilova who has 20 yrs. coaching experience under her belt and had a gymnast compete in the 1988 Olympics in Korea. The pro-shop allows parents to skip the trip to Capezio to find leotards. Both gymnastics and dance classes offered.  Classes for pre-school+.
Perfect Formation Arts Academy (Bridgewater)
Wondering what those gymnasts with the rope, hoop, ball and ribbon are performing? It's rhythmic gymnastics, and this facility reigns supreme.  Beginning with movement classes, gymnasts learn the basics in a supportive, non-competitive environment, then move on to competition training eventually competing at state, regional and national levels. Both gymnastics and dance are taught here, and owner Corrine Sicola performed at the national level herself, so brings a great perspective to her trainees. Note: If you're a helicopter parent, you want to sit this one out—parents are not allowed on the gym floor, and must drop off children at the cafeteria.
Tuition
Costs vary immensely, based on age, length of class, location and number of practices per week.  Please refer to individual websites for further information.