Remembering 9/11: Things to Do With NYC Kids on September 11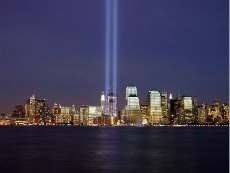 With September 11 coming up, lots of families are trying to figure out what to do that day. I know I am. My daughter just turned six, so until now, we've gone the escapist route: We just avoided turning on the news and acted like it was a regular day. I'm not sure we could do that this year even if we wanted to: It's the tenth anniversary and it falls on a weekend, so reminders will be everywhere.
While I'm going to do the best I can to make sure she doesn't see any footage from September 11 (I wish the media would stop running the Towers falling on a loop every anniversary), she's old enough to learn about what happened that day. I want her to start to grasp the impact September 11 had on our city and the world.
There are many ways families can mark the day, remember the victims and honor the heroes. Whether you explore an exhibit, visit a memorial or volunteer to help others, here are enriching and educational things to do on September 11 with your kids.
Explore an Exhibit
The New York City Police Museum has two September 11 installations: the permanent exhibit 9.11 Remembered, which chronicles the NYPD's role via video interviews, images and artifacts; and 9/11 A Uniform Response, a collection of images related to the tragedy, that opens on September 9. The New York City Fire Museum also has a permanent memorial to the firefighters who lost their lives on September 11. Both of these institutions are great choices for families with younger children, since they also have lots of fun, non-September 11-related exhibits, like the Police Museum's interactive Junior Officers Discovery Zone. All exhibits are free with admission: $8 for adults, $5 for children under 13 and free for kids under 2.
The Metropolitan Museum of Art debuts The 9/11 Peace Story Quilt on August 30. Designed by Faith Ringgold and constructed in collaboration with New York City middle and high school students, the quilt comprises an array of culturally diverse panels that call for peace and understanding. On September 11, the Met is holding a number of special programs in conjunction with the exhibit, including a poetry reading, a concert and a lecture by Ringgold about the making of the quilt. Free with suggested museum admission: $25 for adults, free for children under 13.
Down at the Fraunces Tavern Museum, teens can see their peers' thoughts about the tenth anniversary in Youth Remembers 9/11, which showcases paintings, sculptures, crafts and poems created by high school and college students. Free with museum admission: $7 for adults, $4 for children ages 6-18, free for kids under 6.
There are also September 11 exhibits at the Brooklyn Museum, the International Center of Photography, the Educational Alliance, the Museum of the City of New York and MoMA PS1. But the ones we spotlighted sound like they're the most engaging for kids.
Visit a Memorial
If you want to battle crowds of tourists, you can try to take a peek at the in-progress Freedom Tower or visit the 9/11 Memorial Preview Site, which spotlights the National September 11 Memorial & Museum. But we think strolling through downtown Manhattan is a much better idea. The 9/11 Memorial website has a list of memorials, including the Bell of Hope at St. Paul's Chapel, the British Memorial Garden at the intersection of Hanover and Pearl Streets and Koenig's Sphere in Battery Park. Talk to your kids about your memories from that day (regardless of whether you lived in NYC at the time), and enjoy walking around the city we love. FREE
If you stay in the area until the evening, you can watch the 9-11 WTC Memorial Floating Lantern Ceremony at Pier 40. Sponsored by the Interfaith Center of New York, the event includes prayer and meditation, live music and the release of the lanterns, all inscribed with names of September 11 victims. You'll also be able to see the annual Tribute in Light, the two beams that pierce the night sky in honor of the Twin Towers. FREE
Many September 11 victims lived on Staten Island. As a result, there are two major memorials on the isle: Staten Island September 11 Memorial, a striking statue near the St. George Ferry Terminal, and the World Trade Center Educational Tribute at Snug Harbor, featuring artifacts, images and multimedia displays. Both tributes are located in picturesque areas. The first offers incredible views of New York Harbor while the gardens and grounds of Snug Harbor have long been one of our favorite city spots. Visit both for a through-provoking day trip. FREE
Enjoy Cultural Events
Although not directly related to September 11, Wave Hill's free family art project, Paper Circles for Remembrance and Renewal, seems to be in keeping with the theme. Guest artist Randy Brozen shows kids how to make paper and then shape it into a circle that represents the changing seasons and cycle of life. The lovely gardens of this Bronx oasis are a perfect place to relax and reflect, and in honor of the tenth anniversary of September 11, admission to the grounds is free all day. FREE
Despite its current renovations, the New York Historical Society is opening up a portion of its building to host a special September 11 story hour as part of its Remembering 9/11 installation. Firefighter Vin Panaro will share Maira Kalman's picture book Fireboat, and an educator will be on hand to answer kids' questions. FREE but reservations are required. RSVP to familyprograms@nyhistory.org.
Many religious institutions are hosting concerts for peace on September 11. However, if you're looking for nondenominational live music, there are a number of complimentary concerts around town. Bargemusic presents works by Bach and Beethoven in honor of September 11 under the Brooklyn Bridge. The Irondale Center hosts a Community Concert of Healing and Remembrance as part of its September 11-themed Pieces of Paper Project. The lineup includes the String Orchestra of Brooklyn, Spoke the Hub Dance and the Brooklyn Music School. And there will be multiple, musically diverse performances all over the city (and around the world) as part of The September Concert, which celebrates peace through music. You can find the performance nearest you on the website. Keep in mind that the concerts take place from September 9-12, so not all of them take place on September 11. FREE
Volunteer for a National Day of Service
Like Martin Luther King Day, September 11 has become a National Day of Service and Remembrance when we're encouraged to help our community and people in need. (Since September 11 also happens to be Grandparents Day, consider gathering three generations of your family.) You can search for volunteer opportunities near your home on the government's United We Serve website. Not every project is directly related to September 11 (there are calls for volunteers for the Broadway on Broadway concert and Rosh Hashanah package delivery), but all of them allow you and your kids to give back to this city. FREE
You can also organize your own activity. The nonprofit Family-to-Family is calling for people to put together necessities kits and "birthday in a box" packages for homeless families. You and your kids will spearhead and host the event, and Family-to-Family will connect you with local shelters. Yes, it will take a bit of coordination and money, but it's a wonderful way to get your friends, family and neighbors together for a good cause on September 11.