Kids Go Free to Cole Bros Circus Where Old Fashioned Circus Fun Meets Cirque Nouveau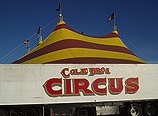 Another circus is coming to Long Island, Brooklyn and Staten Island. We just heard about the Cole Bros. Circus – which is surprising since it has been around for 125 years. So we did a little research and found it's something you might want to check out.
Since this is their 125th Anniversary, they are celebrating with a special performance reprising legendary circus acts of the past along with showcasing the talents of cirque nouveau artists.  There is a 7-man pyramid on the high wire – these acts always amaze me as I really feel for the guy on the bottom holding all these people on a high wire no less; also gymnastic routines, circus daredevils (with "the Globe of Death and Giant Gyro Wheel") and of course clowns for a little comic relief.  And,  no circus would be complete without the animals, and there are elephants, camels, dogs, ponies and a mule. It is a fast paced two hour show – with something for everyone.
Let's face it-a trip to the circus can break the bank, but what's great about Cole Bros. Circus is the tickets are extremely reasonable ranging from $12 - $17 (not like some of the pricier venues which can get up to $75 a ticket). And here are some insider tips we have for you- Kids tickets are free with an adult ticket purchase if you print it out at freekidstickets.com. And, adult tickets can be purchased in advance with $5 off at tickets.com. Multiple shows each day are being performed at locations all over the area: Southampton, Greenport, Middle Island, Staten Island, Brooklyn, Oceanside – check out the full schedule here.