Weekly Wrap Up: MommyPoppins Food Drive, Black Friday Sales, Christmas Tree Lightings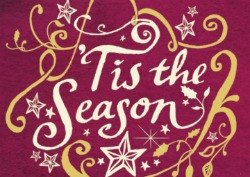 This week was all about Thanksgiving. Now that the parade is done and the turkey's been eaten, we're turning our attention to the holiday season. Black Friday sales are here, and the first big tree lighting of the season at South Street Seaport is on Friday night. There are also a bunch of spectacular illuminations and celebrations next week, including Winter's Eve at Lincoln Square, the Holiday Lighting Extravaganza at the Winter Garden and the Rockefeller Center Christmas Tree.
While holiday fetes are fun, one of the best things to do at this time of year is give back to your community. In addition to launching a MommyPoppins food drive to help 10,000 NYC children this holiday season, we updated our post on volunteering with kids in NYC and we even have suggestions for ways you can help without leaving home. We'll continue to update our Holiday Fun and Holiday Gift Guides over the next few weeks, so be sure to check back throughout the season.
And that's just a bit of what's going on. Here's what we covered this week on Mommy Poppins in NYC, New Jersey, Long Island and Connecticut, as well as selected stories from our sites in Boston and Los Angeles.
New York City
In honor of the Knuffle Bunny musical playing at the Skirball Center this weekend, we interviewed the beloved book's author Mo Willems.
Our biweekly news roundup included info on a possible school bus strike, District 2's rezoning drama and a new online high school.
The rest of the week was all about the holidays. We took a tour of New York Botanical Garden's annual Holiday Train Show.
We rounded up 20 Christmas tree lightings, all way less crowded than Rockefeller Center.
We shared our favorite Black Friday deals and tips for making the most of the sales.

We also found cool things to do on Thanksgiving besides the parade (but that's moot now. Save the info for next year!).
Most importantly, we launched a massive food drive this week. We're asking our readers to help us feed 10,000 hungry NYC children. We hope that you'll join us.
Lastly, we highlighted the best things to do this holiday weekend, including cheap family films at Lincoln Center, Thanksgiving weekend at New York Historical Society and lots of early Christmas events.
New Jersey
Across the Hudson, you can visit Storybook Land amusement park, where Santa illuminates more than 1 million lights for the holiday season.
Inspired by NYC's neighborhood spotlight series (we're doing the Upper West Side this month), NJ is also highlighting the best family fun to be found in different areas. Morris County is the first one!
Shopping isn't the only activity on Friday. Here are five fun things to do with NJ kids, besides buying.
Planning a party? We've got creative birthday bash spots in Somerset County.
Weekend events include the new interactive exhibit Generation Fit at the Newark Museum and lots of holiday light shows.

Long Island
Over on LI, we rounded up family-friendly restaurants open for Thanksgiving. Even though the holiday's done, maybe you can make a reservation for Christmas dinner.
Mark your calendar: We've got the lowdown on the best Christmas tree lightings on the island.
Weekend highlights include the Winter Festival and Christmas Tree Lighting in Glen Cove Village Square and the Holiday Princess Tea Party in Ronkonkoma.
 
Connecticut
Time to start planning your CT holiday! We've got roundups of things to do over Thanksgiving break in Litchfield and Hartford Counties.
We also have ways to get active over the Thanksgiving holiday.
Before you head out to hit those sales, read our Black Friday deals post.
Looking for a fun family outing this weekend? Consider visiting one of these kid-friendly museums in Hartford County.
Best bets for the weekend include the Tunnel of Lights Holiday Trolley Ride in East Windsor, Peter Pan in Hartford and the Stamford Harbor Parade of Lights.
Los Angeles & Boston
It's all about ice in Boston, with roundups of skating lessons and outdoor rinks.
Our LA site is also encouraging families to give back this holiday season with posts on volunteering with children and places to donate toys.
 
Deals
Who needs Black Friday when you can get sweet deals here at MommyPoppins?
As part of our Upper West Side focus this month, we have local deals for families, including discounts on shows and play spaces. Hurry, they expire soon.
Over at PoppinsPerks, you can save 50% on a PortraitBug photo shoot and holiday card package.
And if you subscribe to our free newsletters, you got an email with discount codes to New York Botanical Garden's annual Holiday Train Show (30% off select weekday tickets) and the Broadway musical Sister Act ($40 tickets).
Tags: