New York Transit Museum's Summer Nostalgia Train Rides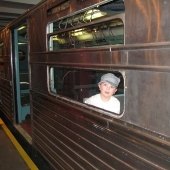 [UPDATED: May 27, 2013] I'm sure I'm not the only one who has visited the New York Transit Museum and wished for a chance to ride on one of the old trains or buses on display. It would really be something to go back to an era when New Yorkers rode the tiny rattan seats on the BMT or held onto the leather straps of the IRT as the subways noisily bumped and jostled their way through the tubes.
Well time travel isn't possible, but you can hop on some of New York City's old trains and buses when the Transit Museum pulls out some of its vintage fleet for three special, all-day summer excursions. The trips each have different destinations and sound like a lot of fun. In fact they're filling up fast! If you have a little train fan in your house, don't miss this.
Two of the three excursions leave from Grand Central Terminal while the other departs from the decommissioned subway platform on the lower level of the New York Transit Museum in Brooklyn Heights. Tickets cost $50 for adults and $25 for children ages 2 to 17. These train rides are really best for older kids and strollers aren't permitted so be sure to leave the wheels at home.
Coney Island Bound
Leaves from the New York Transit Museum
Saturday, June 29 10am-5pm
Grab a seat on the classic R1/9 cars of the Independent Subway System for a trip to Coney that runs both below and above ground. Get off and enjoy a day of sun, surf, rides and the newly reopened New York Aquarium. If all your kid wants to do is ride the rails, that's okay too. The train will go back and forth throughout the day.
To Orchard Beach, by Rail and Bus
Leaves from Grand Central Terminal
Saturday, July 13 10am-5pm
More beachfront fun: WWI-era IRT subway cars head to NYC's largest green space, Pelham Bay Park, and then passengers hop a bus to Orchard Beach. The park boasts a 13-mile coastline, a historic house, nature trails, playgrounds and more.
The Bronx Express: Voyage to Van Cortlandt Park
Leaves from Grand Central Temrinal
Sunday, August 25 10am-5pm
Another trip uptown on WWI-era IRT subway cars to one of our favorite Bronx green spaces Van Cortlandt Park. During a three-hour layover, explore the Van Cortlandt House Museum and stroll the nature trails.
The New York Transit Museum is located at Boerum Place and Schermerhorn Street in Brooklyn Heights.
Find out about other ways to get your train on in NYC.