Summer Camps in Park Slope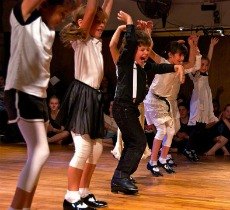 [UPDATED: February 23, 2013]  As one of the most kid-friendly neighborhoods in New York City, it's no surprise that there are lots of Park Slope summer camps. Whether your kids are into art or theater, nature or science, dance or music, or a little bit of everything, there's a program for them. Don't wait until spring is here: It's time to start planning your kids' super Brooklyn summer right now.
Also be sure to check out our favorite places to to play, eat and learn in Park Slope. 
General Interest Camps
Beansprouts Nursery School
453 Sixth Avenue between 9th and 10th Streets
Ages 3-9
This camp is an extension of the popular preschool's program. Tots skip through sprinklers in the backyard, or enjoy excursions to nearby Prospect Park. Inside, campers enjoy storytime, cooking, music, yoga, and arts and crafts. For 5- to 7-year-olds, there's the Junior Adventures program, which offers beach trips, ball games, scavenger hunts and swimming lessons. Kids ages 7 to 9 are Senior Explorers and get to go to museums and fun field trips!
Children's Day Camp at Berkeley Carroll
712 Carroll Street between Sixth and Seventh Avenues
Pre-K-fifth grade
The Park Slope private school offers a variety of programs, everything from five weeks of the usual summer fun (sports, arts, swimming in an indoor pool) to one-week mini-camps specializing in dance, math, cooking, theater, songwriting yoga and other disciplines. The detailed online brochure has the myriad details.
Kim's Kids Summer Camp
378 3rd Street between Fifth and Sixth Avenues
Ages 4 1/2-11
This day camp gives kids a taste of the great outdoors. Campers go hiking, running and climbing through the woods and along riverbanks, exploring nature along the way. Frequent field trips, both in the city (Jacob Riis Park Beach, the Bronx Zoo, Chinatown) and outside NYC (like a trip to Sesame Place) round out the fun.
Prospect Park YMCA
361 15th Street between Seventh and Eighth Avenues
Ages 4 1/2-17
My family belongs to the Y, so it's our go-to spot for classes, sports and entertainment. This location offers many different summer programs, including the Lisa Beth Gerstman Camp for children with physical disabilities. The other camps offer the usual, including swimming, day trips, arts and crafts, and storytime.
Other local organizations offering general interest camps include Congregation Beth Elohim, Kidville and Park Slope Day Camp. And the ubiquitous Super Soccer Stars runs various sports-heavy programs in Prospect Park.
Visual and Performing Arts Camps
Camp Gowanee: Creative Arts and Fitness Summer Camp
Spoke the Hub Dancing, 748 Union Street near Sixth Avenue
Ages 7-12
We already raved about Spoke the Hub as a great neighborhood spot for classes and also offers a variety of summer programs. While dancing is certainly on tap, kids can also study clothing design, sewing, hair styling, vaudeville, filmmaking and even fashion photography. Spoke also offers half-day programs for 3 to 6-year-olds and a Junior Leaders and Teen Art Internship for 13- to 18-year-olds.
Summer Arts Program at BAX
Brooklyn Arts Exchange, 421 Fifth Avenue at 8th Street
Ages 5-11
Another wonderful spot for classes, BAX also offers an arts-packed summer camp. Campers are grouped by age (NanoBAXers for kindergartners and first graders, MegaBAXers for second through fourth graders and GigaBAXers for fifth and sixth graders) and do projects based on weekly themes like Sea World, Beach Blanket Bingo and Return of the Robots. In addition to dancing, singing and creating, kids get lots of free indoor and outdoor play.
Brooklyn Players Summer Camp
295 Douglas Street between Third and Fourth Avenues
Ages 8-13
Campers learn about everything it takes to put on a show, not just acting, singing and dancing, but set design, stage management and tech, too. At the end of the session they'll work together to mount Beauty and the Beast.
Treblemakers
436 Fifth Avenue between 8th and 9th Streets, second floor
Ages 6 and up
Kids are grouped in four-member rock 'n' roll bands to work on their songwriting and performing skills, and learn their way around a recording studio. Beginner and proficient musicians are welcome. Piano, bass, drums and guitar are the instruments on offer.
Collage Summer Studio
Brooklyn Society for Ethical Culture Building, 53 Prospect Park West between 1st and 2nd Streets
Ages 4-7
Based in a beautiful building on Prospect Park with its own garden, this camp offers all kinds of creative fun: dance, yoga, drama, comedy and visual arts. Each day ends with campers working on individual collages.
Brooklyn Design Lab
413A Seventh Avenue
Whenever I walk past this great class spot, the awesome kids' artwork on display in the window always catches my eye. No finger painting here. In the summer, younger kids can try printmaking, sculpting, 3-D, collage or bookmaking, while older children can build Lego structures or study clock making.
You can find other arty Park Slope summer camps at Four Corners Creative, The Peanut Gallery - Musical Theater Camp run by the the Gallery Players theater company, White Bird Productions: Creative Theatrics and the Young Players Theater. If your kid's into weaving, try the Textile Arts Center's Summer Day Camp.
Specialty Camps
Garden Explorers Summer Camp at the Old Stone House
3rd Street between Fourth and Fifth Avenues
Ages 8-11
Outside the historic Old Stone House are two city garden plots and large planters in need of some tender loving care from young horticulturists. Campers learn about gardening and planting, and create nature-inspired art. 
Curious Jane
The Berkeley Carroll School, 712 Carroll Street between Sixth and Seventh Avenues
Ages 6-11
We wrote about this awesome all-girls science program when it debuted a few summers ago. Founded by a NYC mom who teaches Industrial Design Research at Pratt, the camp groups kids by age (first and second graders, and third through sixth graders) for hands-on projects. Each week features multiple themes, and CJ also has locations in other parts of Brooklyn and Manhattan.
KinderHaus Summer Camp also offers German language immersion.
Find other great summer programs in our Camp Guide.