Star Wars Fun for NYC Kids: Lightsaber Battles, Storm Troopers and Other Ways to Get Your Geek On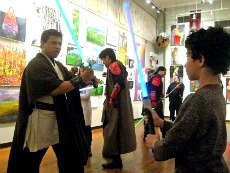 Ever since my brother showed my three kids all six Star Wars movies within a week (upsetting my husband, who felt they should have been forced to wait years in between like we did as children), they've harbored one career ambition: to become Jedis. So I guess it's no surprise that our family will be celebrating International Star Wars this Friday, May Fourth at a big lightsaber battle in Washington Square Park. As we fans like to say, "May the fourth be with you."
Of course, since we live in New York City, we don't need to limit our Rebel revelry to one day. NYC has more Star Wars attractions than "you can possibly imagine," as Obi-Wan Kenobi would say. Here's where you can get your Jedi on throughout the year.
New York Jedi: The Light Saber Enthusiasts Collective
If you yearn to wield your illuminated weapon like a pro, these are the mentors you're looking for. These men and women specialize in stage combat based on a martial arts mash-up (a little fencing, a little Kendo, a little Industrial Light & Magic). Children are welcome to join in on Thursdays from 7:30 to 9:30pm at DANY Studio, 305 West 38th Street. Cost is $10 per drop-in session.
The Collective also does special events. For example, last month a few of the members posed at The Art Students League of New York. I took my eight-year old and the Jedis were very nice. They introduced themselves, allowed him to watch while they soldered their lightsabers, offered him a starter weapon and walked him through a friendly duel. And Anna hired these guys for an awesome Jedi Training Academy birthday party.
Browse the group's forums for up-to-date event information.

Newmindspace.com
Newmindspace, which hosted a massive nighttime Lightsaber Battle in Washington Square Park back in September, is in the process of planning its Glow Battle Summer 2012 Tour. The organizers are asking fans to vote on which six cities should host this free lightsaber extravaganza, but the good news is New York City has already been chosen! Stay tuned for dates and location. The event will be FREE.
The Empire City Garrison
These guys dress up like Storm Troopers, Darth Vader and other Star Wars villains in order to "enforce the Empire's rule" throughout New York City and Long Island—all in the name of charity. Check out the organization's calendar for upcoming public events.
Metal Park
This company sells incredible eco-friendly Star Wars figurines handmade by Thai artisans out of recycled material. Of course these toys don't come cheap and retail from $30 to $11,000! You can also find Metal Park's work at many summer street fairs.
Toys R Us
On the off-chance that an $11,000 Darth Vader is out of your price range, you can pick up much more affordable (if less environmentally friendly) Star Wars figures at the Times Square TRU. The toy emporium also has also a large Lego Star Wars play area, with both classic and Clone Wars characters. My brood loves to pose for pictures with the life-size Storm Troopers and Chewbacca.
Other Star Wars Ideas
If the Force is really with you, you can try bonding with fellow fans at the monthly Star Wars Meetup Group, the annual October New York Comic-Con, which always has a hearty Star Wars contingent, and dozens of comic book stores full of collectibles and memorabilia. Ripley's Believe it or Not Museum in Times Square recently hosted a Star Wars Sleepover for charity, and may do so again.
International Star Wars Day
In honor of the holiday this Friday, May 4, the members of the New York Jedi will be hosting their own Lightsaber Extravaganza in Washington Square Park at 7pm, proudly "calling all saber dorks to meet up and celebrate our Star Wars geekdom!" While not aimed at children or families, we're sure many will be there (we saw a bunch at Newmindspace's gathering last September and they were having a blast).
Then Saturday, May 5 is Free Comic Book Day, and among the offerings is an exclusive Star Wars/Firefly crossover issue. Visit the website to find a participating store.
Unless you'd rather kiss a Wookie.

If you like this, check out our post about how to plan a Star Wars birthday party.