Special Needs Museum Programs for NYC Kids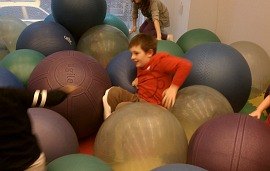 My second post in Mommy Poppins' special needs series focuses on museum programs for children with autism and other challenges. A number of New York City museums have modified their educational offerings to accommodate special needs kids like my nine-year-old son, Jake, which is wonderful since he loves to get his creative juices flowing.
Recently, Jake and I went to the Children's Museum of the Arts in Hudson Square, and I was really impressed with the way the staff immediately cued into his needs. I find that the children's museums in particular are very good about catering to their young visitors, and go above and beyond to make all kids feel welcome, stimulated and safe.
Read on to find out about our great day playing, learning and creating at the Children's Museum of the Art, and for information on other local museums that offer classes and activities for kids with special needs.
The first thing Jake did at CMA was bounce around in the ball pond, a sensory room filled with large exercise balls. This is a super-fun experience for all kids, to be sure, but after Jake's romp he needed to take a breather. Happily the museum has a designated quiet room, for kids (or parents) who need a break.
From the moment we arrived, the staff was sensitive to Jake's particular needs. For example, since he only uses letter-size paper, they swiftly served him a supply of "his" paper. With transitional crisis averted, Jake was set for an afternoon of pencils, paints, charcoal and clay. Plus, he was able to work without the pressure of cleaning up (he's not able to do that yet) and we got an extra hand to help us. What luxury!
While we visited CMA on a regular day during its usual open hours, the museum hosts Stripes, a monthly program for children with autism. During these sessions, special needs families can enjoy everything the museum has to offer, including art making and imaginative play. There are two sections: Stripes I is for children under 8 and Stripes II is for older kids, and the museum opens early so families get the place to themselves. Until recently, the fee for these programs was $25 per person, but CMA informed us that as of January, 2012, they are totally FREE. Registration is required and space is limited. Contact Rachel at rrapoport@cmany.org to reserve your spot. The theme changes seasonally. Below is info on the winter sessions.
Stripes 1: Participants explore tactile experiences, yoga, music and movement. Meets Saturdays, February 11 and March 10 9:30-11am.
Stripes 2: Tweens and teens focus on socialization while experimenting in the media lab and sound booth, and doing other art activities. Meets Saturdays, January 21, February 18 and March 17 9:30-11am.
Many other museums are doing a first-rate job of modifying their programming for children with special needs. Here are some upcoming events of interest, many of which are free. Jake and I have experienced most of these programs personally, and we recommend them highly.
Special Day for Special Kids at the New York Transit Museum – Brooklyn Heights
Boerum Place and Schermerhorn Street
Sunday, January 22 10am-5pm
FREE 10-11am; half-price admission of $3.50 for adults, $2.50 for children 11am-5pm
Ages 5 and up
In honor of the "groovy kind of love" (we're talking mega-love) kids like my Jake have for trains, the Transit Museum is hosting a Special Day for Special Kids, which includes live music, art projects and scavenger hunts. Bonus: The museum will open an hour early exclusively to families with special needs, and a quiet room will be available from 10am-2pm.
Open Arms: Family Evenings at the Garden State Discovery Museum – Cherry Hill, New Jersey
2040 Springdale Road near Pin Oak Lane
Sundays, February 12, May 20 6-8pm
Ages 3 and up
FREE
This is the one museum on our list Jake and I haven't been to, but we're looking forward to it! This quarterly celebration kicks off after regular museum hours, giving kids on the autism spectrum full run of the place. Guided activities include instrument making, sensory fun and a parade throughout the museum. Every event has a different theme (February's is Mardi Gras). The August and November dates have yet to be determined.
Drop-In Art Workshops at the Queens Museum – Corona
New York City Building, Flushing Meadows Corona Park
Sundays 1:30-4:30pm
Suggested admission of $5 for adults, $2.50 for children ages 5-12, free for kids under 5.
Ages 5-12
In conjunction with its nationally recognized ArtAccess program, QMA offers free with admission drop-in art workshops. Although these sessions are open to all, adjustments are made for special needs participants, so they can enjoy fun, educational activities that fuel conversations about the art on view. The staff here is very helpful. Check the calendar for info on each session. In addition, on Saturday, January 21, QMA is hosting a free Museum Explorers Club for families affected by Autism, featuring special-needs-friendly tours and art workshops.
Children's Museum of Manhattan – Upper West Side
212 West 83rd Street between Broadway and Amsterdam Avenue
Open Tuesday-Friday and Sunday 10am-5pm, Saturday 10am-7pm
$11
Although the tot spot doesn't have any specific programming for families with special needs, the sensory savvy folks at CMOM did create the Guide for Families of Children with Disabilities. This free PDF file gives practical tips (adaptable for everyday use) to maximize kids' experiences at the museum's PlayWorks early childhood exhibit.

Read other posts about kid-friendly exhibits and sites in our Museum Guide.