Great Prenatal Yoga Studios in New York City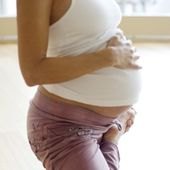 Pregnancy is a strange and beautiful time. You get to grow an entire new human PLUS experience such joys as nausea, back pain, varicose veins, and more. Luckily, prenatal yoga can help with the various discomforts of pregnancy. It's also a lovely way to commune with your growing child (and belly), prepare yourself for labor, and meet other expecting mamas. Here are six great prenatal yoga studios around the city.
Prenatal Yoga Center
Upper West Side, main location
Chelsea, Upper East Side, Tribeca
Cobble Hill, Brooklyn
212-362-2985
As its name suggests, this yoga center focuses on copious class offerings for moms-to-be, with classes on the Upper West Side, in addition to teaching at other facilities around the city. They also offer moms-to-be and new parents support groups and classes on childbirth, infant CPR, newborn care, breastfeeding, and, most importantly, partner massage. (That's right – you can train your partner.) The Prenatal Yoga Center also offers some pretty cool stuff online, including free yoga videos.
Yoga for Two
Battery Park, Upper East Side, Upper West Side
212-666-2237
Courses offered by Yoga for Two are designed to support women through pregnancy and childbirth according to the Barnes Method, which incorporates principles of alignment, awareness, breath, sound vibration, strength and community. A wide variety of classes, including post partum, mom/baby, and private sessions, are offered at four different locations around Manhattan.
 
Bend and Bloom
708 Sackett Street
Park Slope, Brooklyn
347-987-3162
Bend and Bloom Yoga offers classes, workshops and groups to offer support throughout all the stages of pregnancy, including postpartum. Gently flowing practices are designed to help expecting moms improve circulation, ease digestion, maintain a limber spine, strengthen uterus and pelvic muscles, and feel generally more comfortable. Oh, and they offer tea and cookies after class – the true way into a pregnant woman's heart.
Karma Kids Yoga
25 West 23rd Street between Fifth and Sixth Avenues
646-638-1444
Despite the name, Karma Kids Yoga has classes to offer you before your baby is born. They help prepare your mind and body for labor and delivery, with classes that offer focus on relaxation techniques, breathing exercises, and toning of the abdominal and pelvic floor to help with postnatal recovery--plus baby wearing clinics, doula referrals, baby showers and more.