See the Circus But Not the Elephant Parade this Year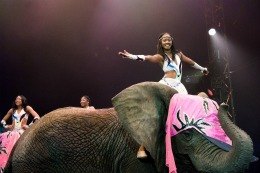 Update: In lieu of a parade in 2013, Ringling Bros. and Barnum & Bailey is hosting an Elephant Dance Party in Dumbo, Brooklyn on Wednesday, March 20. Find the info here. We also have the scoop on eight circus shows playing NYC this spring.
A lot of readers have been asking when Ringling Bros. and Barnum & Bailey Circus plans to parade its elephants across the Queens-Midtown Tunnel and through the streets of Manhattan this year. But for the second year in a row, the Greatest Show on Earth is skipping the city, which means no elephant parade in 2012.
However, Ringling Bros. will be bringing its brand-new spectacle Dragons to nearby suburban stadiums throughout March, and the circus is also hosting a cute promotional event in Grand Central next week to kick off its tri-state area run.
Of course Ringling isn't the only act in town. Read on for other circus performances in New York City, two with elephants (sorry PETA), but many with humans-only casts.
Ringling Bros. and Barnum & Bailey: Dragons – Tri-state Area
Thursday, March 1-Sunday, March 4 at the Prudential Center in Newark, New Jersey
Wednesday, March 7-Sunday, March 18 at the Izod Center in East Rutherford, New Jersey
Wednesday, March 21-Monday, March 26 at the Nassau Veterans Memorial Coliseum in Uniondale, New York
$20-$150
You may have read that Ringling Bros. is planning on turning Grand Central into a mini-circus this Tuesday, February 28. Well, we talked to the circus reps and they say the event has been blown a bit out of proportion. While there will be some free highlights from the show throughout the day in Vanderbilt Hall, including ringmaster Johnathan Lee Iverson, the Shaolin Warriors from China and Ringling Bros. clowns, the main focus will be on the public clown college auditions. If you want to see the company's full-scale spectacle featuring acrobats, kung fu masters, motorcyclists, clowns and much more, you'll have to head to the 'burbs.
Bindlestiff Cavalcade of Youth – Lower East Side and Coney Island
Sunday, March 11 at 3pm at Dixon Place, 161A Chrystie Street between Rivington and Delancey Streets
Saturday, March 31 at 4pm at Coney Island USA, 1208 Surf Avenue at West 12th Street
$15 for adults, $10 for children
What's more thrilling than watching your peers on stage? That's just what kids can do when The Bindlestiff Family Cirkus mounts two shows starring the next generation of variety, vaudeville, sideshow and circus acts. All of the performers are under 21, and their talents include comedy, acrobatics, magic, unicycling, snake charming and hula hooping.
Magma Mix – Prospect Heights
LAVA, 524 Bergen Street between Sixth and Carlton Avenues
Sunday, March 18 at 2 and 4:30pm
FREE
This dance studio is a favorite of local families for its acrobatic classes. Today Magma, LAVA's troupe of young performers, will put on a show filled with tumbling, leaping, rolling and other circus-y moves.
UniverSoul Circus – the Bronx, Brooklyn and Queens
Wednesday, March 21-Sunday, April 1 at 149th and Exterior Streets across from the Gateway Center in the Bronx
Tuesday, April 3-Sunday, April 15 at Roy Wilkins Park, Merrick and Baisley Boulevards in Queens
Wednesday, April 18-Sunday, April 29 at Aviator Sports at Floyd Bennett Field in Brooklyn
$20-$40, free for children under 1.
I'm a huge circus fan so I hate to admit I've never seen this lauded company. (I hope to remedy that this year!) Although UniverSoul was originally founded to showcase the talents of African-American performers, this year's edition features acts from a variety of ethnic backgrounds. The Olates and their adorable dogs come from Chile, South America. All-female bicycle act Chain Reaction hails from China. The Zhukau Acrobatic Troupe is from Belarus and contortionist Rahel comes from Ethiopia. That said, there's a lot of homegrown talent on display too, like funky ringmaster Tony Tone and the Soul Circus Divas and their elephants. It's also the only circus we know of that features a live hip-hop DJ, break-dancing clowns and an audience that never keeps quiet.
Ahhhh HA! – Midtown East
New Victory Theater, 209 West 42nd Street between Seventh and Eighth Avenues
Friday, March 30-Saturday, April 14
$14-$38
The Do Jump! acrobatic troupe from Portland, Oregon flies into NYC for this circus-style show. The multitalented ensemble members fuse physical feats and comedy while the Klezmocracy band plays in the background. The New Vic will also host multiple circus workshops in conjunction with the show, and circus kids week camps during upcoming schools breaks.
Big Apple Circus: Dream Big – Queens
Tuesday, May 22-Sunday, June 17
Cunningham Park 196-22 Union Turnpike near Myrtle Avenue
$15-$45, free for children under 3.
We loved this Big Apple show when we saw it at Lincoln Center last year, but our enjoyment was bittersweet. Dream Big marks the final show for Grandma, the troupe's resident mischievous clown for the past 25 years. The Queens run is your absolute last chance to see Grandma, a.k.a. Barry Lubin, in action before he (she?) moves on to other adventures. Other highlights include juggler Dmitry Chernov, Jenny Vidbel's exotic trained animals (including a capybara!) and the Flying Cortes on the trapeze. For more details and a cool slide show, read our full review.
Cirque du Soleil: Zarkana – Midtown East
Wednesday, June 6-Sunday, Sept 2
Radio City Music Hall, 1260 Avenue of the Americas at 50th Street
$59-$230
We saw this sweeping romantic spectacle last summer, and it was so popular, it's returning for an encore engagement. It's not to everyone's taste. I personally found it a bit pretentious, but my six-year-old still raves about the incredible acrobats, over-the-top sets and amazing novelty acts. Zarkana is best for school-age kids, both in terms of its content, which is at times sensual or scary, and its high ticket prices. If you do decide to go, check BroadwayBox for discounts.
 
Photo: Soul Circus Divas courtesy of UniverSoul Circus