Purim Parties for NYC Kids: Put on Your Costumes and Make Some Noise in Honor of the Festive Jewish Holiday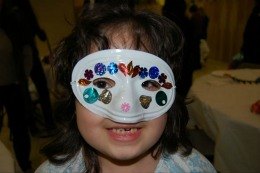 You don't have to be Jewish to enjoy Purim. Often called the Jewish Halloween, Purim is a super-fun holiday when kids can do some of their favorite things, like dress up, play games and eat treats.
Inspired by the great biblical tale of Queen Esther, who saved the Jews from annihilation by standing up to her husband's evil adviser Haman, Purim is celebrated by reading the Megillah (Esther's story), noshing on hamantaschen (triangular fruit-filled pastries meant to represent Haman's ears—gruesome but tasty) and rejoicing in a carnival-style atmosphere.
This year, Purim officially begins on the evening of Saturday, March 15 and ends at sundown the next day, but Jewish cultural institutions are marking the holiday both this weekend and next. So get your Halloween costumes out of the back of your closet and get ready to make some noise: Here are the top 10 Purim celebrations for New York City families.
Heroes, Villains and Hamentaschen – Lower East Side
12 Eldridge Street between Canal and Division Streets
Sunday, March 9 11am-12:30pm
$15 per family
Head to the historic synagogue-turned-museum for a Purim-themed fete where kids can make masks, bake hamantaschen and go on a scavenger hunt in order to foil Haman's evil plot. Costumes welcome!
Family Purim Celebration with The Macaroons – Battery Park City
Museum of Jewish Heritage, 36 Battery Place near 1st Place
Sunday, March 9 1-4pm
$10 for adults, $7 for children under age 11
The 2pm concert by popular Jewish kid rockers The Macaroons is the highlight of this celebration, which also includes holiday-themed crafts and family-friendly tours of the galleries.
West End Synagogue – Upper West Side
190 Amsterdam Avenue near 64th Street
Saturday, March 15 at 4pm
$5 per person, $18 maximum per family
Costumed kids can craft puppets with well-known Israeli puppeteer Len Levitt (of Shalom Sesame fame) and then use their new creations in The Whole Megillah: The Levitty Puppet Purim Show. Afterward, chow down on kosher hot dogs and hamantaschen, and enjoy a community Megillah reading featuring skits and songs.
Purim Masquerade Ball – Windsor Terrace
Kings Bay Y at Windsor Terrace, 1224 Prospect Avenue near Vanderbilt Street
Sunday, March 16 10:30am-12:30pm
FREE
The preschool set can enjoy arts and crafts, face painting and a spirited telling of the Purim story. Everyone who comes in costume snags a small prize. While this annual celebration is FREE, the organization asks revelers to bring nonperishable goods for Pack It Up for Purim, a community-wide effort to create food packages for New Yorkers in need. RSVP required.
Purim Carnival – Upper East Side
92nd Street Y, 1395 Lexington Avenue at 92nd Street
Sunday, March 16 at 10:30am
$12 for adults, $17 for children
The Y's annual bash includes carnival games, a petting zoo, a bounce house, a Purim play, a magic show, and the chance to make your own hamentashen and mishloach manot (treat-filled Purim baskets).
Family Concert: Dirty Sock Funtime Band – Upper East Side
The Jewish Museum, 1109 Fifth Avenue at 92nd Street
Sunday, March 16 at 2pm
$18 for adults, $13 for children ages 2 and up
An annual Purim tradition! Celebrate with these groovy retro rockers, who are always as colorful and glitter-covered as the kids in the audience. Front man Mike Messer has more energy than a toddler hopped up on sugar as he and his pals get the audience on their feet with songs like "Dino-Soaring," "ClownaHagila" and my favorite "No Good Reason Party".
Purim Family Carnival at the JCC – Upper West Side
The JCC in Manhattan, 334 Amsterdam Avenue at 76th Street
Sunday, March 16 2-5pm
Free admission but there are fees for activities
This huge annual Purim bash seems to attract every family on the Upper West Side. It's a ton of fun on multiple floors featuring carnival games with tchotchkes as prizes, holiday goodies to eat, multiple inflatable houses, face painting and an exotic animal petting zoo. All the kids (and some adults) come in costume. Although admission is free, you need to buy activity tickets, so it can be costly if you don't set a firm limit. And it's always pretty crowded, but there are so many things to do, the lines tend to move quickly.
Purim in Africa – Kips Bay
The Prince George Ballroom, 15 East 27th Street between Fifth and Madison Avenues
Sunday, March 16 3-5:30pm
In advance: $55.25 per family; at the door: $65 per family
The New York Hebrew School and the Preschool of the Arts are behind this bash featuring the Jabali Acrobats from Kenya, a buffet dinner, animal face painting, hair braiding, safari-themed carnival games and activities, and a Madagascar Masquerade. Everyone in costume receives a small prize.
The Lego Purim – Financial District
City Hall Restaurant, 131 Duane Street between West Broadway and Church Street
March 16 3:30-5pm
In advance: $40 per family; at the door: $50
I bet they had you at Legos. Come dressed as your favorite Lego Movie characters to vie for prizes, and enjoy hands-on brick-building fun at this Chabad of Tribeca / Soho-sponsored party. There will also be costumed characters, an interactive Megillah reading, face painting, glitter tattoos, holidays crafts and hamantaschen.
Grand Purim Party – Lower East Side
Basketball City, 299 South Street near Montgomery Street
Sunday, March 16 at at 4:30pm
$20 for adults, $15 for children
Mark the holiday with the Chabad of the Lower East Side at the super-kid-friendly Basketball City. Enjoy a Megillah reading, a buffet dinner and live entertainment by juggler/unicyclist Kyle.
Looking for other ways to celebrate? There are even more Purim parties in our Event Calendar.