Pumpkins, Scarecrows and Apples: Fall Harvest Festivals in Westchester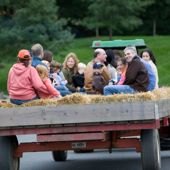 With fall upon us, I am experiencing seasonal sensory recall and craving candy apples, candy corn and Halloween candy (basically all things candy!). Where better than to embrace all these cravings and more than by attending, one, many, or all of the awesome Fall Harvest Festivals going on here in Westchester. Brisk cool suburban air, scenery and foliage that will have you filling up photo cards faster than you can say "Trick or Treat".
Stone Barn Center 7th Annual Harvest Fest
Tarrytown, NY
October 2nd from 10am-3pm
When the Stone Barn does something, they always get it right. It's hard to not when your grounds are a gorgeous 80 acre four season working farm that trains, sustains and educates. That includes 23 acres of pasture and 40 acres of woodlands, and every aspect of the farm and center is designed to work in balance with nature.
The Harvest Fest on October 2nd not only has your traditional hayrides and farmers' market featuring some incredible local purveyors, but will also include live music featuring Brady Rymer and the Little Band That Could as well as theatrical performances by Story Pirates and a farm puppet show. There will also be several workshops for your kids on cooking and gardening. Some highlights will include the workshop "All About Chickens", where kids will learn how chickens spend their days, how and when they lay eggs and all about their natural behaviors.
For mom and dad, pick up a few tips on cooking and gardening as well, led by the Stone Barn Center's farmers, and chefs from the acclaimed Blue Hill Restaurant as well as a few special surprise chefs. Make guacamole as a family and churn homemade fresh butter. And adults, you won't want to miss the herbal cocktail workshop, or the felting workshop--taught by a felting expert.
There will also be various demonstrations and interpretations by farmers in the Center's fields and pastures. Watch the sheep get herded and find out why! Learn about growing herbs and processing them into teas, and how to get your garden ready for winter. Some other workshops will teach you and your kids how to harvest fruits and vegetables and which seeds they should be saving to harvest for the next year.

The day will also include cheese making demos, composting with worm bins--and what harvest festival wouldn't be complete without a seasonal pie bake-off judged by food columnists for The New York Times!! Surely a day of education, fun and yumminess.
Tickets are on sale and available now! Don't miss out as this event sells out year after year!
By Train: Take Metro North to Tarrytown and take a taxi to the center.
By Car:Take 87 North (New York State Thruway) to Saw Mill River Parkway North to Exit 23, Eastview.
At the light make a left.
At the stop sign, make a right onto Lake Road.
Lake Road will merge onto Route 448. Continue for approximately 0.8 miles.
Entrance will be on the left.
Greenburgh Nature Center Fall Festival
Scarsdale, NY
Sunday October 17th 1pm-4pm
If you have an animal lover like I do, this will be one that will surely have your toddler smiling for days. The festival is held outside where your kids can participate in a variety of events. And nothing says autumn like sweet and delicious apple cider. At this festival your children will be able to press their own and drink it fresh!
Take a tractor ride around the grounds and be entertained by a surprise interactive musician. Participate in scarecrow building and pumpkin carving contests (all entries are kept at the Center for the Scarecrows and Pumpkins Parade on Oct 24th). And who doesn't enjoy a self guided on-premise scavenger hunt?
There will also be face painting, tattoos and sand art. And for the animal lovers, a trip to the nature center wouldn't be complete without a petting zoo with some of their indoor museum animals: ferrets, chinchillas, rabbits, turtles and if the weather accommodates, maybe a baby goat.
This one is best for kids 4 and up.
Fee if pre-registered by Oct. 14: Members-$5, Non-members-$8 per person.  Fee day of event: Members-$7, Non-members-$10 per person.
Pumpkin carving: $1 for it to stay/$7 to take with.
Scarecrow building: $1 for it to stay (they can't go home--they will be a part of the Scarecrow Pumpkin Parade).
Directions: From New York City: Major Deegan Expressway (87 North) to Exit 5 (Central Avenue/Route 100). Continue North on Central Avenue for approximately 5 miles. Dromore Road is on the right, past Burger King and across from 455 Scarsdale Plaza.
Scarecrow Autumn Festival
Lyndhurst
Tarrytown, NY
October 9th, 11am-4pm
Welcome fall with the arrival of 500 Scarecrows to the grounds at Lyndhurst. One of America's finest Gothic Revival mansions, Lyndhurst's grounds include sweeping lawns, specimen trees, Hudson River views and the nation's first steel-framed conservatory. 500 Scarecrows created by local students will arrive and be on display for the month of October. The festival day includes music, square dancing (with an authentic real live square dance caller!) and old fashioned country games such as old fashioned stilts and hoops, and string figure games. There will be crafts as well as a fun scarecrow hunt. This is a day and event for all ages, and expect a special appearance from Atka the wolf. Atka is an ambassador grey wolf from the Wolf Conservation Center in South Salem NY.
Visit the Lyndhurst website for directions!
Teatown's Annual Fall Festival
Ossining, NY
Saturday October 16th 11am-4.30pm
Of all the upcoming events, I have to say this is the one I am looking very forward to. A bit further north, head up to the Hudson Hills and Highlands to Croton on the Hudson to have some old fashioned fun.
Teatown is a nature preserve set on 834 acres. Come spend the day with your family and enjoy music from some local gems including: Montgomery Delaney, Spuyten Duyvil, and Joe Duraes. Pack a lunch and picnic blanket or enjoy some of the food available at the festival. In addition to your fresh cider and donuts they will have everything from eggplant sandwiches and veggie burgers to hot dogs and hamburgers.
With lots of kids activities, your little ones with have an abundance of options. Since the event is on a nature reserve, as you can imagine a lot of the activities will revolve around, well, nature. Even the pumpkin carving! Have your little one carve a pumpkin (with you doing the carving) and then decorate with fresh fruits and veggies!
At the Nature Discovery Zone educators will be on hand to demonstrate orienteering and will take groups out on the trails. (For city folk, orienteering is using and practicing navigational skills with a map and compass.) There will also be local educators handling and showcasing Raptors, also known as birds of prey. Some visitors will include hawks, owls and falcons. And SavATree will be sponsoring a free zipline ride for kids ages 8 and up.
In case that isn't enough excitement, Muscoot Farms will be bringing down some of their farm friends, including goats and sheep for the kids to learn about, look at and of course, pet.
If you need a break from all the activity, enjoy a scenic hayride on the trails and drink in the fall foliage and wonderful property.
Before you head home, don't forget to dress a scarecrow! With lots of donated clothing, let your little ones express their fashion sense by creating their own scarecrow to accompany you home.
Entry admission -Free for members, Non–member adult - $10
Non–member child (4–16) - $2

Children's Activity Funpass - members - $20
, Non–member - $22
(The Children's activity fun pass is well worth the $22 fee. It includes the pumpkin carving, a hayride, face painting, a scavenger hunt, and additional crafts.)
Train: You can take Metro North to Croton and enjoy a 10 minute cab ride from there to Teatown.
Driving from NYC: Taconic Pkwy North to Route 134. At the bottom of ramp make right on 134 heading east and follow the Fall Festival Parking signs.
Parking is free at the IBM Parking lot on Route 134, just east of the Taconic Parkway. There will be free shuttle buses taking families to and from the grounds.
*Many of these locations are easy to drive to from in and around NYC, as well as via Metro North. If you opt for the train all stations will have taxis available to take you to your destination.
photo by Roberto Falck Photo