Pumpkin Picking, Corn Mazes and Hayrides in New Jersey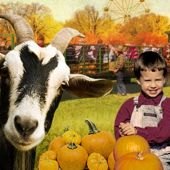 There is a perfect pick your own pumpkin farm for everyone in the Garden State! Whether you're looking for pumpkin picking adventures for preschoolers, a pick your own pumpkin patch that won't bore your 10 year old, a pumpkin picking group tour, or just a quiet old-fashioned farm without all the gimmicks, you can find it all in New Jersey. And we've narrowed down the search for you.
 
Pumpkin Picking with Older Kids
Heaven Hill Farm
(Vernon) During their Great Pumpkin Festival (Mid-September through end of October), the farm turns into a Halloween spooktacular with animated Halloween frights like an outhouse that opens up to reveal a skeleton inside, a haunted shack, and of course, Heaven Hill's nearly-famous Haunted Acres Hayride. There are also the standard hayrides to the pumpkin patch, lots of farm animals and a corn maze. Open from 10am to 5pm daily, check the website for current pricing. Call 973-764-5144 for more information.
Fun for the whole family
Terhune Orchards
(Princeton)
If Heaven Hill Farm is the place for older kids, Terhune Orchards is the ideal place to take the toddler and preschool set. During their Fall Family Fun weekends, (mid-September through end of October) Terhune skips the scary Halloween decors in favor of pumpkin painting, tractor trikes, pony rides, farm animals in the Adventure Barn, mini-hay rides, live bands, and outdoor carnival-style food. Open weekends 10am to 6pm. Call 609-924-2310 for more information.
Pumpkin Picking in a Group
Donaldson Farm
(Hackettstown)
If you find solo pumpkin picking to be a bore, why not gather a bunch of families and do a Pumpkin Picking Group Tour at Donaldsen Farm? Tour includes pumpkin picking (everyone takes home a pumpkin), an educational lesson on pumpkins, an interactive tractor hayride tour of the farm, play time with the farm animals and some fresh apple cider for a snack. Monday through Saturday 8am to 6pm, Sundays 8am to 5pm. (908) 852-9122
Pumpkin Picking with a little extra…
Horse Sleigh Farm
(Washington Township)
Sure, you can pick pumpkins, you can paint pumpkins, you can even carve pumpkins, and when you're pumpkin-ed out, you can try the enormous corn maze (the children's maze section is smaller and takes approx. 20 minutes). Tuesday through Thursday 10am to 6pm, Friday through Saturday 10am to 10pm, Sunday 10am to 7pm closed Mondays except for Columbus Day. Check website for current pricing. Call 908-246-3044 for more information.
"Real" Pumpkin Picking
Riamede Farm
(Chester)
All the bells and whistles can be fun, but how can you call it pumpkin picking when all you have to do is pick up a precut pumpkin from an already harvested field? For some real pumpkin picking, (you get to cut the pumpkin right off the vine yourself), go to Riamede Farm. The quiet, simple, laid-back farm has only a hayride to the pumpkin patch and just plain pumpkins! But bring your own cutting tools, this is a real farm, folks. 9am to 4:30pm daily. Call 908-879-5353 for more information.
For full coverage of apple picking, pumpkin picking, strawberry picking and farm fun info in the tri state area, check out our Pick Your Own Guide.