Indoor Gyms and Playgrounds with Open Play on Long Island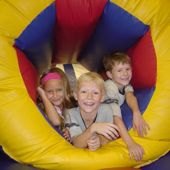 The following is a comprehensive listing of facilities on Long Island that offer Open Play Time. Membership is not required in order to participate in these Open Play sessions.
Walk-in's are usually welcome, but do call in advance to verify availability.
WEST (Winner's Edge Sports Training)
156 Railroad Street, Huntington Station, N.Y.
(631) 367-WEST
Indoor Open Play EVERY Friday from 10:30 a.m.-2 p.m.
Ages 1 - 5
Only $12 per child.
Ask about discounts for playgroups!
Bounce 'n Play Friday
Includes use of two bounce houses, soccer tots equipment, and lil sluggers equipment.
FLIPS GYMNASTICS SCHOOL
Morewood Plaza
975 West Jericho Turnpike, Smithtown, N.Y.
(631) 863-FLIPS
Open Gym
Monday 9:30 - 11 a.m.
Thursday 9:00 - 10:30 a.m.
Friday 12:00 - 1:30 p.m.
Ages 12 months - 5 years
Call for pricing.
Play, tumble and bounce in an organized, fun setting where lots of new friends are made.
 
 
 
ACTIVE KIDZ LONG ISLAND
210 Forest Drive,
East Hills
(516) 621-6600
Walk-In Open Play Time
For children under the age of 12.
$10 per child for Adventure Maze
Open Play Hours are subject to change.
Their state of the art 3 level Adventure Maze has been custom built and is one of the largest on the North Shore of Long Island.
GYMBOREE
Woodbury Gymboree
100 Woodbury Road
Woodbury, N.Y.
(516) 367-3950
Woodbury Gymboree's Stay & Play Mondays
Every Monday from 9:30 to 2:00 p.m.
For children up to age 5.
$12 per child
Monday is Stay & Play!  Drop in for an hour or stay the day. Bring your lunch or order in.  Art projects available for purchase.
HOP N' BOP
975 W. Jericho Turnpike
Smithtown, N.Y.
(631) 265-2695
Open Play
Weekdays
10 a.m. - 12 p.m. & 12 p.m. - 2 p.m. 
Age-appropriate for under 5.
$10 per child per session
All of their brand new inflatable rides are proudly made in the USA. Including their famous Velcro Wall!
BOUNCERS & SLYDOS
1835 New Highway
Farmingdale
631-752-2324
TODDLER TIME
Monday, Wednesday, and Friday
10:00-12:00pm or 12:00-2:00pm
Appropriate for children under 5.
Price: $12.00 per session or buy 12 sessions for $144.00 
and receive the 13th session Free.
Visit for toddler time and let your toddlers enjoy the open, safe atmosphere filled with inflatables where they can jump, climb, play and enjoy.
 
 
ONCE UPON A TREETOP
151 Dupont Street
Plainview 
(516) 349 –1140. 
Open Play Time Schedule:
Mondays: 10:00 am - 2:00 pm
Tuesdays:  10:00 am -  5:00 pm
Wednesdays:  10:00 am - 5:00 pm
Thursdays: 10:00 am - 2:00 pm
Fridays: 10:00 am - 2:00 pm
$12.00 per walker
$6.00 per crawler
As always, adults and infants are FREE!
Gather together a group of friends and head to Once Upon a Treetop for some fun in their little city.  Kids will have the opportunity to explore through interactive play and climb through their tree house play unit. 
 
 
ORLY'S TREEHOUSE-It has come to our attention that Orly's Treehouse is currently closed. Updates to follow if that information changes.
1000 Shames Drive
Westbury
516-333-2277 
Our playground is open 7 days a week for everyone. 
Playground hours - Monday to Saturday 9:00-6:00 p.m. and Sunday 10:00-6:00 p.m.. Please note on Thursdays, the playground is closed from 1:30-3:30 for cleaning.
Playground passes are only $12 per child for the whole day.
Crawling siblings and adults are free.
Your child is sure to love the 2,500 square feet state-of-the-art indoor playground. Children can climb the interactive Treehouse, shop the village market, play pretend in the Doctor's Clinic, or try on costumes and perform their own show on the Theater stage.
WOOD KINGDOM
111 Milbar Blvd, Farmingdale
631-845-3804
Open Play
Monday - Friday, 10 a.m. - 2 p.m.
Age-appropriate for under 5.
$8 per child
Open Play is in their new party room with all new bouncers and climbing equipment.
BOUNCEU
101 Carolyn Blvd.
Farmingdale, NY 11735
Phone: (631) 777-JUMP (5867)
Family Bounce Night
The endless excitement of our inflatables and games is perfect for the whole family, and there's no better place to bond than BounceU. Wednesday from 5:00PM - 7:00PM
$12.95 per child
All Ages Open Bounce
Give them a call and reserve your spot at their next All-Ages Open Bounce, then come on by and enjoy the awesome inflatables, fantastic games, and wall-to-wall fun.
Tuesday & Thursday from 4:00PM - 6:00PM
$12.95 per child
JUMP PARTIES
151 Dominion Blvd.
Ronkonkoma , N.Y. 11779
631-585-JUMP (585-5867)
Open Play every Friday
from 4:00 - 9:00 p.m.
$14.95 per person
Children must be a minimum of 34" tall to participate.
Their bounce and play center features toddler activities, a game zone fun room, and a place for parents to relax.
HUNTINGTON GYMNASTICS CENTER
269A New York Avenue
Huntington, NY 11743-3581
(631) 424-5653
Play Gym
Mondays 12:00 - 1:00 p.m.
Tuesdays 11:00 - 12:00 p.m.
Wednesdays & Thursdays 12:00 - 1:00 p.m.
For walkers through age 5.
$10 per child
Walk-in's are welcome.
Children will have use of all gymnastics equipment.

 
TUMBLING TUNES
240C Fort Salonga Road
Northport, N.Y. 11768
(631) 697-0140
Open Play
Mondays 3:00 - 5:00 p.m.
For children ages 6 months through 8 years.
Price: $6/hr for 1 child; $10/hr for 2 children; $12/hr for 3 children
Children will have access to pre-school gymnastics equipment,
children's musical instruments, flannel board and stories, craft table,
book nook, pretend play area, and ride-on toys.