Free and Fun Things to Do this Weekend for NYC Kids: Halloween Festivals and Parades, Pumpkin Sail, School Fairs Oct 22-23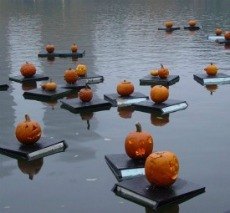 It's the second to last weekend before October 31, you know what that means: There's a ton of Halloween fun for New York City families, like free costume parades, no-cost festivals and more school fairs than we could ever list. There are also big annual Halloween events like the Queens Museum of Art's Boo! Spooktacular, the New York City Police Museum's Halloween Party and Central Park's Parade and Pumpkin Sail at the Harlem Meer.
If you're already feeling Halloween fatigue, there are plenty of other cool things to do this weekend that have nothing to do with ghosts, goblins or ghouls. Families can celebrate Diwali, the Hindu festival of lights at Asia Society, or head to Flushing Town Hall for a day of Colombian culture, art, music and food. The are also a bunch of cool concerts for kids, including the Little Orchestra Society's new season of classical performances, the retro R&B stylings of Shine & the Moonbeam's, Moey's power pop and the Dirty Sock Funtime Band.
And that's just a few of the great things going on this weekend. Read on for all of our picks and remember, you can find additional options in our Event Calendar and our Halloween Fun Guide.
All Weekend
Who's Got the Beat? – Upper East Side
The Little Orchestra Society kicks off its new season of Lolli-Pops classical concerts for kids with a program about rhythm and percussion. $15-$40
The New York Aquarium's Ascarium – Coney Island
Families can enjoy a haunted Sea-Fari, an aquatic-themed magic show, bewitching stories, crafts, treats and a scarily good concert by songstress SweetBeatz. Free with admission: $14.95 for adults, $10.95 for children ages 3-12, free for kids under 3. Dress up the kids: For every full-priced general admission adult ticket purchased, one child in costume gets in free.
Boo at the Zoo – the Bronx
It's Wicked Weekend at the Bronx Zoo's Boo at the Zoo. Families can catch performers from the cast of Broadway's Wicked on Sunday in addition to the usual Halloween fun, including a not-too-scary haunted safari, a spooky hay ride, Gigi's Boosical Adventures, animal-themed theater performances by the Lehman College Players, a costume parade, a hay maze and trick-or-treating. Expect crowds. Free with admission: $16 for adults, $12 for children ages 3-12, free for kids under 3. Just like the Ascarium, for every full-priced general admission adult ticket purchased, one child in costume gets in free.
Haunted Pumpkin Garden – the Bronx
The New York Botanical Garden has transformed its Children's Adventure Garden in honor of Halloween. Marvel at more than 500 jack-o'-lanterns elaborately carved and sculpted into spiders, scarecrows, bats, snakes and other scary sights. Michael Natiello, creative director for Hudson Valley's famous Jack O' Lantern Blaze, oversaw the installation, and it is fabulous. This weekend there are two special events. On Saturday and Sunday, Food Network Challenge winner Ray Villafane will create fiendish monsters from giant pumpkins. (How giant? Well, one weighs 1,818.5 pounds!) And on Saturday, families can enjoy a Spooky Nighttime Adventure by touring the garden after dark. The Haunted Pumpkin Garden is free with an all-garden pass: $20 for adults, $8 for children 2-12, free for kids under 2. Spooky Nighttime Adventure is $20 per person and tickets must be purchased in advance.
Enchanted Wave Hill Weekend – the Bronx
Create a fancy fairy home at this Bronx oasis, and then celebrate the garden's magic with troubadour Jim Keyes, who spins yarns with his mandolin and accordion, or guest storyteller Rama Mandel. FREE all weekend courtesy of Target.
Saturday, October 22
Central Park East I and II Annual Fall Fairs – East Harlem
Hit both of these outdoor school fetes, which are within two blocks of each other. At CPE II, kids can enjoy a bouncy slide, a box maze, live music, face painting, three-legged races, hula-hoop contests, and pumpkin and cookie decorating. CPE I's bash features more of the same, plus international eats, nail decorating, temporary tattoos and trick-or-treat bag decorating. All proceeds support the students at these schools, one of whom is Mommy Poppins editor Raven's daughter. Free admission but there are fees for certain activities.
Halloween Festival – Queens
Get into the spirit of the season with games, crafts, hay rides and other fall fun. Dress up the kids! There's also a costume contest and everyone goes home with goodie bags. FREE
Boo! Spooktacular 2011: A Halloween Fundraiser – Corona
This huge Halloween party benefits one of Queens most illustrious institutions. Activities include a giant drawing battle by artists Ernest Concepcion and Mike Estabrook, pumpkin carving, face painting, storytelling, tarot card reading and a spooky photo booth. Be sure to dress up for the costume parade. The admission price includes a year-long membership to the museum. $75 for a family of up to six members.
Get out there and Explore with The Magic School Bus – Soho
The popular children's book series celebrates its 25th anniversary at the Scholastic Store. Kids can perform a simple science experiment and get a chance to meet wacky science teacher Ms. Frizzle and her creators Joanna Cole and Bruce Degen. FREE
The Dirty Sock Funtime Band P.S. 89's Rock & Roll Fundraiser – Battery Park City
The downtown school hosts popular kid rockers the Dirty Socks and Cardone the Ultimate Vaudeville Magician. $20 for adults, $15 for kids.
VH1's Save The Music Family Day – Upper West Side
The Anderson School throws a music festival that includes performances by Mat Kearney, Hanson, Hot Peas 'N Butter, SafetySuit and that band from those freecreditscore.com commercials, the American Secrets. There will also be fabulous food trucks, arts and crafts with Bash the Trash, storytime, an appearance by SpongeBob SquarePants and instrument discovery zones for aspiring musicians. FREE
Morning of the Gargoyles – Morningside Heights
The Cathedral Church of St. John the Divine hosts a family art workshop. After hearing Eve Bunting's Night of the Gargoyles, kids can fashion their own little clay monsters and masks. $8 for adult-child pair.
Harvest Festival at Brooklyn Bridge Park – Brooklyn Heights
Put on those costumes and head to Pier 6 for a parade, pumpkin decorating, leaf rubbing, storytelling, face painting and live tunes by Erin Lee and the Up Past Bedtime Band, and The Pop Ups. FREE.
Oran Etkin Wake Up Clarinet Family Concert – Upper West Side
The acclaimed clarinetist performs family-friendly instrumentals from his Wake Up, Clarinet! CD at Symphony Space. $13-$20.
The Brownstone School Annual Halloween Fair – Upper West Side
Young kids will love the life-size recreation of the Candy Land board game, the mini-train rides, and pumpkin and cupcake decorating. Free admission but there are fees for certain activities.
The Earth School Fall Fair – Lower East Side
More school fair fun! This fete features pumpkin painting, mini golf, cupcake decorating, face painting and a maze. Parents can snag a bargain at the rummage sale. FREE
Halloween Harvest Festival – Long Island City
Socrates Sculpture Park hosts its annual bash with a costume swap, art workshops with recycled materials, live music and seasonal treats. If you've got a pooch, put him in his Halloween best for the canine costume parade. FREE
Halloween Party – Financial District
The New York City Police Museum throws its annual haunted shindig. Kids can decorate a trick-or-treat bags and other holiday-related activities while they learn how to stay safe on October 31. Free with admission: $8 for adults, $5 for children ages 2-12, free for kids under 2.
Diwali Family Day – Upper East Side
Families can celebrate the Hindi Festival of Lights at Asia Society by creating a traditional rangoli with Urban River Arts, watching Indian dance and more. Free with admission: $10 for adults, free for children under 16.
Encuentro Family Day – Flushing
Enjoy a day of Colombian food, crafts, music and culture, including drum and guitar performances, maypole-style dancing, music workshops and more. $10 for adults, $5 for children.
Shine & the Moonbeams Family Concert – Harlem
This hot kiddie act delights parents as much as children with its cool, old-school R&B tunes. We love the band so much, we wrote an entire post about the group! $10 for adults, $5 for children 5 and up, free for kids under 5.
Sunday, October 23
Moey's Music Party Concert – Upper West Side
The perpetually pink crooner celebrates the release of her new DVD Happily Ever Moey! A Fairy Tale Lark in Central Park at the JCC. Kids should dress up in their most creative fairy tale garb for fun... and to win a prize! In advance: $14; at the door: $16, free for babies under 1.
Big Green Extreme Halloween – Upper West Side
Join the P.S. 166 community for live music, a spooky haunted house, a costume contest, rides and bouncy houses. Hot off the grill grub and a giant bake sale will also be on offer. Free admission but there are fees for certain activities.
Morningside Montessori Annual Fall Fair – Upper West Side
Families can enjoy a farmer's market, bouncy castles, spin art, cupcake decorating and more. Free admission but there are fees for certain activities.
Alastair Moock Family Concert – Tribeca
92YTribeca welcomes this folksy, Boston-based singer-songwriter, who's celebrating the release of his new kids' CD These Are My Friends. $15
Oold Stone House/Park Slope Parents Harvest Fest – Park Slope
One of Brooklyn's most family-friendly areas hosts this annual fest with live music from Jon Samson, and Kari Groff and the Famous Accordion Orchestra, pony rides, face painting, arts and crafts, and even a petting zoo. FREE
Tom Chapin Family Concert – Carroll Gardens
The Grammy winning folk favorite celebrates National Food Day (who knew?) with tunes off his new album Give Peas Chance. This benefit for the Brooklyn Food Coalition includes a fun preshow food fair. In advance: $10 per person, $25 for a family of five; at the door: $12 per person, $30 for a family of five.
The Addams Family Storytime –Flatiron
Books of Wonder welcomes the cast of Broadway's The Addams Family for a special Halloween-themed story session. Afterward, fans can pose with the performers. FREE
Parade and Pumpkin Sail – Harlem
Head to the Dana Discovery Center for a fete that include arts and crafts, live music, a fleet of floating jack-o'-lanterns and a costume parade that gets bigger every year! FREE
Outside of NYC
Are you a member of Kids Club Thirteen? It certainly has its privileges, including free admission to 13 family events throughout the year. On Sunday, Kids Club Thirteen members can head to the Hudson River Museum in Yonkers for some Spooky Science with Sid the Science Kid. Explore the solar system and join in on Halloween-themed experiments, like playing with glow-in-the-dark Flubber, making a comet and, of course, face time with Sid. Visit the Kids Club 13 website for a list of member benefits and info on how to join. FREE for Kids Club Thirteen members.
Dogs owners should bring the pets to Fido's Festival USA in Woodstown, NJ for a howl-o-ween costume contest, dock diving, ball tossing games and other canine activities.
In Long Island, celebrate Halloween circa 1880 at Bethpage Village Restoration in Nassau County. The living history museum goes all out for the holiday with period pumpkin carving and other retro amusements.
Up in Connecticut, it's prime fall foliage season. Drive up and marvel at those colorful leaves.

Don't forget: We have additional activity options in our Event Calendar.
Planning an event? Submit it to our calendar.
Did someone forward you this email? Subscribe to our free newsletters.
Tags: