Free & Fun Things to Do this Weekend for NYC Kids: Postponed Halloween Fun, Harry Potter Exhibit, Day of the Dead November 3-4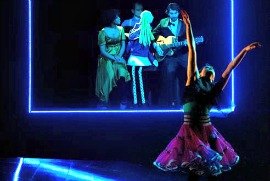 This is one of those weekends when it's going to be tough to plan. (Heck, it's hard to plan the next two days! Public schools are officially closed Thursday and Friday.) As of this writing, power is still out in downtown Manhattan, much of Staten Island and parts of the other boroughs; subways aren't running (but some will be as of Thursday) and buses are limited; all NYC parks are closed; and many of our neighbors are trying to piece their lives back together after suffering devastating losses, all due to Hurricane Sandy.
After spending so much time cooped up this week, we all want to go out and start enjoying our city again, but it's probably going to be a bittersweet experience. If you're looking to assist New Yorkers in need after Sandy, read our post about ways you can help locally. There are even volunteering opportunities this weekend to help clean up NYC parks (must be age 12 and up though).
All of our best bets for the weekend are below. As always, you can find additional options in our Event Calendar. That said, before you head out to any of these happenings, check the events' official websites as details may change depending on the residual effects of the storm.
All Weekend
Day of the Dead at Saint Marks Church in the Bowery – East Village
As of Saturday, this event was postponed until further notice due to the hurricane.

Right now this historic church is without electricity, however Mano a Mano, the organizers of this annual celebration, hope to start the festivities on Saturday, assuming power is restored to the neighborhood by then. Families can explore a recreation of a Mexican village churchyard and participate in activities that honor those who have passed. Workshops are for all ages and include altar-building, paper flower making, poetry writing and bread baking. Bring photographs, candles and flowers to adorn the altar in the name of your deceased loved ones, or just drop by and enjoy the experience of this four-day celebration, which also includes musical performances and a traditional dance procession. FREE
Opening Weekend of Beatrix Potter: The Picture Letters – Murray Hill
As of Sunday, November 4, the museum has reopened and admission is FREE for the day.
The Morgan Library & Museum, 225 Madison Avenue between 36th and 37th Streets
This museum is currently closed due to lack of power, so we're not sure its new exhibit, which celebrates the author/illustrator of Peter Rabbit, is going to open this weekend. If it does go on as planned, families can view early versions of Beatrix Potter's beloved and charming animal tales, including the original Peter Rabbit picture letter along with rough renderings of Squirrel Nutkin and Jeremy Fisher. There will be hands-on activities in honor of the opening, including storytime and a "Draw Your Veggies...and Eat Them Too" illustration workshop. Free with admission: $15 for adults, $10 for children ages 13-16, free for kids under 13. Entry is just $6 for adults and $2 for children during the art workshop.
Mojo – Midtown West
The New Victory Theater's latest production (pictured above) is a whimsical show about a little puppet girl, Betty, as she grows up in a tight-knit community. Created by Theatre-Rites, the same troupe behind last year's Mischief, Mojo seamlessly melds percussive music, puppetry and physical theater. I saw it with my daughter last week and we thought there were many magical moments. We particularly liked "Mr. Mojo," a lanky blue puppet who seemed to come together out of thin air. $14-$38.
King Con – Park Slope
The Brooklyn Lyceum hosts this third annual indie comic con, featuring "underdog" artists (a.k.a. unknown... for now). While not specifically aimed at families, young geeks should have a blast checking out up-and-comers and watching vintage Max Fleisher cartoons. There will also be special performances, like The Legend of Sleepy Hollow by the Puppet People and juggler Will Shaw. $7 for adults, $3 for children under age 12. Live performances cost extra.
Kids Food Festival – Midtown West
Rescheduled to the weekend of March 2-3, 2013 due to the hurricane.
At this second annual fest devoted to healthy eating, families can attend cooking demos led by famous chefs, and also get moving with concerts by local kids' groups like the Dirty Sock Funtime Band and activities run by Karma Kids Yoga. Admission and kids' entertainment is free; $25 tickets are required for all cooking workshops.
Canstruction 2012 – Battery Park City
Unfortunately, this event has been postponed due to the hurricane. We'll let you know when we hear of a new opening date.
As of now the World Financial Center, which hosts this annual display, is without power. But it's reopening on Wednesday so we're hopeful this exhibit will debut as planned. Marvel at sculptures designed by architects, engineers, contractors and students that are constructed from full cans of food. Words can't do it justice! When the exhibition is dismantled all the cans will be donated to City Harvest. Admission is FREE, but visitors are encouraged to bring cans of food for the charity, too.
Harry Potter: The Exhibition – Midtown West
Guess who's back? We wrote about this Harry Potter-themed display when it was on view last year. There's much for kids to love... but it's quite pricey. But if your little Muggle is magic-obsessed, you're going to want to check it out before it disappears for good in May, 2013. $25 for adults, $19.50 for children ages 4 to 12, free for kids under 4.
 
Saturday, November 3
Haunted Halloween Walk and Fairytale Forest – Bay Ridge
Originally set for Halloween, this annual shindig in Owl's Head Park was rescheduled to Saturday due to Hurricane Sandy. Of course, if city parks don't reopen by the weekend, it may be rescheduled again or canceled entirely. Assuming it goes on, families can enjoy haunted tours (not-so-scary until 6pm, fearsome afterward) or make their way through the magical fairytale forest, which features a pumpkin patch, apple orchard, costumed characters, live magic tricks and more. There will also be a costume contest with winners in different age categories, plus kids' rides, pony rides, face painting, sand art and a trackless train!
Hippo Playground Halloween Parade – Upper West Side
Line up at the Soldiers' and Sailors' Monument, Riverside Drive at 89th Street
Saturday, November 3 3:45-5:45pm
FREE
Another annual Halloween event that was rescheduled. Little revelers can follow bagpipers down the steep slope to Riverside Park's beloved playground, where they'll get into the spirit with complimentary cider and doughnuts.
Family Concert: Who is John Coltrane? – Upper West Side
At the kickoff of the new season of Jazz for Young People at Lincoln Center, Wynton Marsalis introduces kids to the super-cool music of master saxophonist-composer John Coltrane. $12-$28
Fantastic Friendships – Midtown West
Families can enjoy a program of kids' shorts at MoMA themed around friendship. Films include The Happy Lion, The Girl and the Fox, The Light and Bottle. Afterward, museum educators will lead a lively discussion, and then families can stay and explore the institution at no extra cost. FREE but tickets are given out first-come, first-serve.
Fox and Branch – Upper West Side
Stomp, clap and sing along with this Wisconsin folk duo, as the guys play old blues, jug band and fiddle tunes, and New Orleans-infused songs. You'll feel like you've left NYC! $20 for adults, $13 for children.
Astrograss CD Release Party – Red Hook
The kids' country bluegrass band celebrates the release of its new album The Colored Pencil Factory with a rollicking concert at the Jalopy Theater and School of Music. All kids in attendance get a coloring book. $10, free for children under age 2.
Target First Saturdays: Jean-Michel Othoniel: My Way – Prospect Heights
French artist Jean-Michel Othoniel's eye-popping large-scale sculptures have tons of kid-appeal. Tonight, check out the exhibit at no cost, and enjoy live music and dance, make origami and maps, contribute to a collaborative art project and paint on glass baubles. FREE
KaBOOM! Playground Build – East New York
Last year we wrote a post about KaBOOM!, a nonprofit organization that helps communities build playgrounds in lower income areas. Despite the hurricane, KaBOOM! plans to go on with its installation of a brand-new playground at the Spring Creek Towers in East New York, Brooklyn. Anyone age 14 and up can help with the assembly (these playgrounds are built in one day!), and there will be painting, crafts, music and dancing for younger kids. This is a great way to do something to give back to NYC! FREE but preregistration required.
Sunday, November 4
Louis Armstrong: Jazz Ambassador – Midtown West
One of our favorite family theater companies, Making Books Sing, debuts a new musical about jazz trumpet great Louis "Satchmo" Armstrong and how the struggle of school integration inspired him to become more outspoken politically. Catch the very first performance at no cost! FREE but advance reservations are required.
Pickle Day – Lower East Side
Unfortunately, this event has been canceled due to the hurricane.
This annual fest was rescheduled from last weekend due to Hurricane Sandy. It's in an area that's currently without power so we hope it happens this Sunday! Taste a wide selection of the neighborhood's signature treat from sweet to dill. Other fun for kids includes deejay lessons and spin art, Ping Pong, street hoops, badminton and urban croquet, face painting, balloon animals, and ballroom and belly dancing performances. FREE
Sunday is also the New York City Marathon, which is scheduled to go on as planned. The Marathon has been postponed to the hurricane.
Outside NYC
New York City isn't the only spot crippled by Hurricane Sandy. Long Island, New Jersey and Connecticut were also devastated by the storm. Right now our regional bloggers are all grappling with power outages and, unfortunately in some cases, damage to their homes. So the New Jersey, Connecticut and Long Island sites are pretty quiet right now. Stay tuned for updates. We will all get through
this together!
Don't forget: We have additional activity options in our Event Calendar.
Tags: