Free and Fun Things to Do This Weekend with NYC Kids: Outdoor Festivals, Earth Day Fun, Tribeca Soccer Fest April 21-22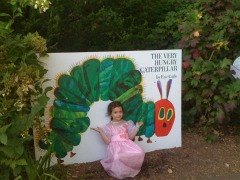 Sunday is Earth Day and you can celebrate nature in our urban jungle at lots of outdoor festivals like Grand Central Terminal's Earth Day Fair, the art-filled St. George Day Festival on Staten Island and the first-ever Harlem Earth Day, which takes place at four of the neighborhood's gorgeous green spaces.
Two annual family favorites also kick off this weekend. The Tribeca Film Festival has free outdoor movie screenings and Saturday's Tribeca/NYFEST Soccer Day, which promises clinics and matches for kids. At the Bronx Zoo, families can enjoy the first weekend of Animal Tales Extravaganza, featuring visits from Curious George and the Yo Gabba Gabba gang.
All of our best bets for the weekend are below. Remember, you can find additional ideas in our Event Calendar and our Spring Fun Guide.
Update: As of Thursday, the forecast calls for rain all weekend. Assuming it does pour, outdoor activities may be cancelled so be sure to check each event's official website for confirmation. We've also clearly marked which events are indoors.
All Weekend
Earth Day Celebrations – Citywide
There are a ton of Earth Day events going on all over town this weekend. The great green gatherings include:
The weekend-long Green Festival at the Javits Center, $10-$25. Indoors!
Grand Central Terminal's Earth Day Fair with educational displays and activities, and a giant outdoor fair on Saturday, all FREE. Partially indoors!
Bash the Trash plays a concert on recycled instruments at the Prospect Park Audubon Center on Sunday for FREE. Partially indoors!
The first-ever Harlem Earth Day takes over four neighborhood parks on Sunday for FREE
The High Line celebrates with live music and eco-friendly art projects on Saturday for FREE
Check our Event Calendar for even more Earth Day fun
Animal Tales Extravaganza – the Bronx
The Bronx Zoo's annual spring celebration is back and there's so much going on, you may not have much time to visit with the animals! This weekends-only party goes on through the end of June, and is packed with tons of fun and surprises. This weekend, meet stars from Yo Gabba Gabba, enjoy a rated-G performance by Kate Monster from Avenue Q and storytime with Curious George, join a rain forest creatures parade, do animal yoga and wildlife crafts, and more. Free with admission: $16 for adults, $12 for children ages 3-12. Partially indoors!
Go Green! – Upper West Side
The first-ever New York Children's Theater Festival debuts this weekend with this modern-day fairy tale. Subtitled Prince Charming's Quest for Love and Ecology in NYC, the musical follows the eco adventures of a royal who's forced to choose between his passion for saving the Earth and his true love. $18. Indoors!
Lolli-Pops Concert: Peter and The Wolf – Upper East Side
The Little Orchestra Society presents its interactive take on Prokofiev's classic musical coming-of-age tale. $15-$40. Indoors!
The Dragon Child – Greenwich Village
This colorful show from the China Children's Art Theater combines traditional Chinese theater with modern puppetry and animation to tell the poignant tale of a dragon child raised by the 12 zodiac animals. Life is sweet until environmental hazards begin to threaten her existence. $25-$40. Find out about more wonderful family theater in our roundup of the best kids' shows playing this spring. Indoors!
Children's Carnival – Glen Oaks
It's the final weekend of the Queens County Farm Museum's annual bash. Enjoy old-time fun, including a midway, a magic show and lots of kiddie rides. $10

Saturday, April 21
Tribeca/NYFEST Soccer Day – Tribeca
The Tribeca Film Festival's first big family event, Tribeca/NYFEST Soccer Day, takes over Pier 40 in Hudson River Park. Attractions include a celebrity soccer match, a youth soccer showcase and plenty of chances for kids of all skill levels to get their game on with clinics and competitions. FREE
St. George Day 2012 – St. George
This annual community festival features art workshops, a huge variety of music and dance performances, storytelling, an Earth Day Zone and an entire area devoted to kids with arts and crafts, a fanciful puppet show that recounts the St. George dragon-slaying legend and a puppet parade. FREE. If it rains, the fest will move indoors to a nearby location.
Jazz for Young People Family Concert: What is New Orleans Jazz? – Upper West Side
Kids can learn all about New Orleans-style jazz and participate in a traditional Second Line Parade at Lincoln Center's interactive concert. Arrive early for pre-show art and music workshops. $20-$36. Indoors!
The Mayhem Poets – Fort Greene
This comical trio hits BAM with a performance that combines hip-hop, theater, improv, stand-up comedy and poetry. $15 for adults, $10 for children under 14. Indoors!

Sunday, April 22
Milstein Science Series - Bioluminescence: Creatures of Light – Upper West Side
In honor of its Bioluminescence exhibit, the American Museum of Natural History hosts a family day with hands-on activities that teach kids about the incredible plants and creatures that make their own light in the dark depths of the ocean. Free with admission: $19 for adults, $10.50 for children ages 2-12. Indoors!
Spring Wash Day – Prospect Park
Lend a hand to the folks at Lefferts Historic House as they scrub their period clothing collection using a washboard, tub and a bar of soap. Your kids will never complain about cleaning their rooms again! FREE.
The Pop Ups – Gowanus
This Brooklyn duo's performances are equal parts concert and theater. In their new show Radio Jungle! a Pop Ups Puppet Musical, the guys go on an imaginary musical adventure through the jungles of Mexico. $15 or $45 for a family four-pack. Indoors!
Carnegie Kids Concert: Elizabeth Mitchell – the Bronx
The beloved kids' crooner hits the Bronx Library Center for an interactive concert featuring songs off her latest album, Sunny Day. FREE. Read about other great family music in our roundup of the best kids' concerts this spring. Indoors!
A Clearing in the Forest: Earth Day Celebration – Upper West Side
Central Park's annual outdoor family performance series kicks off with Maria Sangiolo's Growing Green Concert, followed by a planting project. FREE  If it rains the event will be held in the North Meadows Recreation Center.
Outside of NYC
Hunterdon County Park in East Amwell, NJ celebrates Earth Day with wild animal shows, bat workshops, scarecrow making and other eco-fun.
In Oceanside, Long Island, the Rolling River Day Camp hosts its Rock the River Spring Festival complete with bouncy castles, arts and crafts, outdoor bowling and other fun activities.
Connecticut families can celebrate Earth Day at Flamig Farm with a petting zoo, pony rides, sheep shearing, live music and more.
Don't forget: There's more fun to be found in our Event Calendar.
Tags: