NYC Kids Crafts: 5 Paint Your Own Pottery Studios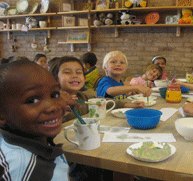 Last week we wrote about some great places to do kids crafts for free in New York City as the first in a series of posts about NYC kids crafts. This week we've got another great crafting option for you to try: painting your own pottery. It's fun, anyone can do it and you get to take home something special at the end.
At these studios the clay or plaster is already pre-formed into shapes (or plates, mugs, etc) and kids come in to creatively decorate their chosen object with non-toxic ceramic glaze or paint. If you choose a ceramic that needs to fired in a kiln you'll have to wait a few days to pick it up, but some painted projects can be taken home as soon as they dry. Some of these pottery studios also offer beading, mosaics and more so we've indicated that as well.
All of these studios offer birthday parties and a paint your own pottery party can be lots of fun, so check their websites for prices and more information.
Color Me Mine – Tribeca
92 Reade Street
Helpful staff here will offer your kids stamps (yep, you can stamp with ceramic glaze!) and tips as they enjoy painting their chosen ceramic piece. There are more than 400 pieces to choose from including specialty items just for holidays (yes, Virginia, you can paint your own Passover plate!). They also offer a unique set-up-your-own "Paint Me A Story" pottery-painting workshop for tots.
Created By You – Staten Island
63 New Dorp Plaza
The specialty is ceramic pottery you select and paint (and they fire—so it's food-safe). They have all the cool bells and whistles (stamps, sponges, contact and transfer papers) and will show you how to use them. They also offer mosaics and clay impressions crafting (hand and footprint keepsakes). Want a discount? They offer coupons!
Little Shop of Crafts – Upper West Side
711 Amsterdam Avenue
We've been and loved it. Very laid back, super helpful staff, and they don't charge anything for studio time so you'll never feel rushed. They offer classic paint-your-own ceramics or paint-your-own plaster tchotchkes (animals, figurines, whatnots), as well as mosaics, t-shirt decoration, woodcraft, frames and "Create a Cuddly" stuffed-animal making (the animal gets a decorated t-shirt too). They also offer classes and workshops for kids.
Make Meaning – Upper East Side
1501 Third Avenue
Your little artists chooses a ceramic piece (there are a couple hundred to pick from) and…(drum roll)..paints it! Or glazes it. Over 400 choices to pick from and there are lots of other crafts, too.
The Painted Pot – Brooklyn
339 Smith Street in Carroll Gardens
8000 Third Avenue in Bay Ridge
200 Seventh Avenue in Park Slope
Stop by to glaze your own bisque pieces (over 500 to choose from) or paint your selection instead (over 60 paint shades!). You'll also find a variety of figurines and banks (piggy and oink-free) for painting. Helpful staff will assist kids with ideas and techniques upon request.They offer pottery wheel and clay classes as well as other craft options like beading and mosaics.
Reader recommendation: One reader has recommended Plaster Party Place in Queens. We haven't been, but if you have, let us know what you thought.
For other cool venues for gatherings and parties, check out our NYC Birthday Party Guide.