NYC Bookstores for Kids: Best Independent Bookshops with Children's Activities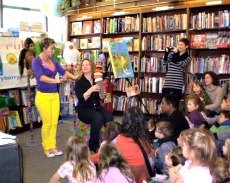 With the awesome annual Brooklyn Book Festival coming up this Sunday, we figured it would be a great time to highlight some of our favorite independent New York City bookstores that cater to kids. Because as much as we love Barnes & Noble, the ubiquitous chain doesn't enchant or inspire in quite the same way as a small homey bookshop, packed to the rafters with eclectic titles and staffed with book lovers who know regulars' names and tastes.
Although there are only a handful of dedicated children's bookshops in NYC (Books of Wonder and Bank Street Bookstore, we're looking at you!), there are a number of non-chain bookstores that have impressive kids' sections. Plus these unique lit havens often host events for kids—not just storytimes, but author readings, writing workshops and other interactive activities for burgeoning bookworms. So what are you waiting for? Get reading!
Bank Street Bookstore – Upper West Side
2780 Broadway at 107th Street
After decades in its original 112th Street and Broadway location, kid-lit haven the Bank Street Bookstore moved five blocks south to a cozier (and less expensive!) spot. Formerly two stories, the shop is now just one floor. However, there is still plenty of space for families to sit and read together, a top-notch selection of children's books and a jam-packed lineup of FREE special events like author readings and puppet shows.
Book Culture on Broadway – Morningside Heights
2915 Broadway at 114th Street
This neighborhood bookshop has a lovely children's room located on the lower level. In addition to a wide variety of books and educational toys, the section features a kid-size table and chairs, a wooden tea set, a dollhouse and other communal playthings, which encourage families to linger. My kids and I have spent many rainy afternoons here. Book Culture also hosts lots of events for kids, including FREE storytime in English and Persian. Check the calendar for upcoming events.
Books of Wonder – Flatiron
18 West 18th Street between Fifth and Sixth Avenues
NYC's largest and oldest children's bookstore sells new titles, beloved classics and even out-of-print tomes. But it's so much more than a bookstore; it's a place where kids become bookworms. Large exposed columns are surrounded with cushioned seats and throw pillows, inviting families to settle in for a good read. There's the shop's famous Oz section to peruse, an exhibition area with original kid-lit illustrations and frequent FREE events, including weekly storytimes on Fridays at 4pm and Sundays at noon, and high-profile author readings every week, everyone from preschooler magnet Mo Willems to tween fave Rebecca Stead. Check the online calendar for a complete list of upcoming events.
La Casa Azul Bookstore – East Harlem
143 East 103rd Street between Park and Lexington Avenues
Previously solely an online bookstore, La Casa Azul opened up a brick-and-mortar shop in 2012, which celebrates Latino culture with countless titles from Latino authors, as well as many classic and mainstream books for readers of all ages. You can find children's books by Latino authors, mainstream classics like Goodnight Moon in both English and Spanish, and popular character books (Hola Dora!). The store frequently hosts author readings (many aimed at adults but some at children), plus there's a small gallery space and biweekly craft classes. Check the shop's online calendar for a complete list of upcoming activities.
McNally Jackson Books – Soho
52 Prince Street between Lafayette and Mulberry Streets
This spacious two-story bookstore boasts a children's nook stocked with famous classics and lesser-known indie titles. The big attraction here are the FREE weekly kids' events, including a baby storytime on Fridays at 4pm, and Saturday storytime at 11:30am, which is really more of a lit-themed crafts hour hosted by local author and artist Yvonne Brooks. Plus there are monthly puppet shows and a cafe full of kid-friendly snacks. McNally also scores points in our book (pun intended) by donating tomes and educational toys to Legal Aid Society's Books for Kids program.
powerHouse on 8th – Park Slope
1111 Eighth Avenue between 11th and 12th Street
A cozier offshoot of the loft-like powerHouse Arena in Dumbo, this recently opened bookstore has an excellent children's book section, and hosts all of the mini-chain's events for kids. Every Sunday morning at 11:30am, there's an activity-packed storytime, often starring local kid-lit authors reading their own work or Brooklyn musicians playing their own songs. The shop also hosts a monthly book club for tweens and young teens, moderated by kids' book blogger Jordan B. Nielsen of TheRustyKey.com.
Greenlight Bookstore – Fort Greene
686 Fulton Street at South Portland Avenue
In addition its vast selection of books, including a nice children's section, Greenlight hosts many events for kids. There are FREE weekly storytimes for babies and toddlers on Sundays at 11am, and three-to-eight-year-olds on Saturdays at 11am. Best of all, they're hosted by local luminaries, children's authors and illustrators like David Ezra Stein and Selina Aiko, and kids' musicians and performers like Miss Nina and the Good Ms. Padgett. The store even hosts a Young Readers Book Group on the fourth Tuesday of every month where pizza is served and readers engage in a guided discussion about a pre-selected title (parents can even drop-off).
The Community Bookstore – Park Slope
143 Seventh Avenue between Garfield Place and Carroll Street
In addition to a large kids' area with comfy seats, this Brooklyn mainstay boasts a friendly dog, cat and bearded dragon. It also has an Old World vibe with its Terracotta floors, Persian carpets and French doors that open onto a garden. Most Sundays the shop hosts a FREE storytime. Sometimes local children's authors read their work, otherwise the staff steps up and shares their favorite kids' tales.
The Scholastic Store – Soho
Sadly, the Scholastic Store closed in January 2015
We'd be remiss if we didn't mention this popular bookstore that's an extension of the world's largest publisher and distributor of children's books. No, it's not exactly a ma-and-pa biz, but it's not a chain either, and the shop certainly has many attractions, from the coin-operated Clifford ride in the lobby to the many themed reading areas where kids can kick back with a book or ten. Plus, every Saturday the store hosts free lit events at 3pm, often featuring Scholastic properties like The Magic School Bus and Klutz Build a Book.
Looking for used kids' books? Check out our list of where to buy second-hand children's books in NYC.