Weekly Wrap Up: Deals and Discounts on Kids' Classes, No-Car Ski Trips, Chinese New Year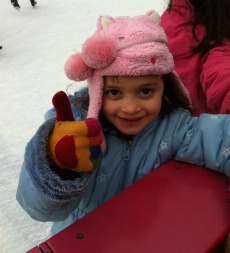 We're spending a lot of time inside these days visiting some of our favorite indoor spots, from museums to play spaces to fun stores where kids can run around. We've also been taking a lot of classes, which is why we're thrilled to offer our readers deep discounts to ten NYC programs we love.
Of course we have spent some time outside, too. As you can see from the photo above, last Saturday my daughter and her friends had a blast ice-skating at Lasker Rink. (That said, we spent brutally cold Sunday holed up in the Children's Museum of the Arts, which was a madhouse!)
If you're looking for seasonal fun, we've got some great ideas in our Winter Activity Guide. This week, we wrote about no-car ski trips from NYC, and our New Jersey site covered pond ice-skating, snow tubing, ice fishing and snow shoeing. We also have posts on family ski resorts and snow tubing spots in NJ. And if you're looking to celebrate Chinese New Year, we've got roundups of awesome parades and festivals in NYC, New Jersey and Connecticut, so you can ring in the Year of the Dragon all over the tri-state area.
And that's just a bit of what's going on. Here's what we covered this week on Mommy Poppins in NYC, New Jersey, Long Island and Connecticut, as well as selected stories from our sites in Boston and Los Angeles.
New York City
We started the week with our roundup of no-car ski trips from NYC. Get up early, bundle up and let someone else do the driving!
Alison, our special needs writer, continued her monthly series with a post about museums that offer programs for special kids like her son, Jake.
Our focus on Park Slope continued with roundups of the best places for kids' classes and family-friendly restaurants in the nabe.
Our biweekly news post had info on kindergarten admissions, the reopening of the South Street Seaport Museum and a cool new Williamsburg play space.
Looking to sign your kids up for a few winter classes? We've got deals on ten awesome programs, including chess, music, art, music, swimming and cooking.
Our January New York Public Library book list spotlights the top ten Caldecott Medal winners of all time.
Best bets for the weekend include the Kids Food Festival, the Brooklyn Inventgenuity Fest and a number of Chinese New Year celebrations.

New Jersey
There's more Chinese New Year fun across the Hudson, too. Find out how your family can Ring in the Year of the Dragon.
If you're looking for winter fun beyond skiing, check out places where you can go snow tubing, ice fishing and snow shoeing.
Attention moms of princesses: We've got the scoop on dress-up parties in the Garden State.
The mall as a fun winter destination? Absolutely.
Things to do this weekend include Family Fun Day at the Pilsener Haus beer garden in Hoboken, Marine Mammal Appreciation Day at Jenkinson's Aquarium and the closing weekend of the Math Midway at the Liberty Science Center.

Long Island
Over in LI, we have a fantastic list of play spaces on the isle.
Weekend events include a Dinosaur Petting Zoo at the Tilles Center, the NY Rangers Road Tour at the Port Washington Skating Center and a Chinese New Year Celebration at the Cold Spring Harbor Whaling Museum.

Connecticut
In CT, we rounded up Chinese New Year fetes in Hartford County and Fairfield County.
We also shared our second post on Bento Box lunches for kids.
Since we're all searching for indoor fun this winter, we shared cooking classes in Fairfield County and crafty spots in Hartford County.
Weekend events include the opening weekend of Run! Jump! Fly! Adventures in Action at the Stepping Stones Museum for Children, the Chinese New Year Festival at the Stamford Plaza Hotel and Conference Center, and the Freestyle Motocross Show at the Arena at Harbor Yard.

Los Angeles & Boston
Our Boston site is already helping local families plan for summer camp.
Out in California, we've got an amazing list of 100 things to do in LA with kids before they grow up, modeled on NYC's popular post. It's definitely one to print out before you visit the city!

Deals & Giveaways
CT is giving away a family four-pack of tickets to Stepping Stones Museum for Children's Run! Jump! Fly! Adventures in Action installation.
And one last plug for the ten class deals we're running in NYC. They're worth looking at!
Tags: