Easter Weekend for NYC Kids: Free Egg Hunts, Easter Parade, Auto Show, Passover Fun April 19-20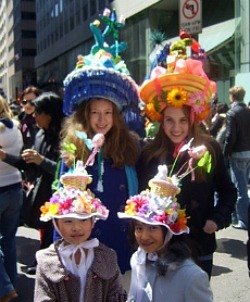 Happy Easter, Passover and spring! There are Easter festivities in every borough this weekend, including classic egg hunts and Fifth Avenue's spectacular Easter Bonnet Parade. You can also celebrate Passover at the Jewish Museum, which is hosting a music and art-filled family day on Sunday.
Spring break continues through Tuesday for NYC public school students and there are plenty of things to do this weekend and beyond, including the New York International Auto Show, which rolls into the Jacob Javits Center this week.
These are just a few of the great things going on this Easter weekend. Our best bets are below. You can find additional options in our Event Calendar and our Spring Fun Guide. Before heading out on your adventures, be sure to download our FREE Mommy Poppins Kids on the Go app so you can find the best family destinations wherever you happen to be in NYC.
Have a happy holiday, whatever you're celebrating!
All Weekend
Egg Hunts – Citywide
Kids can search for brightly colored eggs in every borough this weekend. You can find dozens of egg hunts listed in our Event Calendar but eggs-tra special ones include:
New York International Auto Show – Midtown West
Head to the Javits Center to check out the latest cars and trucks, and cutting-edge concept vehicles at the annual auto show, which kicks off its ten-day run on Friday. While not specifically aimed at kids, there are definitely lots of things young car lovers will enjoy like interactive experiences, off-roading simulators and countless celebrity photo ops. $15 for adults, $5 for children ages 3-12, multi-day passes are also available.
Dinosaur Eggstravaganza – the Bronx
Take a ride on the Bronx Zoo's popular prehistoric attraction Dinosaur Safari and then hunt for dino eggs throughout the grounds. Free with Total Experience Ticket: $33.95 for adults, $23.95 for children ages 3-12
Spring Eggstravaganza – Corona
More zoo fun! Celebrate Easter at the Queens Zoo in Flushing Meadows Corona Park with egg hunts, mask making, visits from the Easter Bunny, and face time with live giant Flemish hares Flip, Olivia and Blue. Free with admission: $8 for adults, $5 for children ages 3-12
The Fabergè Big Egg Hunt – Midtown West
Don't have the time to see all of the 260 designer egg sculptures hidden throughout NYC? Good news: Starting Friday, all of them will be on display at Rockefeller Center for a whole week. FREE 
 
Saturday, April 19
A Big Red Egg-stravaganza – Soho
Celebrate Easter with Clifford the Big Red Dog at the Scholastic Store. Inspired by the custom-designed egg in the window, kids can decorate their own over-the-top ova. Photo ops with the pooch and storytime are also on tap. FREE
Doktor Kaboom – Corona
Giggle at this goofy doc's kooky antics in this science variety show at the Queens Theatre in Flushing Meadows Corona Park. $14
Hands on History: Let's Go Fly A Kite – Jamaica
Head to the King Manor Museum to learn about the important role kites played in science, and then create your own and let it fly in the garden. FREE
Goldilocks & The Three Bears– Park Slope
Catch this one-day-only production of the classic fairy tale featuring hand puppets in place of Puppetworks' traditional marionettes. Advance reservations required. $9 for adults, $8 for children
Earth – Lower East Side
More cool kids' theater: Catch Trusty Sidekick's new sci-fi-themed comedy about Sector 42 of the Office of Planetary Discovery, the space organization that's been surreptitiously watching over Earth for centuries. $15 for adults, $10 for children
Family Affair: 100 Years of Spring in the Bronx – the Bronx
Enjoy all kinds of creative fun at the Bronx Museum of the Arts including art workshops, kid-friendly gallery tours and other activities celebrating the centennial of the boogie-down borough. FREE
Super Sabado: Mad About Libros – East Harlem
Head to El Museo for a lit-themed fest featuring crafts, bilingual storytelling and live music.  FREE
Sunday, April 20
Easter Parade and Easter Bonnet Festival – Midtown East
This April Go List pick is also one of our favorite celebrations of the whole year! Fifth Avenue between 49th and 57th streets is closed to traffic and opened to beautiful bonnets, snappy hats and jaw-dropping headdresses. Show off your craziest hat, or just come and take photos. Since it's really more of a promenade than a parade, it's easy to get good shots. Check out the slide show we did a few years back. Truly a must-do event—in fact, it's No. 27 on our list of 100 things to do with your kids in NYC. FREE
Freedom Art Jam: Art and Dance Party for Passover – Upper East Side
Celebrate Passover at the Jewish Museum with live tunes by David Grover, a Baby Loves Disco DJ dance party, instrument making, collaborative poetry writing and other creative activities. Free with admission: $15 for adults, free for children under 19
Easter Fun at the Children's Museum of Manhattan – Upper West Side
Head to CMOM for an indoor Easter egg hunt and then learn about Easter traditions from around the world. Free with admission: $11
Don't forget: There are lots of other options in our Event Calendar.
Tags: