News: Whole Foods Boycott, Mommy Bloggers Melee, Cool Class Photos, Free Books and More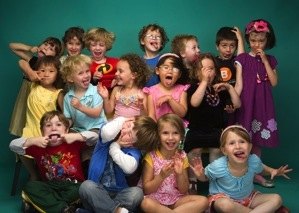 It's always interesting around here. This week we've been watching the blowout between Whole Foods CEO and irate customers over Healthcare Reform and "Mommy Bloggers" and each other over paid reviews. Plus New York City always keeps it interesting with developments like a group that's giving away books to read on the subway, a couple that are trying to actually provide good school photography (as in class pictures), and an awesome free entrepreneur boot camp for teens. Check it out.
Whole Foods Market CEO, John Mackey, wrote an op-ed for the Wall St Journal criticizing Obamas Health Care Reform Plan and infuriating his customers who promptly started a Whole Foods boycott the Boycott Whole Foods Facebook Group currently has almost 10,000 members. Whole Foods has started a Health Care Reform forum on their site.
Another sh*tstorm has been brewing in the "Mommy Blogosphere" where some skirmishes have broken out over Mom Bloggers who review stuff and get paid for it, either in cash or free products. There are rumors that the FTC is investigating creating guidelines for Mom Bloggers, and meanwhile some other mom bloggers have created a code of ethics to guide appropriate disclosure regarding product reviews and a Blog with Integrity badge to show you use and support this code.
Choose What You Read NY is a new group that is trying to get people to read literature rather than tabloids on the subways. To promote the trend they've started a book swap program in the subway system.
Ever wonder why the school photos we buy every year are so bland? Well a NYC couple having started Stomping Ground, a business to revolutionize the school photo with sprited, unique portraits rather than the usual bland fare. Tell your school about it.
I love the idea behind Teen Entrepreneur Boot Camp, a summer program that teaches kids how to start and run their own business.
Tags: