New York City Mom Groups and How to Meet Other Mothers (And Dads Too)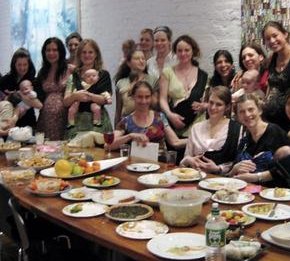 Finding the right parenting group can give you an instant social network to share the trials and tribulations of parenthood. Some mothers groups plan events and get-togethers, some offer seminars and discussions on pertinent topics, and some are just a place to chat on-line. Here are some of the best NYC parenting groups for moms and dads of every stripe. [UPDATED 8/2009]
GENERAL PARENTING GROUPS
Big City Moms hosts lots of different social and informative events, lunches, dinners and seminars for moms, families and moms to be including mompreneur dinners, mommy and me work-outs, preschool seminars and more all designed to help you meet other new moms. Free to join. Events cost $30 and up and are predominantly on the Manhattan's Upper West and Upper East Sides.
Baby Bites is a social and educational mothers group that hosts luncheons, dinners, sample classes, parenting seminars, and moms nights outs with branches in Manhattan, Brooklyn, Westchester and New Jersey. Membership is free, but events cost $30 and up.
Soho Parenting hosts parenting groups that balance developmental information with guidance about the emotional work it takes to be a thoughtful parent, as well as being a place for parents to meet and form lasting friendships. Soho Parenting also now has a Dads Group.
NYC Dads is a new group started for local Stay At Home Dads, Part-time at home dads, work from home dads, and freelance dads in and around New York City that arranges playdates and meet up events every week with their kids and to interact with other guys in the same situation.
NEIGHBORHOOD GROUPS
Bowery Babes, mostly Lower East Side and Soho moms, have parties and potluck picnics in local parks and restaurants, two art classes at the Lafayette Street Childrens museum, excursions to museums and galleries, music classes held in several private loft homes, as well as lectures on sleep and the environment, and occasional Mommy Beauty Mornings at Bloomingdales Soho. The website contains passionate discussion about "alternative" lifestyle ideas as well as green products. Free to join.
Hudson River Park Mothers Group organizes free play groups, as well as educational and social events for mothers, children, and families residing in Lower Manhattan. the group members have online forums as well and offer a supportive environment and advocacy for local parenting issues. Membership starts at $55.
Park Slope Parents is a passionate group of local parents dedicated to supporting the families of Park Slope, Brooklyn by providing a way to exchange information about parenting in the Park Slope community with a yahoo group, events and a website. Park Slope Parents also has a great classifieds group where neighbors can buy, sell or swap just about anything. $25 to join for one year.
The Bronx New Mommies Group hosts monthly meetings, educational workshops, tele-classes, and seminars where moms come together to socialize, discuss, and tackle common issues related to motherhood, children, and parenting. $12 to join for 6 months.
Yahoo Groups. Neighborhood Parenting Yahoo groups are perhaps he single most important resource for NYC parents (outside of Mommy Poppins, of course...oh, who am I kidding.) Not only will this group be where you meet new mom friends in your neighborhood, you'll also use it to buy and sell used baby stuff and find out about the inside scoop in your area. You should look for and sign up for your neighborhood Yahoo parenting group before the pee dries on your pregnancy test. You can search the Yahoo Groups directory for your neighborhood plus "parents" and see if there is an active one in your neck of the woods.
If you live in Brooklyn, A Child Grow in Brooklyn has a great list of Brooklyn Parenting Groups.
SPECIAL INTEREST GROUPS
Parents of NY Teens New parents aren't the only ones who need guidance and support. As your kids get bigger, so do their issues. Recent discussions for this online group included summer programs for teens, shaving and teen depression. The board is open to all parents, citywide, with kids 12 - 20 years old. Free to join.
Motherhood Later than Sooner is a group for moms who have children at the age of 35+ (which probably includes most of NYC). Meet other mature moms at playdates, family outings, moms night out dinners, and more.
Meetup.com is a national site that hosts every kind of meetup group. You can search by kind of group you are looking for and location. There are lots of New York area parenting groups listed including nursing mommies, stay-at-home moms, single mothers, and MILFs, and if you can't find the group you're interested in you can start it.
If you know about a group we've left out or would like to add your neighborhood group link, please share it in the comments.
Tags: