New Michaels Crafts Store in New York City Grand Opening Events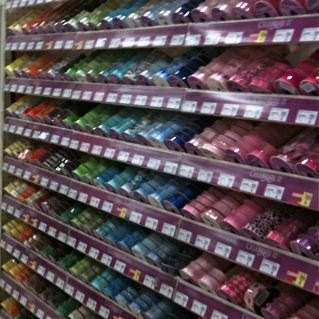 It has always really bummed me out that there was no great craft store in New York City. When I was a kid I used to go to the Woolworth's on Broadway for all kinds of crafts supplies. I loved that place, but it's been gone for ages and, while you can find some craft supplies at the art supply stores, it's hit or miss. So, I am thrilled that, finally, there is a great craft store in New York City with the opening of Michaels on the Upper West Side. Yes, it's a huge chain, and, yes, it smells unbearably like potpourri, but I'll take it!
The kids and I went to the grand opening celebration to check it out. I wasn't sure if this would be a full-sized suburban Michaels or some abbreviated city version, but I was quite impressed that the store seemed to carry a full selection of all the craft areas. And the new NYC Michaels is great for kids with a whole aisle devoted to Crayola, a section of American Girl craft kits and books and several other aisles of children's crafts.
And this week there are all kinds of special grand opening events and discounts.
On Monday 10/26 at 5pm, Martha Stewart will be at Michaels presenting her new book, Martha Stewart's Dinner at Home.
On Wednesday, October 28, from 5-7pm, learn how to make a last minute Halloween costume with duck tape.
On Saturday, October 31, from 10am to 12pm, Michaels is hosting a Halloween event and giving away free trick or treating pails (while supplies last), balloons and candy and a free Halloween frame craft activity.
Through Sunday all Crayola Arts and Craft Supplies are 50% off, Spool O ribbon is 5 for $1, and much more. If you can get one of their circulars you can also get some coupons including a 40% off one item coupon.
The new Michaels is part of a new development on Columbus Avenue between 96th and 100th St that they're calling Columbus Square. It also has a Whole Foods, a Whole Foods Wine, a TJ Maxx and it looks like there's going to be a Borders and some other developments across the street.
I'm very excited to have this new addition to the Upper West Side, and if the lines today were any indication, I'm not the only New Yorker who's been feeling craft-deprived.