Muppet Mania: 8 Ways to Get Your Muppet On in NYC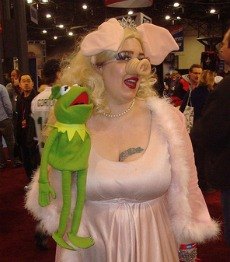 Even if you lead a media-challenged life (and if you did, you wouldn't be on this website), you probably know that the new Muppets movie is coming out next week. I can't remember the last time I was so psyched about seeing a film—and not just because I happen to like dressing up as Miss Piggy (yes, that's me in the pic). The Muppets is one of the few family flicks coming out this holiday season that I'm as excited to see as my daughter. (Alvin and the Chipmunks 3... not so much.)
Ever since they came to international fame on Sesame Street, New York City has been the unofficial home of the Muppets. Not only does the iconic PBS series film here in Queens at Astoria Kaufman Studios, its urban set was clearly inspired by the Big Apple, so it's not surprising that we love celebrating the Muppets in this town.
Here are eight fun ways families can get their Muppet on in NYC, besides going to the new movie.
Make Your Own Muppet at FAO Schwarz
Unfortunately FAO Schwarz closed in July 2015.
I admit, while I've stopped by the toy store's Muppet Whatnot Workshop many times, I have yet to invest in one of these customized puppets. Why? Well, they cost $100 or more, and not to be a grouch, but that's a lot of green. Still, it's fun to check out all of the different Muppet parts up close (you get your choice of one of three bodies, with many more options for eyes, nose and outfit). And if you visit the website, you can design as many Muppets as you like and screen shot them to share with friends.
Explore Jim Henson's Fantastic World
We raved about this exhibit at the Museum of the Moving Image when it opened back in July, and you have until January to check it out. The show includes a detailed timeline of Muppet mastermind Jim Henson's career, glass-encased Muppets like Kermit the Frog and Miss Piggy, and lots of shorts and clips. On Saturdays and Sundays, the museum hosts family screenings and children's workshops. The original Muppet Movie plays twice this weekend (Saturday, November 19 and Sunday, November 20 at 1pm). Free with museum admission: $10 for adults, $5 for children ages 3-18, free for kids under 3.
Catch a screening at Puppets on Film
We loved the lineup of BAM Rose Cinemas' current film fest so much, we dedicated an entire post to it last week. Curated by Cheryl Henson, daughter of the late Jim Henson, Puppets on Film isn't specifically aimed at families, but there are a number of kid-friendly flicks this weekend, including Muppet Treasure Island (Sunday, November 20 at noon) and The Dark Crystal (Friday, November 18 at 4:30pm and Sunday, November 20 at 6:50pm), both starring Henson's creations. $12 for adults, $9 for children under 14.
Stroll Around the Upper West Side
Although Sesame Street doesn't officially take place in NYC, longtime set designer Victor DiNapoli admits that Gotham, and specifically the Upper West Side, serves as inspiration. In a 2008 interview, he revealed that the show's subway station was modeled after the old 72nd Street 1, 2, 3 stop, and that Bert and Ernie's building is meant to look like the brownstones on Amsterdam and Columbus Avenues in the 1970s and '80s. Sesame Street actually taped on the Upper West Side back in the day, when Children's Television Workshop was located at 81st Street and Broadway. I even remember seeing Maria on the M104 bus a few times when I was a kid. So a walk through the neighborhood really gives you the sense that you're on Sesame Street. FREE
Attend The Muppet Vault Presents: A Very Muppet Comeback 
Every few months, ToughPigs.com, a group of major Muppet fans, gathers at Park Slope's Union Hall to share rare clips and offbeat trivia about their chosen pop-culture fixation. This Sunday, November 20 at 2pm, families can watch the long-forgotten TV special The Muppets Go Hollywood, which marked the release of the first Muppet Movie in 1979, as well as a selection of classic clips. Moms and dads can indulge in Muppet-themed drink specials, while the kids sing along and try to snag giveaways. $8.
Hit the Sony Wonder Technology Lab
This always-free museum is one of our favorite family places to play indoors. In addition to all of its interactive attractions, the lab has a 73-seat HD theater and hosts lots of children's screenings, including Sesame Street episodes and Elmo specials. Find the complete schedule on the website. FREE
Watch the Macy's Thanksgiving Day Parade
The Muppets have long been a big part of this annual extravaganza. This year, keep an eye out for the Kermit the Frog giant balloon (Big Bird, Abby Cadabby and Super Grover aren't participating this year, sadly.) And there's usually a Sesame Street float featuring members of the cast, both human and Muppet. For tips on the best spots to view the procession and the balloon inflation, check out our Thanksgiving Parade Guide. FREE
Relive Classic Sesame Street Moments Online
OK, so this isn't very NYC-centric. You can enjoy these cool classic clips, regardless of where you live. I find that I'm constantly looking up bits I remember on YouTube, like the funky animated "1, 2, 3, 4, 5, 6, 7, 8, 9, 10, 11, 12." Warning, if you start watching, you get sucked in really quickly! FREE
And don't forget to see the movie! (As if your kids or the marketing campaign would let that happen.) The Muppets opens on Wednesday, November 23.