Weekend Getaway: Family Fun in Mystic, Connecticut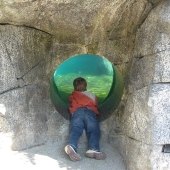 [UPDATED: September 12, 2012]
The village of Mystic in Connecticut is a charming little getaway for New York City families. About two hours and 4- minutes by car from midtown Manhattan, Mystic offers lots places for fun—a fabulous aquarium, the largest maritime museum in the country and beautiful outdoor retreat for hiking, birding, and exploring nature—an ideal family excursion no matter if you stay for the day or the entire weekend. Mystic is especially fun during Memorial Day weekend when the Rotary Club hosts their annual "Lobster Days" celebration with children's lobster-themed story telling, cooking and fishing demonstrations and of course lobster dinners for mom and dad's enjoyment.
Things to do with kids in Mystic, Connecticut
Mystic Aquarium
55 Coogan Boulvard
$29 for adults, $21 for children ages 3-17, kids under 3 free.
The marquee attraction here is the arctic coast exhibit where you will find three beluga whales. These little white whales swim right up to the porthole windows and almost look like they are smiling at you. You will have a seriously hard time pulling the kids away from them. If you are successful, check out the ray touch pool where they can (try) to pet the rays as they zoom by.
Something I particularly like about this aquarium versus others is the indoor marine mammal show. You just don't realize how brutal (sun, heat, no shade) the outdoor sea lion shows actually are until you enjoy one in the comfort of the great indoors. Seriously, someone in my family always comes away with a sunburn after a sea lion show in Coney Island. The aquarium also has a deep sea 3D motion ride, a cool boardwalk through a marshy area full of frogs and turtles, a seasonal exotic bird exhibit and evens animal encounter programs for kids as young as 6 years. There's also a shark encounter tank, where kids can actually pet a small, docile shark.
The best thing about the Mystic Aquarium is that they validate admission tickets for two more consecutive day return trips, which is just great for my whale-obsessed son.
Mystic Seaport: The Museum of America and the Sea
75 Greenmanville Avenue
$24 for adults, $15 for children ages 6-17, free for kids under 6.
A huge maritime museum complex spread across 17 waterfront acres, set up as a 19th Century village with 30 period buildings from around New England. You can walk through or take a fun horse and carriage ride stopping in the various stores, workshops and other buildings. Being a coastal town there are hundreds of ships on display, including ancient whaling and fishing ships. Kids will love to a get out on the water on a coal burning steam boat or rented row boat. The museum offers a lot of hands on fun for kids both modern and period: toy boat making, map lessons, open ended art programs, story times and old fashioned games. In the warmer months kids can climb into the water with naturalists and learn about what is living in it and hit an outdoor play space with wooden boats to climb on. Be sure not to miss the children's museum or the planetarium where they offer real star shows. You will need two days if you want to do it all, and here too, they will validate tickets for reentry again within seven days of your original visit.
Denison Pequotsepos Nature Center
109 Pequotsepos Road
$8 for adults, $5 for children under 13
Eight miles of trails meander through this beautiful 300-acre woodland preserve where you may catch a glimpse of painted turtles, bull frogs and blue birds among the flora and fauna. Kids will love the aviary where they can see owls, falcons and red tailed hawks in action. On the premises is also a natural history museum with more live animals on display and other educational exhibits.
The Sea Swirl
30 Williams Avenue
I love to hit roadside places for authentic eats and this clam shack hits the spot with lobster rolls, codfish sandwiches and fantastic fried clams (burgers, dogs and ice cream on offer too.) The Sea Swirl has been serving up fresh and fantastic seafood for 25 years in a renovated ice cream stand on the side of the road. They don't offer a dining room but you can dine outside at picnic tables overlooking the harbor.