Math Camps and Summer Math Classes in New York CIty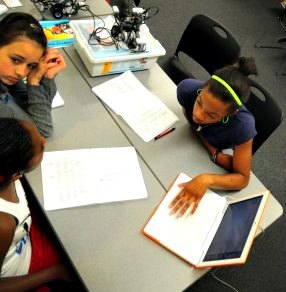 While there's always a big push for summer reading, kids' math skills don't get much of a workout while school's on break. Come September, many students find they've forgotten a lot of what they had learned and start out the academic year behind.
In order to make sure your kids' math knowledge doesn't melt away in the summer sun, our education blogger, Blythe, has rounded up New York City camps and classes where students can put two and two together—and hopefully do a lot more complicated equations. Our picks include competitive math programs, individualized instruction and remedial classes.
Summer Math Programs
Launch Math & Science Centers – Upper West Side

173 West 81st Street near Amsterdam Avenue, Lower Level
Costs vary. Visit the website or email info@launchmath.com.
No boring textbooks here. Children ages 4 to 12 tackle cool projects (that hone their math and science skills, of course) in themed one-week sessions. Activities include making robots, experimenting with chemical reactions, designing video games, building mini-submarines and tinkering with electronics.
Drake Bennett – Murray Hill
Epiphany School, 141 East 28th Street near Lexington Avenue
Established in San Francisco in 2006, this program offers full-day classes for elementary school students whose reading, writing and math skills are below grade level. One of Drake Bennett's six daily classes is multisensory math instruction, which means kids use tactile materials and color-coded problems to grasp difficult concepts. Games help make the material more fun, and the day also includes multisensory instruction in reading, as well as art, drama, sports and chess lessons.
Winston Prep Summer Program – Chelsea
126 West 17th Street between Sixth and Seventh Avenues
Call for pricing 646-638-2705 ext. 688 or email summer@winstonprep.edu
This program caters to students in 4-12 grades who need to improve their skills through individualized instruction. About half of the students attend Winston, a special education school, while the remaining participants come from other learning institutions. Classes (limited to eight students) include language, math, science and history from 9:30-1:30. From 2-3:30pm, students can opt to receive one-on-one instruction in their area of greatest need or take electives like music or photography. The curriculum includes reading, math, study skills, test prep and time management, and classes are taught by reading specialists, special education teachers, and speech and language pathologists.  Registration form here.
College Summer Program in Mathematical Problem Solving – Upstate NY
This FREE summer sleepaway math camp is aimed at low-income NYC kids. Seventh-graders who are fascinated by math spend three weeks with top instructors, solving problems and learning skills not generally covered in middle school, like number theory and computer programming. Other activities include sports, field trips and games. In order to be eligible to attend, students must have just completed seventh grade this year, live in New York City and go to a public school in which at least 75% of the students receive free lunch. Teacher recommendation and an in-person interview are also required. About 200 students apply for 80 spots, and free transportation is provided to and from the two program campuses, Bard College in Annandale-on-Hudson and Siena College in Loudonville, NY. Email spmps@artofproblemsolving.org for more info.
Individualized Math Instruction
Mathnasium – Citywide
With locations in Manhattan, Staten Island and Brooklyn, this national program is customized to best target students' areas of need. The Mathnasium method involves the use of visual and tactile tools in addition to written and verbal work. For the summer, Mathnasium centers offer flexible memberships for students in grades 2-12. After an assessment, kids attend semi-private sessions at their convenience. Visit the website for a list of all available summer programs.
High School Math Classes for Credit
The Horace Mann Summer School – the Bronx
231 West 246th Street
Held at the Riverdale private school, this program offers algebra I and II, trigonometry, geometry and pre-calculus. Classes meet for five or six periods per day and are open to kids who don't attend the school and are looking for summer class credits.
Poly Prep – Dyker Heights
9216 Seventh Avenue
This Brooklyn private school offers algebra I and II for high schoolers who must make up the class for credit or want to strengthen their skills. Summer classes meet for 90 minutes daily Monday-Friday in July.
Read about other summer camps in New York City.