Best Family-Friendly Restaurants in Long Island City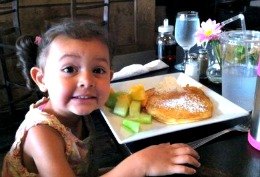 We continue our month-long focus on Long Island City with a look at our favorite family-friendly restaurants in the neighborhood. You'll find everything from Thai to Italian, diners to fancy artisanal food, plus great dessert spots. And, since the area is quite spread out, we've also added a pair of restaurants near two of LIC's more out of the way attractions: the Noguchi Museum and Socrates Sculpture Park.
Masso
47-25 Vernon Boulevard at 47th Road
My family and I recently tried Masso's Sunday brunch and were not disappointed. While there's no children's menu, options include kid-pleasers like burgers, panini, personal pizzas and pancakes, plus salads and pasta entrees. The eatery has outdoor seating and great service. When we asked for the check, the waiter brought over a small bucket with of Dum Dums Lollipops for my kids to choose from, which they loved. One note: Masso only accepts cash or American Express so plan ahead.
Riverview Restaurant
2-01 50th Avenue at 2nd Street
Conveniently located near Gantry Plaza State Park, Riverview has a large outdoor seating area which offers great views of the green space and the East River beyond. In addition to lunch and brunch standards, the eatery has an expansive menu that includes burgers, salads, seafood dishes and other entrees.
Court Square Diner
45-30 23rd Street at 45th Road
This retro diner has been a neighborhood staple since 1946. It's open 24/7 and serves breakfast, lunch, brunch and dinner around the clock. Kids' meals are just under $7 and include a beverage and Jello or ice cream.
El Ay Si
47-38 Vernon Boulevard between 47th Road and 48th Avenue
Hankering for good ole American comfort food? Hit this casual neighborhood mainstay. The walls are decorated with graffiti murals, and the menu includes deep dish mac and cheese, chicken fried chicken and tater tots. Kids meals' are the usual PB&J, chicken fingers, burgers, etc. and come with a juice box. For dessert, try the chocolate bourbon pecan pie or deep-fried Oreos.
Manetta's Fine Foods
10-76 Jackson Avenue near 49th Avenue
This lovely family-owned restaurant is located just off the Pulaski Bridge and serves traditional Italian dishes, brick-oven pizza and delicious sandwiches. There's also a small outdoor seating area.
Bella Via Restaurant
47-46 Vernon Boulevard near 48th Avenue
Another great Italian eatery, Bella Via offers coal-fired brick-oven pizza, traditional Italian fare and decadent desserts. Take note: It doesn't open until 3pm on Sundays.
Sage General Store
24-20 Jackson Avenue between Court Square and Pearson Street
Despite its name, this is actually a restaurant that serves a host of artisanal dishes and offers weekend brunch. Its Bacon Brunch is a favorite: $25 gets you a sampler plate of different kinds of bacon, your choice of bacon-laden main courses and a double-chocolate bacon brownie for dessert.
Tuk Tuk
49-06 Vernon Boulevard near 49th Avenue
If you're in the mood for Thai, Tuk Tuk offers a nice selection of lunch specials, priced at just $7. Another plus: there are plenty of vegetarian options.
Bel Aire Diner
31-91 21st Street between Broadway and 31st Drive
While there are plenty of restaurants in the Hunters Point section of Long Island City, Ravenswood, which is further north, is pretty barren. But with two major LIC attractions here—the Noguchi Museum and the Socrates Sculpture Park—it's good to know about this veteran diner, which is located about four blocks away from both. Bel Aire is open 24/7 and boasts a novel of a menu. It's best to stick to standards like burgers, all-day breakfast and starters, as the fancier entrees aren't always so wonderful.
Giuliana's Pizza
31-06 21st Street at 31st Avenue
A few blocks further down 21st Street, you'll find this solid pizzeria, which offers a great family special: For $20, you get one large cheese pie, choice of buffalo or barbecue wings, mozzarella sticks, garlic knots and a two-liter bottle of soda. Vegan options, pasta entrees and a handful of Latin dishes are also available.
Other eating options in this area including the Noguchi Museum's cafe or walking about 15 minutes to the heart of Astoria, which is filled with restaurants.
And for dessert...
Malu
Sadly Malu closed its doors in February 2014
Malu is a neighborhood gem and worth the trip to LIC for its ice cream alone! A true mom-and-pop shop run by a neighborhood family, Malu has a lovely storefront, great service and small tables for kids where they can work on complimentary coloring pages until dessert arrives. Malu also hosts a weekly storytime and offers kids' birthday parties and "ice cream socials" for adults.
Little Oven
Unfortunately Little Oven closed in August, 2012
Right next door to Malu is this quaint bakery which sells scrumptious coffee cakes, madeleines and more. The shop's best known for its French macarons, which come in a variety of flavors including dark chocolate, passion fruit and Earl Grey.
Read all of our posts about Long Island City.