Zoo Parties Let Kids Party with the Animals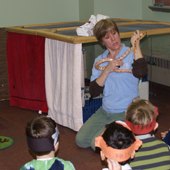 The absolute best thing about a zoo party is the live animals that get to celebrate with you in your party room. For my son's 5th birthday last month we had a party at the Prospect Park Zoo. At our party we were delighted to host an albino corn snake, a rabbit and a hissing cockroach for the kids to learn about and touch (well – no one touched the cockroach). It was a great party, easy to host and, luckily, in NYC you can have a Zoo party in four boroughs.
Birthday Parties at the Zoo:
The Prospect Park Zoo offers seven different party themes dependent on your invited age group: a barnyard theme complete with sheep feeding, a zoo rainbow theme exploring the varied animal colorations, a cool reptile scavenger hunt, a sea lion celebration, a primate party or an owl theme where guests get to dissect owl pellets. Since our party was during the winter we wanted to keep our party inside– and chose the Discovery Party, which is one hour in the party room with projects, animals, crafts and cupcakes and then thirty minutes of private party time in the very cool Discovery Center. 
As expected the kids loved their time in the hands on Discovery Center and they really let loose, played and explored. The kids pretended to be vets working on the stuffed animals, played the frog cycle of life game, hung out in the tent and imagined they were on a camping trip or checked out the fish, frogs and spiders that live in the center.
This was the first time I didn't do a soup-to-nuts party in my apartment and it was so easy – the zoo did everything except supply the food and paper goods. And, with the basic party package they only allow cupcakes and juice, anyway– no pizza required! The kids are kept so busy there isn't any time for eating. The party room itself is large, colorful and festive so I didn't need to do a ton of decorating.
The educators really know how to engage the kids with animal related songs, craft projects and games, making the whole experience really fun for everyone. They provided student volunteers to help set up the cupcakes and juice and even helped us to our car after the party. The zoo provided really fun goodie bags that we have received compliments on. The best part is of all is that it didn't break the bank, this party cost less than the parties I have had at home and it even included a full day zoo admission for each guest and their parents.

Prospect Park Zoo
Prospect Park, Brooklyn
Birthday Party packages start at $550 for 25 people for 1 ½ hours. Packages include invitations, take home project or animal enrichment (depending on theme), goody bags and zoo admission. WCS and Prospect Park Zoo members receive a discount on party packages.We didn't opt to serve lunch, but extra time for serving pizza is available at $75 per half hour.
You can also throw a birthday bash at the Bronx Zoo, Central Park Zoo and the Queens Zoo. Unfortunately, the Staten Island Zoo and New York Aquarium are not currently offering birthday parties.
Bronx Zoo
Bronx
The Bronx Zoo wows your 2-12 year old with a private party room, an animal encounter, activities, and an exhibit visit led by zoo instructors. Prices start at $1200 for up to 15 children and include decorations, paper goods and birthday cake.
Central Park Zoo
Southeast Corner of Central Park
The Central Park Zoo offers three different party packages with various themes. The most minimal is a two hour party that includes themed invitations, a private party room for activities and food, a costumed character to welcome guests, animal encounters, wildlife theater performance, zookeeper encounter, treat-making for the zoo animals, three party hosts, cupcake decorating bar, food and goodie bags. The fee is steep, $5000 for up to 20 children and 5 adults, but what a party! There are more expensive options that include mimosas for adults, a chance for the birthday child to feed a sea lion or meet a penguin, additional guests, longer party times, party video, and more.
Queens Zoo:
53-51 111th Street
The Queens Zoo currently offers two birthday party packages, the least expensive at $435 for 25 participants for two hours. There is a choice of three themes and packages that all include invitations, activities, crafts, party hats, goody bags, animal encounters, an exhibit visit, a zoo educator host and zoo admission. You bring your own food, cake, drinks, paper goods and utensils. WCS members receive a discount on party packages.
Want other animal birthday party ideas? Read Party Like an Animal with 5 New York City Birthday Party Ideas.
And for tons of great party info, see our Party Guide.