NYC Boat Cruises: Best Boat Trips in New York Harbor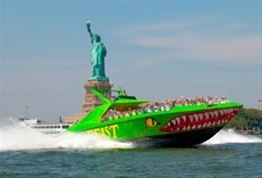 We're always looking for ways to experience New York City's vast and lovely waterfront, from kayaking and rowing to hopping on the Staten Island or East River Ferries to going on touristy boat rides. But nothing beats cruising through New York Harbor.
With breathtaking views of the city, tours of New York Harbor aren't just for visitors. Whether you choose an adrenaline-pumping speedboat, relaxing sailboat or even a sightseeing cruise (hey, natives are allowed on them, too), New York Harbor rides offer local families a chance to fall in love with our city all over again.
Speedboats
Shark Speedboat Thrill Ride
Departs from Pier 16 at South Street Seaport
$24 for adults, $17 for children. Must be 40 inches tall to ride.
The Beast
Departs from Circle Line dock on Pier 83, 42nd Street and Twelfth Avenue
$26 for adults, $20 for children. Must be 40 inches tall to ride.
Loud music, fast speeds, big splashes and awesome views are what you get on these Circle Line-run speedboat tours. In other words, it's a kid's water-filled dream. Be prepared to get wet: There are lots of intentionally sharp turns and no one gets out dry. In fact, you're best off packing a change of clothes
Sailboats
Classic Harbor Line: Schooner Adirondack, Schooner America 2.0, Yacht Manhattan, Beacon and Catskill
All depart from Pier 62 at Chelsea Piers
Prices vary. Visit the Zerve website for fees and schedules.
Looking for a more relaxing jaunt? Then consider one of Classic Harbor Line's fleet, my personal favorites. The 80-foot Adirondack and the 105-foot America 2.0 are beautiful sailboats, while the 80-foot Manhattan is a wooden 1920s-style motorboat. Sailboats are better for older children since the vessels often heel when the sails are erect so it's easy to lose your footing. Yes, the romantic atmosphere attracts couples and drinks are served on board, but families are welcome, too. I've been on most of the ships (save for the Beacon and Catskill) and I think the Manhattan is the best choice for kids. The cabin is comfortable and features wraparound seating, throw pillows and tables. There's also plenty of deck space for enjoying the fresh sea air and snapping photos. The crew is always very friendly and knowledgeable, and what's more, the first drink is free.
Manhattan by Sail: The Clipper City
Departs from Pier 17 at South Street Seaport
$39 for adults, $17 for children under 12
If you're looking for a retro ride, climb aboard this 158-foot tall ship. I took this tour a few years ago and felt humbled to be aboard such a majestic, historic vessel. In fact I was so taken with this 1850s boat's spacious decks and huge sails that I worried I might miss the wonderful sights. The friendly, on board dog is an added delight. Manhattan by Sail also runs the Shearwater classic schooner, a smaller vessel from the 1920s, which departs from North Cove Marina at the World Financial Center.
The Pioneer
Departs from Pier 16 at South Street Seaport
$40 for adults, $30 for children ages 3-12
One of the best things about the South Street Seaport Museum reopening earlier this year is that its gorgeous ships will be able to hit the water once again. Right now, the museum is only operating public tours on the Pioneer in collaboration with New York Water Taxi. You'll enjoy amazing views aboard this 1885 schooner and a lot of history.
Ferries
NY Waterway
Prices and departure locations vary
A number of ferries traverse New York Harbor, like the free Staten Island and Governors Island Ferries and the Ikea Water Taxi. But no one has New York Harbor covered better than NY Waterway, This company runs the Hudson River, East River, and Belford Ferries connecting New Jersey, Brooklyn and Queens to Manhattan. NY Waterway allows you to buy tickets between specific destinations or purchase an all-day hop-on hop-off pass on the East River Ferry ($15) so you can explore waterfront neighborhoods like Dumbo, Williamsburg and Long Island City. Two children under five can ride for free with every paying adult.
Liberty Landing Ferry
$7 for adults, $5 for children ages 7-12, free under 7
Statue Cruises runs this commuter service from Jersey City to the World Financial Center. Kids under 6 ride free and the company also offers a Ferry Adventure to Liberty State Park from Liberty Landing.
New York Water Taxi
Departs from various docks including Dumbo, South Street Seaport, Battery Park, and Manhattan's Pier 45 and Pier 84
All-day pass: $26 for adults, $16 for children ages 3-12
These boats are speedy and colorful with comfy indoor and outdoor roof viewing options. Like the East River Ferry, one ticket gets you on and off all day, allowing you to explore the shore, too. Plus you get guides and a cash bar.
Cruises
Statue Cruises
$13 for adults, $5 for children ages 4-12
In addition to providing ferries to the Statue of Liberty and Ellis Island, Statue Cruises offers a one-hour harbor cruise aboard the fancier Hornblower Hybrid, an eco-friendly vessel powered by hydrogen, wind and solar energy.
Zephyr Cruise Boat
Departs from Pier 16 at South Street Seaport
$28 for adults, $17 for children ages 3-12
I rode this 600-passenger luxury boat a few years ago and found it to be the most comfortable and least bucket-like of all the tourist tour vessels. With three indoor and outdoor decks to choose from, plush stadium-like seating, carpeted floors and climate control, Zephyr could almost be mistaken for a mini cruise ship. A history of the harbor is broadcast during the one-hour ride that includes views of the Statue of Liberty, the Brooklyn Bridge and the Empire State Building.
NYC Audubon Summer EcoCruise
Departs from Pier 17 at South Street Seaport
$35 for adults, $25 for children 3-12
NYC's skyline isn't the only thing to look at. Go bird-watching on this 90-minute tour of New York Harbor, where you can spy herons, cormorants, ibis and egrets.

Find out about other ways to enjoy NYC's waterfront in our Water Fun Guide.