Just in Time for Thanksgiving: Meet Pilgrims and Native Americans in Plymouth!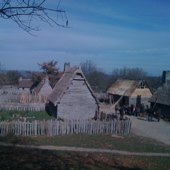 One of best parts about living on the East Coast is that we are close to so many historic sites, including Plymouth Rock, the site of the first Thanksgiving.  History is much more fun and memorable when you get to experience it in real life!  We took the five hour drive up to Plymouth for a two-day Thankgiving themed break and saw it all... Native Americans, Pilgrims and even the Mayflower.
Find Your Sealegs on the Mayflower II
In downtown Plymouth you will find a true reproduction of the original Mayflower, complete with wooden planks, rigging, and even some old casks and uncomfortable first and second mate berths.  We were surprised that the boat was so small and originally had 130 people on it!  There were some guides who also shared some interesting details.  My kids got a kick out of the fact that people did not in fact poop off the ship's poopdeck.  Right across from the Mayflower you can see the original Plymouth Rock, which despite being quite small, the kids found impressive. 
Meet Pilgrims and Native People at Plimoth Plantation
Just a couple miles down the road from downtown Plymouth is Plimoth Plantation, where all staff is in historic dress and in character, showing what life was like living in Plymouth in 1627.  There is a Wampanoag Indian homesite, a 1627 English Village, a Craft Center, and the Nye Barn.  A short movie at the welcome center introduces you to the entire site and gives you a brief history, perfect to get you started.
Our first stop was the Wampanoag village.  There we found several bark-covered dwellings and some Native Americans bustling about.  We were most impressed by the wetu (houses).  We were ushered into one by a Native American dressed in furs and wearing an English coat and red knit stocking that he claimed to have traded for with the English.  Once we entered through the deerskin door, we sat on benches covered with furs around a real fire and listened to an older Wampanoag woman explain how this winter house had been made and how it was lived in.  We met several other Native Americans, all dressed in just animal skins, who showed us how they cooked stews, how they sewed, how they built their canoes, and how they wove bags out of grasses.  The kids loved playing with some Native American toys too.
Next we took a little hike to the 1627 English village, completely encircled by a wooden fence.  The first thing we noticed were chickens walking freely around the area, cows in an enclosed pasture, and tons of wooden houses.  As we made our way around the buildings, we met several Pilgrims explaining (with English accents and using phrases from the 1620s) what life was like.  We peeked into some houses to find the fire lit, some carved furniture, and either women or men explaining how they arrived to Plymouth, how to use the items in the house, or even their views on politics and religion.
Making a Trip of It
Tickets to Plimoth Plantation and the Mayflower cost $28 for adults, $18 for children 6-12 (5 and under are free) and are good for two days.  There is a lot to see and if you are traveling with kids you really need those two days.  We went with several 5 and 6 year olds and spent about 4-5 hours the first day at Plimoth Plantation, mostly at the Wampanoag homesite, and didn't even make it to the Nye Barn.  The next day we spent about 45 minutes (in the rain!) on the Mayflower II.
If you decide to stay overnight like we did, staying in a hotel where you can walk to downtown is ideal.  The Radisson and the John Carver Inn both have nice indoor pools which is a great attraction for the kids after a long day visiting the historic area, and are within walking distance to the waterfront, restaurants and ice cream parlors.  Our best meals were at the Blue Blinds Bakery, an organic bakery/cafe that was so cozy and cute I almost wished I had come alone with a book instead of bringing my kids there for breakfast (Warning!  They are closed on Saturdays!).  Another winning spot for lunch or dinner was Wood's Seafoods, an order-at-the-counter-and-seat-yourself kind of place, where the adults enjoyed a $9.99 steamed lobster dinner and a beer on the side while the kids feasted on hot dogs and french fries for a mere $3.75.  After this trip, I can truly say we are ready for Thanksgiving!
Here are some more great family travel posts for you.